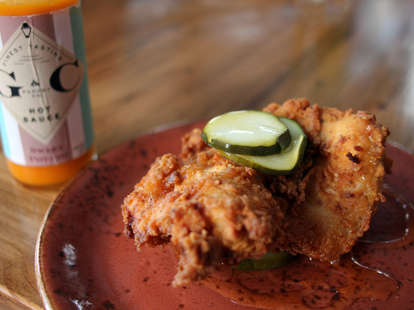 Mike Gebert
Mike Gebert
Is there a difference between Southern and soul food? Soul food scholar Adrian Miller says there was before the Civil War -- but after, everybody down South ate pretty much the same comfort food. So rather than focus on the differences between these 10 spots doing Mama-loves-you food, we're gonna focus on the one thing they all have in common -- they're Chicago's best at what they do.

Logan Square
There's some serious cognitive dissonance between this pitch-dark, too-hip-for-a-sign-on-the-outside cocktail lounge/late-night dance club and the sunny down-home Cajun food that New Orleans native Chef Alfredo Nogueira makes. But go with the scene for the sake of his tasty biscuits, gumbo, and dirty rice.
Blue Island
A 1890s tavern/speakeasy in a 1950s-vintage South suburb, this Cajun/Creole restaurant perfectly blends a sleepy small town atmosphere with let-the-good-times-roll food. Enjoy first-rate renditions of New Orleans classics like crawfish etouffee or jambalaya -- or try one of the late Chef/Owner Charlie Orr's own inventions like Voodoo Nuts -- garlic cloves fried inside balls of Andouille sausage -- along with a craft beer list that would do credit to any hipster bar on the North side.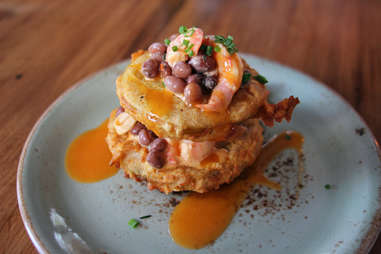 Wicker Park
A hip spot that aims to specialize in food from the low country of the Carolinas. That aim is hit or miss, but at its best you get authentic, down-home flavors with refined execution, like the Charleston she crab soup, fried tomatoes with pickled shrimp, and the maybe-best-in-town smoked chicken wings.
Andersonville
Somewhere between a diner and a doctoral thesis, Chef Paul Fehribach's farm-to-table Southern and Cajun food is carefully and historically researched, bringing back things you can hardly even find in places like Louisiana any more (like boudin sausage) and others that you don't know why you didn't grow up eating (like Sally Lunn bread, hellooooo, Mom, what gives?).
Bronzeville
This Bronzeville standby packs in the Grandmamas for after-Sunday-church breakfast, which makes it all the more surprising that the soul food actually packs some heat, with hot-hot-hot jerk chicken and some kick to sides like greens and cabbage. There's no heat in the desserts like peach cobbler and sweet potato pie though -- just love.
Chatham
The nicest ladies in town run this soul food cafeteria line, which is attached to a church on the far South side. They've got good fried chicken and smothered pork chops, very good greens and yams, and remarkably-good-for-something-that-looks-so-plain lemon pound cake.
Humboldt Park
It's not easy to feel like a roadhouse in the middle of nowhere when you're in the middle of Chicago, but this easygoing joint pulls it off in a kind of alt-country way. Main dishes like roast chicken, fried chicken (on weekends), and fried catfish sandwiches are good, but they're almost just excuses to get to eat sides like corn pudding and follow it all with homemade pie.
Austin
It's the place to meet on the West side -- as the photos on the wall of the owner with everyone from Rahm to Obama will demonstrate. Know what you want in the fast-moving cafeteria line or you may get passed over: I'd pick smothered pork chops over fried chicken, and I pity the fool who passes up MacArthur's caramel cake.
Washington Park
A takeout-only soul food spot that offers, besides the usual fried chicken, the owner's own "healthier" herbal chicken, along with excellent greens, mac 'n cheese, and a rare sighting of yellow turnips. Be sure to save room for homemade buttermilk pie, too.
Burbank
This South suburban spot (also in Darien) has a little bit of everything -- BBQ, Cajun, Mexican, sports bar. But the best is the Southern comforts part of the menu, which has dishes like chicken-fried chicken with freshly made mashed potatoes and green beans with bacon. You couldn't ask for a better last meal in any correctional facility in the country.
This list -- and all the rest -- look even sexier in our iPhone app. Get it now!
Mike Gebert is a James Beard Award-winning food video producer and writer and Founder of SkyFullofBacon.com. Follow him on Twitter @skyfullofbacon.