The 11 Best Tamales in Chicago
There's nothing more clutch than the tamale guy popping into the bar you're at, at the exact moment you're thinking about food (so... anytime). Thing is, there are actually a lot of other great places (not in dive bars) to get tamales in Chicago. Here're the 11 best.
Dia de los Tamales
Tamale of the Month
Dia De Los Tamales
(
address and info
)
Pilsen
This modernized tamaleria in Pilsen is putting out some of the most unique offerings in town. Choose from the traditional varieties or their own mashed up concoctions, which include Charlie Brown's favorite: the Juicy Lucy made with ground beef and melted cheese.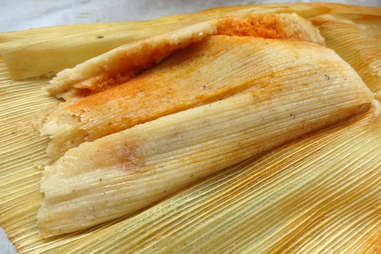 Titus Ruscitti
Homemade Tamales
Dudley's Doghouse
(
address and info
)
Irving Park
This mom-and-pop hot dog stand is your typical, Chicago-style fast food shack -- with the exception of one thing: their tamales. They don't serve the factory-made ones you find at most every other hot dog shop in the city, choosing instead to make their own traditional Mexican version. The result is the best tamale you'll get alongside a hot dog.
Titus Ruscitti
Pork Tamales
Manolo's Tamales
(
address and info
)
Clearing, Gage Park
Consistency in a tamale is important, and to achieve that, you need to go through lots of tamales to make sure they're all sold fresh. Luckily, you can always count on Manolo's to do exactly that. Most folks stopping in buy them by the dozen (in particular, the pork with roja sauce), and a batch is pretty much always ready at one of their two South Side locations.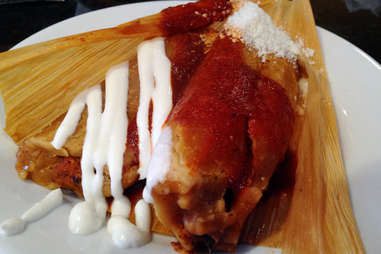 Titus Ruscitti
Norteno Tamales
Tacos Tequilas
(
address and info
)
Logan Square
This place has flown under-the-radar for a while now, but I've seen them picking up ever since they got their liquor license... since I can now enjoy a fresh margarita outside on the sidewalk while filling up on their top-notch tacos. I'd also recommend the Norteno Tamale Plate off the appetizer menu -- it comes with two chicken-filled tamales that are topped with Guajillo sauce and sour cream. Tamale lovers will find these moist ones really hit the spot.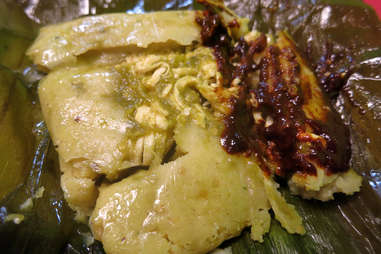 Titus Ruscitti
Oaxacan Mole Tamales
Los Tamales Oaxaqueños
(
address and info
)
Des Plaines
Naturally, some of the best tamales you'll try from this list are located in an unassuming strip mall in Des Plaines. As the name suggests, they specialize in Oaxacan-style tamales, which're steamed inside banana leaves as opposed to the more common corn husks. The all-female team in the kitchen makes a mean red and green sauce with shredded chicken, and it's a must to get a side of their homemade mole sauce to dip them in. Well-worth the drive or at least a spot on your radar next time you're at O'Hare.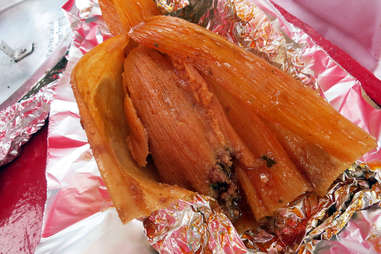 Mississippi Delta Tamales
Yoland's Hot Tamales
(
info
)
Austin
This specialty treat found throughout the Mississippi Delta has gone from cult-favorite to nationally renowned treasure as of late. The Delta-style hot tamale is made with cornmeal instead of masa, and usually ground beef or chicken. It gets a special spicy blend added in, and they're cooked in a broth that also gets infused with the same spices. The only place to score these tamales is from one man: Yoland Canon. Find him set up most days (except Sundays) at the corner of Iowa and Laramie in the Austin neighborhood, and get a taste of a must-eat Southern treat.
Titus Ruscitti
Oaxacan Tamales
Maxwell Street Market vendor
(
address and info
)
University Village
A must-get snack when visiting the market on Sundays is the Oaxacan tamales -- this is your best bet for a quick bite, as there's never a long wait. More often than not, this style of tamale is made much larger, as well as rectangular and more flat than the average tamale many of us are used to.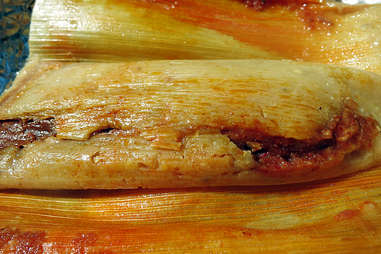 Titus Ruscitti
Roja Pork Tamales
Taco Mex
(
address and info
)
South Deering
This Southeast Side gem puts out my favorite tamales in the city. IN THE CITY. Available on weekends only, these taste like the ones that made me fall in love with Mexican food -- shredded pork with red sauce is still my go-to order, though they offer a few different types. It's all about the slick masa blend here, too. I don't know what their secret is (tamale genie??), but it works.
Titus Ruscitti
Roja Pork Tamales
La Casa del Pueblo
(
address and info
)
Pilsen
If you don't have a Grandma that makes a fantastic batch of tamales for you on a weekly basis, then head over to this Pilsen favorite for some of the best home-cooked Mexican food in the city. When I first tried this place over a decade ago, it was the red pork tamales that brought me in -- and to this day, I still get cravings for them. Take a dozen to-go and share a few, because that's what your Grandma would tell you to do.
Titus Ruscitti
Chicken Mole Tamales
Tamales Garibay
(
address and info
)
Albany Park
The lady behind this tamaleria is a long-time Chicago tamalera (just go with it) who, after earning enough money selling her specialty on the streets, moved into this corner store brick-and-mortar on Kedzie in Albany Park. These large specimens are twice the size of your average tamale, and they're offered a few different ways -- though chicken mole reigns supreme.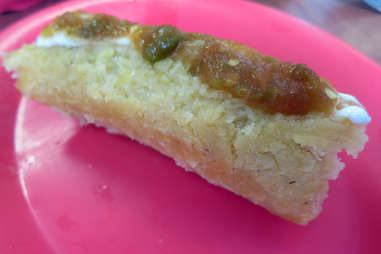 Titus Ruscitti
Tamal de Elote
Los Mejores de Guerrero
(
address and info
)
Rogers Park
The menu here features a variety of traditional offerings, including some really good pork (and also... dessert-based tamales). When I want something a little bit sweeter, I opt for their corn tamale, which is made with masa and elotes -- the popular corn-off-the cob treat sold on a bunch of city corners.
Titus Ruscitti is a contributing writer for Thrillist. You can join him on his food travels throughout the cityscape and wherever else life takes him on his blog, where he's single-handedly tackled close to 1,000 food stops. Follow him @chibbqking.