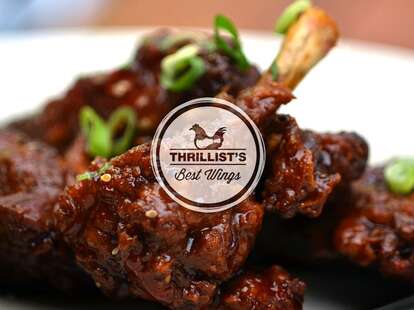 Because Tommy Boy spoke for everyone when he uttered the timeless words, "Tommy likey. Tommy want wingy," here's the list, in no particular order, of Chicago's very best wings. From old-school Buffalo to double-fried Korean, all of these are well worth begging Helen to fire up the deep fryer.
Spicy Korean BBQ Wings from Dak
Edgewater
You won't question Dennis Rodman's ambassadorship to the axis of evil after you try these jumbo wings that are twice-fried for a thin and crispy skin that's coated in a red pepper paste sauce.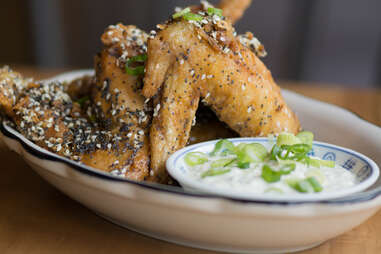 Everything Wings from Mott St
Wicker Park
Nevermind the bagel -- you've just scored a plate of wings coated in a soy-chili glaze, fried shallots, and sesame & poppy seeds with some tzatziki for dipping. (FYI, Mott St is now taking reservations.)
XXX Hot Wings from Jake Melnick's Corner Tap
River North
When your waitress remains clothed and asks you to sign a waiver for chicken wings, you'll realize that your friends didn't mean that kind of XXX... although the wings can also satisfy, thanks to the heat and flavor of two of the world's hottest peppers (the Red Savina and the Ghost Pepper). In case of emergency, they provide some cooling agents to fan the flames, like ice cream, bread, and milk. And if you aren't a big time heat seeker, there're more dialed down varieties that are still delicious.
Jumbo Wings from The Fifty/50
Wicker Park
With these wings being deep-fried in peanut oil and coated in a five-pepper hot sauce that's been roasted in-house and aged for three months, we won't guilt trip you for putting back your own family meal of 24 wings, a bucket of beers, and a bottle of Jameson.
Hotties from Take Me Out
Pilsen
It must be your lucky day, because these sweet-and-spicy Chinese lollipop drumettes come in batches of 7 or 14 (and are also available in a tofu variety, despite bean curds not having appendages to lop off and eat).
Seoul Sassy Wings from Crisp
Lakeview
That's right -- we snuck TWO Korean places serving jumbo wings on the list. Got a problem? (Sorry, just tossing in some sass... also Korean fried chicken is rather tasty.) These wings have a subtly sweet ginger soy sauce; just don't call it teriyaki lest you incur the wrath of Mama Lee.
Lollipop Wings from Frontier
Noble Square
With so many varieties of meat available at Frontier, one might think a chicken would simply be collateral damage. Think again, over a plate of Lollipop wings with Buffalo sauce, buttermilk-bleu cheese dip, house ranch, and pickled carrots.
Chicken Wing Skewers from Yusho
Avondale
Yusho takes the finger grime away from mowing down wings by de-boning its chicken before seasoning it with Thai chiles and serving with bonito salt and lime.