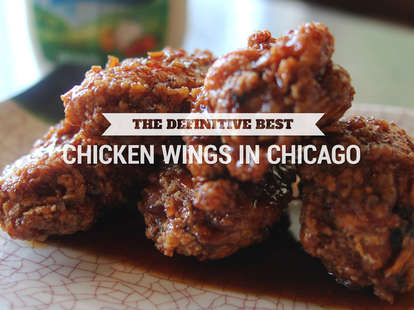 Mike Gebert
Mike Gebert
Whether you're gearing up for football season or just craving fried chicken because you're, well, human, chicken wings are a vital part of our meat ecosystem. But which wings fly above the rest (figuratively, because they're, y'know chickens)? We turned to an esteemed panel of food writers to vote on the best wings the Windy City has to offer.

Here's a closer look at the Top-5:
Edgewater
A new contender taking the wing world by storm, DAK makes a splash in part because of the enormity of its drumsticks. Wings come twice-fried to achieve the trademark Korean-style, thin and crispy skin before getting sauced in either soy-garlic or the spicy BBQ sauce.
The judges say:
-- "Big honking wings expertly fried then dunked in an excellent, not too sticky/gooey soy-ginger sauce." - Mike Gebert
-- "DAK has taken the mantle of best Korean-style wings in Chicago, perfecting just two flavors of maddeningly addictive gargantuan fowl appendages served with moo (pickled radish)." - Daniel Gerzina
Ukrainian Village
If you're seeking a trifecta of quality wings, ample craft beer offerings, and an abundance of flat-screen TVs, look no further. The spicy jumbo wings -- coated in an aged, housemade hot sauce -- earn high marks.
The judges say:
-- "The massive Four-Courser sandwich gets much of the attention here, but the wings are freakishly large and cooked perfectly in the style that put Buffalo wings on the map... slathered with enough sauce to garner a small country's moist towelette supply." - Daniel Gerzina
Bucktown
Whether it's fried chicken or chicken skin BLTs, Lillie's knows how to smoke poultry, especially when it comes to its smoked chicken wings in Buffalo sauce and Maytag blue cheese dressing.
The judges say:
-- "The smoked wings appeared as a menu special for the 50th anniversary of Buffalo chicken and quickly became the wings to beat, because that's how you do it right." - Darryl Holliday
-- "How to improve upon the classic Buffalo wing template? By smoking said wings a la Lillie's Q, and imbuing an intense, heady undertone with each sloppy-but-worth-it bite." - Matt Kirouac
Albany Park
If you've found this hidden gem of a Korean-ized Chinese restaurant, then you know the hot and spicy chicken wings are the stuff of legends.
The judges say:
-- "The fact they're Frenched make these more chicken lollipops than wings, but it's the crazy-addictive sweet/spicy sauce that makes them hauntingly delicious." - Steve Dolinsky
-- "Resistance is futile against the endorphin surge instigated by the gampongi... fried hard and saturated in a sticky, sweet, malevolently spicy glaze." - Mike Sula
Lakeview
The winner and still the heavyweight wing champion of Chicago, Crisp's non-traditional approach to Korean chicken results in the perfect skin texture and flavor. And with their equally popular BBQ-style in hot pepper paste and ginger soy garlic Seoul Sassy wings, they could arguably lay claim to both the top two spots on this list.
The judges say:
-- "There's something so richly satisfying about the sticky, spicy, and sweet Seoul Sassy wings at Crisp. Although Buffalo gets most of the attention in the wing world, my heart belongs to these soy-splashed Korean morsels." - Matt Kirouac
-- "I'd eat Seoul Sassy sauce on my cereal, so this is a no-brainer." - Carly Boers
HONORABLE MENTIONS:
Barn & Company ("In addition to great barbecue, Barn and Company makes fantastic wings that are smoked then fried; try the different dry rubs -- I like the classic BBQ, but the 'Fire' variety will delight the heat-lover in you." - Robyn Nisi), Bird's Nest ("You'll travel a long way to find meatier wings, and the honey barbecue and hot barbecue sauces are terrific." - Phil Vettel), Carriage House ("These are pretty much the best wings I have ever had. They're fried and glazed in a sweet sauce, like lots of wings, but before that they're smoked, which no wings ever are. The combination of sweet, fried, and smoky all at once is fantastic." - Mike Gebert)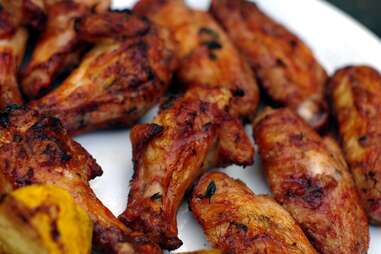 Jake Melnick's Corner Tap ("Tried and truly some of the most consistently cooked wings in the city -- each one is covered in a choice of standard or painfully hot Buffalo sauce." - Sarah Freeman), Cactus Bar & Grill ("Cactus is all about the heat; the mildest wings are called 'spicy-barbecue', and they offer three levels of 'Death Valley' wings, the hottest of which requires a signed liability waiver." - Phil Vettel), Mott St. ("The everything wings are a commitment -- step one involves coming to terms with the fact that these sweet and spicy wings are indeed covered in everything bagel seasoning, and step two is getting said seasoning all over you fingers while devouring them." - Sarah Freeman), Old Town Social ("I've been known to describe duck as pork of the pond. Hence, the plump, spicy duck wings at Old Town Social are my dream bar snack, especially when smeared with zesty cucumber-mint raita." - Matt Kirouac)
Toons Bar & Grill ("It's axiomatic that these classic wings, served with real, chunky blue cheese dressing, are the meatiest, and most faithful to the buttery, vinegary Buffalo ideal." - Mike Sula), Cafe Orient 33 ("Spicy-sweet sauce that gets all over you, plus a crispy crust that reminds me of when people use Kellogg's Corn Flakes on their fried chicken." - Mike Gebert) Emerald Isle ("Tucked away in the far Northwest reaches of the city, this Irish pub does very respectable Buffalo-style wings, but it's the extra crispy, bitingly garlicky romano-garlic wings that curl my toes." - Phil Vettel), Frontier ("There's none of that annoying search-for-the-meat work required on their voluptuous 'lollipop' rendition." - Carly Boers)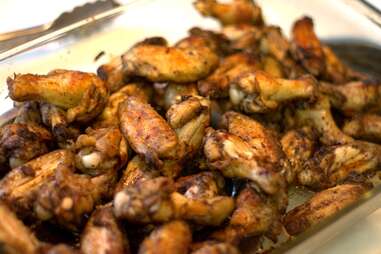 Harding Tavern ("I wouldn't have expected wings on the menu at Harding Tavern, but they do a remarkably good job -- you don't get a huge portion, but they are much better quality than what passes for wings elsewhere; the Thai and Buffalo are well-seasoned and not overbearing." - Robyn Nisi) Joong Boo Market ("The lollipop wings at the bustling Korean market in Avondale are a delicious hidden gem of on-the-go euphoria that every wing fanatic should not miss." - Daniel Gerzina), Spicy Thai Lao ("Chicagoland's only Lao restaurant traffics in unbreaded wings marinated in tamarind, lemongrass, kaffir lime leaf, and chilis, alchemizing into a delicate crust that bonds with a peanuty dipping sauce, sweet with tamarind, and loaded with fish sauce." - Mike Sula), Take Me Out ("These are the daughters of the Great Sea's family, and their Pilsen storefront is still a hidden gem. I love the crispy, meaty wings; each one is a sticky-sweet indulgence." - Steve Dolinsky), Union Sushi ("Coming in at about four times the size of a traditional Buffalo wing, the Buffalo duck wings are also at least four times the flavor with a sweet chile glaze covering every inch of the crispy skin." - Sarah Freeman)
This list -- and all the rest -- look even sexier in our iPhone app. Get it now!
Thanks to our judges, follow them: Carly Boers (@Chicarly), Steve Dolinsky (@stevedolinsky), Sarah Freeman (@SarahIsChi), Mike Gebert (@skyfullofbacon), Daniel Gerzina (@DanielGerzina), Darryl Holliday (@d_holli), Matt Kirouac (@Mattsland), Robyn Nisi (@robynnisi), Mike Sula (@MikeSula), and Phil Vettel (@philvettel).