Chicago critics tend to dismiss Chicago deep dish as overblown, casserole-like, and a monstrosity next to New York thin crust (we're looking at you, Jon Stewart). In fact, no one likes deep dish... except every tourist who comes here, makes a beeline for Pizzeria Uno or Gino's or Giordano's, and staggers out two hours later as happy as a zombie on the Thanksgiving episode of The Walking Dead. We surveyed the city far and wide to come up with our own list of the very best, leaving off some famous names and including some you've probably never heard of. Happy gorging, Chicago-style.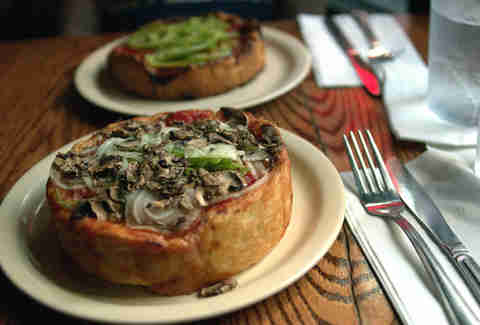 River North
Uno is where the original deep dish style -- a crispy short dough crust, topped with cheese first, then crushed tomatoes -- was invented in 1943 which later expanded to it's sister restaurant Pizzeria Due, a whole block away, when it caught on. We salute it as living history, though we think there are places doing the original style better today. This is one heavy pizza, especially if you get sausage on it... which literally means a solid disk of sausage plopped on the crust like a hubcap on a tire.
Irving Park
Even thicker than the original deep dish style, stuffed pizza dates back to the 1960s and is built like sort of pizza pot pie, with a second crust on top covered with tomato sauce. Usually the crust is more bread-like and flaky than classic deep dish. This relatively new place revives the family recipe from Manzo's, an old-school Italian joint in the same neighborhood, and its stuffed pizza has a good crust and a tasty (if a bit too sweet for some) tomato sauce.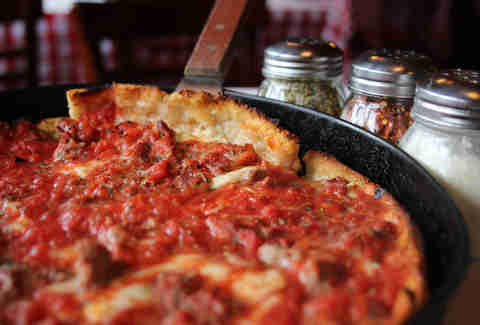 The Loop (& other locations)
Rudy Malnati Sr. is one of the people credited with inventing deep dish at Pizzeria Uno, and his son Rudy Jr. launched this local chain. Unfortunately, Mama Malnati had already given the family pizza crust recipe to brother Lou for his own chain (see below), so she devised a new one for Rudy. That's why we give the nod to Lou for classic deep dish (Rudy wins at thin crust). But this is still plenty good, with a similar crispy-crunchy hard shell setting up a sturdy base for robust tomato and cheese.
Alsip
The old-timers claim that deep dish is North Side pizza and real Chicagoans -- by which they mean South Siders -- eat tavern-cut thin crust. There's some truth to that (though Giordano's started on 63rd St, to name one example), but these days deep dish is all over the South suburbs. Few are more dramatic than the deep dish served at this place in suburban Alsip, with a ring of flaky crust as tall as a medieval wall barricading a thick lake of gooey cheese and tomato.
Roscoe Village
This is the newest deep dish we know of in town, though again, it claims descent from a classic (the family opened Gino's East but sold it long ago). Bartoli's still knows what it's doing -- exemplified by a well-balanced deep dish with a nice flaky crust that doesn't sit like a gut bomb. The sauce is a little sweet, as old-school red sauces often are in Chicago, but it works well both with something neutral like spinach and something that adds a little kick like pepperoni.
Crestwood
Louisa DeGenero was a cook at Pizzeria Due when she decided to open her own place in the South suburbs with her daughter in 1981. (It's just down Highway 50 from Nino's in Alsip, in fact.) This is a contender for the best original-style Chicago pizza currently being made, with a lighter, puffier butter crust, yet the same robust crushed tomatoes and fennel-rich Italian sausage you've come to expect from classic local deep dish.
Lincoln Park and Morton Grove
The third main style of Chicago deep dish is pan pizza, in which the ingredients sit on top of a puffy crust. What sets Chicago's apart from pan pizza all over middle America is the crispy edge of caramelized cheese turned lacy and almost black -- the invention of Burt Katz, who launched and sold several pizzerias from the 1960s on, including this one. From the cheese that's sharp enough to cut your gums on, to the acidic blast of the tomato sauce, this is put-hair-on-your-chest pizza, one to work up to only after you've proven you can take on milder forms of Chicago 'zas.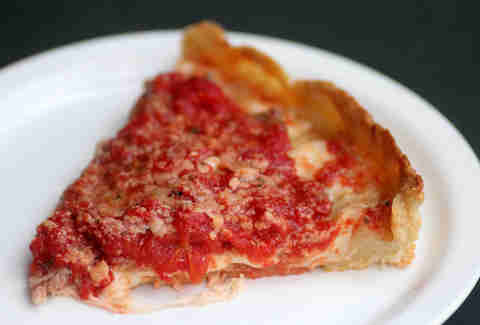 River North (& other locations)
Whether or not he invented it, Lou's dad Rudy was present at the creation of what is probably the pizza that comes closest to what original deep dish tasted like. And this is a deep dish that extols the virtues of simplicity with tastes like buttery crust, bright canned tomatoes, and Italian sausage with a hint of wine.
Lakeview
A Tribune poll some years ago named this the best deep dish in town, and as far as stuffed goes, we won't argue. It just gets everything right, from the flaky crust to the brightly spiced tomato sauce on top. For Lakeview, at least, it revived a style that had gotten kind of chain-boring. The pizza is big and robust enough on its own that we wouldn't even mess with meat. Cheese or spinach is fine (and the sausage is a little weird, anyway).
Sign up here for our daily Chicago email and be the first to get all the food/drink/fun in town.

Other Stuff You'll Like In Power Rank