The 9 Best Deep-Fried Foods in Chicago
kailley lindman/thrillist
Do you know the one thing (really the only thing) that could possibly make this already incredible sentence incredible...er? Frying it. While we try to figure out how exactly to do that, check out this list of the awesomest deep-fried foods in Chicago.
Kailley Lindman/Thrillist
Fried pickles
Burger Bar Chicago (address and info)
Lincoln Park
Forget the awesome craft beer list, colossal gourmet burgers, and killer milkshakes (for now, just for now), and instead go straight for the glorious deep-fried pickles at this burger stop on Clybourn. These gems are sliced lengthwise, dredged through a panko coating, fried, and served with a zippy aioli dubbed "urban sauce."
rockit ranch productions/courtesy
Fried sweetbreads
Bottlefork (address and info)
River North
Consider Bottlefork's bite-sized wonders the gateway drug of organ meats. The popcorn sweetbreads are small, breaded, and fried, drizzled in Calabrian chili aioli, and -- in the end -- far more innocuous-looking than most organ-based delicacies. Wash 'em all down (and when we say "all," we mean "all" -- these things are crazy addictive) with one of head barkeep Brandon Phillips' knockout cocktails, like the all-new Beet Fizz with apple brandy, beet, lemon, cream, thyme, allspice dram, and egg white.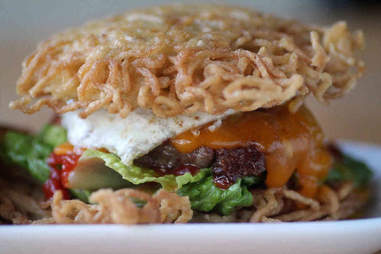 sean cooley/thrillist
Fried ramen burger
Buzz Bar (address and info)
North Center
Inspired by the OG Ramen Burger in NYC, this Buzz Bar creation features a flavorful Kobe beef patty, a fried egg, sun-dried tomatoes, peppery arugula, and Sriracha sauce stacked between two buttered-and-fried, house-made ramen patties. Pro tip: it's about as messy as it is delicious -- make sure to equip yourself with an arsenal of napkins.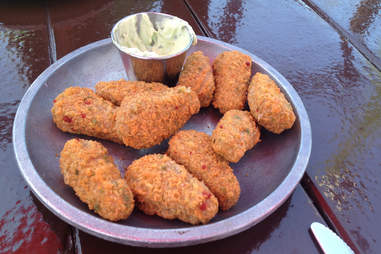 twisted spoke/courtesy
Fried jalapeño poppers
Twisted Spoke (address and info)
West Town
Panko-fried, spicy, and bursting with a creamy, cheesy center, the two-bite poppers at Chicago's favorite biker bar embody everything we're looking for in a great bar snack. And, unlike at a lot of places, you get about a dozen to an order instead of the usual five or six. For maximum effect, dunk them in the avocado, cilantro, and lime sour cream. For EXTRA maximum effect, do it again. The acidity cuts through the spice and the heaviness of the poppers, allowing you to plow through the whole plate with ease.
Country-fried bacon
Wiener & Still Champion (address and info)
Evanston
This Evanston mainstay sees your basic pan-fried breakfast strips and raises you a country-fried iteration with at least 10 times the whiskey-headache-fighting power. Each piece of bacon is breaded and deep fried to perfection, served with hot sauce and a special Argentine garlic and herb dip. Team your order with a jumbo fountain drink and a 1/3-pound char-grilled burger for full effect.
 
kailley lindman/thrillist
Deep-fried twinkie

Parts and Labor (address and info)
Logan Square
Thank you, Parts and Labor, for offering a deep-fried Hostess product so on-point, we no longer feel the need to go to county fairs.
Sincerely,
Chicagoans everywhere
P.S. Bonus points for that delightfully refined drizzle of raspberry coulis.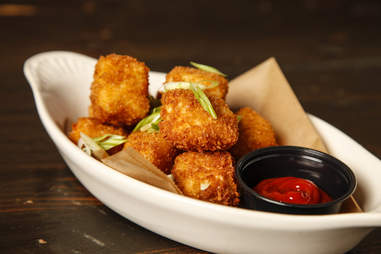 rockit ranch productions/courtesy
Fried mac & cheese bites
Rockit Burger Bar (address and info)
Wrigleyville
Remember when we covered Rockit's Mac & Cheese Attack burger? Well, that burger was (and still is!) such a hit that the Rockit folks made fried mac & cheese bites (aka bite-size versions of the burger's "bun") with Sriracha ketchup a permanent menu addition. Finally, a socially acceptable way to eat mac & cheese with our hands.
Fried mozzarella sticks
Roots Handmade Pizza (address and info)
West Town
The sticks at this local pizza joint are made entirely from scratch and coated in a seriously flavorful garlic-herbed breadcrumb mix. And with five to an order, they're great to split with friends/definitely not split with friends as an appetizer before devouring one of Roots' hand-tossed pies.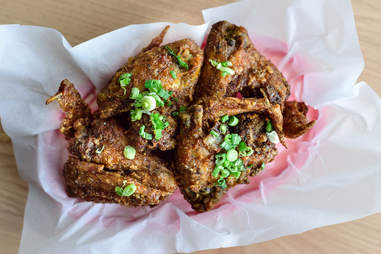 kailley lindman/thrillist
Double-fried Seoul Sassy chicken wings
Crisp (address and info)
Lakeview
There's no shortage of great fried chicken in this city, but Crisp's tangy, Korean-style wings win by a landslide thanks to a double-dip in the fryer. The first dip seals in all the juiciness and the second crisps up the wings to order. Add a generous coating of sesame, garlic, and soy, plus a sprinkling of fresh green onions, and you're on a rocket ride to chicken-fried Nirvana.
Sign up here for our daily Chicago email and be the first to get all the food/drink/fun in town.
Kailley Lindman is a contributing writer for Thrillist Chicago, as well as a food blogger, bacon enthusiast, and devout user of the Oxford comma. Follow her at @KailleysKitchen.