The diner is a dying breed, a relic of a bygone age when people liked their food filling, simple, and blissfully ignorant of calorie counts. It's a damn shame, because there are few experiences more comforting than sitting in a diner booth, sipping on a cup of coffee, and digging into a towering pile of eggs and meat. Thankfully there are some surviving greasy spoons around Chicago, and a lot of the ones that have managed to make it did so because they are just that reliable. No James Beard Awards here; just good old-fashioned American cooking.
Recommended Video
The History of Delivery & Takeout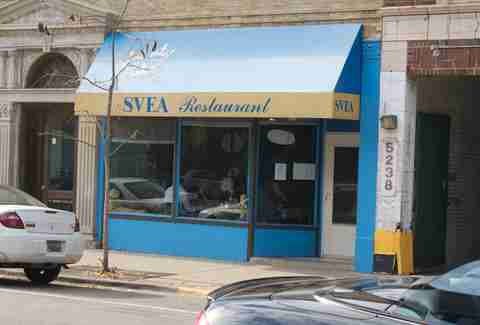 Andersonville
Tucked into a small old storefront on Clark is the charming, blue-and-gold-bedecked Svea. One of the last vestiges of the neighborhood's Swedish influence, Svea is a simple breakfast and lunch joint with a mix of classic American diner food and specialties like herring, Swedish sausages, and lingonberry compote. The prices are exactly what you want out of a simple diner, and the walls are covered with old photos of Sweden and the neighborhood. While there is plenty to recommend, the Viking breakfast is the go-to for first-timers and regulars alike.
Woodlawn
Some of the other places here have history, but none of them have 1892 history. And none of them have one of the best plates of chicken & waffles in the city. How about some chopped steak with those waffles instead? Salt pork and grits for breakfast? Smothered pork chops, ham hocks, peach cobbler? We could just keep listing foods, but all you need to know is there is a reason this place is not just a neighborhood staple, but a landmark.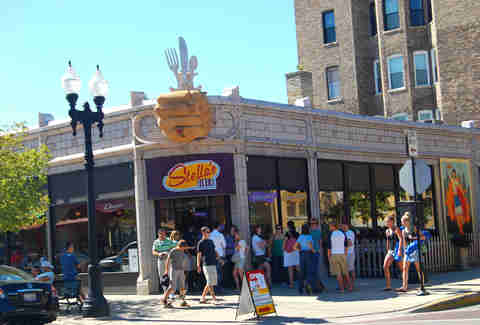 Lakeview
A 50-year mainstay (though it's gone through a couple names), Stella's is a classic Chicago corner restaurant that has managed to survive every change Lakeview has seen since the Korean War. Anyone who has walked by will have caught the giant fist triumphantly gripping a fork and knife over the entrance. Hopefully they have stopped in, too. The food is a nice mix of everything you would expect and a little something extra, with everything from omelets, pancakes, and roast turkey dinners to quesadillas and fettuccine Alfredo. The window front booths are some of the best seating in the hood, and go great with a burger and milkshake.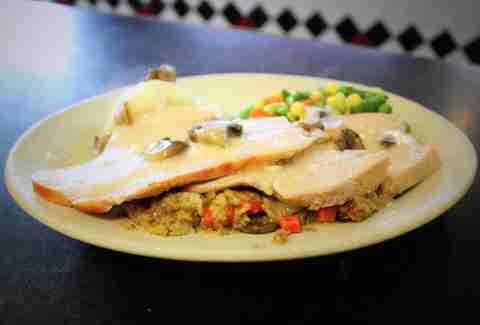 West Loop
If you don't already love the Palace Grill when you see its beckoning neon "Sandwich Shop" sign, there isn't much we can do for you. Take refuge from the creeping gentrification of the West Loop among the checkerboard floors, metal chairs, and a staggering amount of Blackhawks memorabilia. There is nothing complicated or pretentious about the great omelets or French toast, which is exactly what you want when you come to a place like this. Yes, your Angus steak burgers and portobello mushroom sandwiches are great, but they are not better than this.
Old Irving
Cheap, tasty, filling, friendly: that is what you are looking for in a diner. Ambiance is optional, although a lack of it almost counts anyway. Shilas has all those things in spades. This Old Irving neighborhood favorite is a wonderful reminder of everything that is right with the world. The skillets are big and flavorful, the wait staff will smile and keep your coffee warm. You will eat pancakes. You will pay less than $10 (or barely more). What more could you possibly want?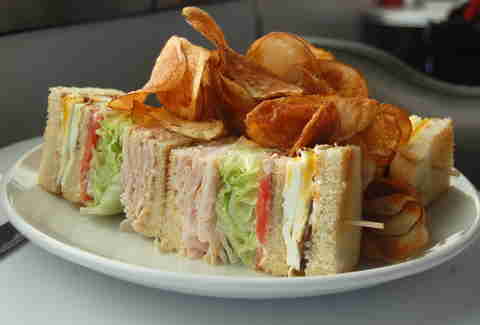 Avondale
Nondescript on the outside, but lively and welcoming on the inside, City Cafe is one of the best breakfast spots on the West Side. The owner is active and friendly, and the whole staff keeps it moving despite the frequently crowded morning rush. The pancakes are pretty fantastic, but the menu is also decked out with some Mexican breakfast specialties to give your first meal of the day a little more flavor. We all love our sausage or bacon with breakfast, but if you haven't tried some huevos con chorizo, you still have a lot to learn. All that plus prices that are almost as welcoming as the atmosphere.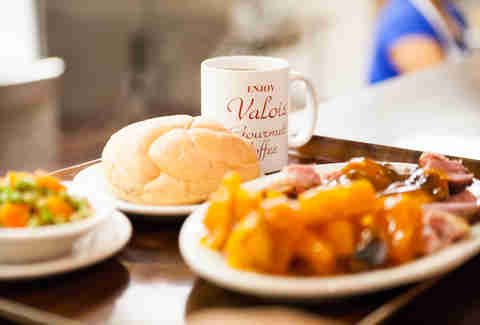 Hyde Park
This one is cheating a bit, yes. It is not a diner in the classic sense, mostly because of the counter-service style. But few places in Chicago are more old-school or more in line with what you want out of a good diner: nothing fancy, just good food in a friendly neighborhood environment. Valois also has the distinction of being a favorite for Chicago royalty; Harold Washington often ate here multiple times per day, and the spot is also a favorite of Hyde Park local Barack Obama. It also caters to students, the elderly, professors, and whoever else just wants a good plate of steak and eggs.
Loop
The beautiful confines of the historic Pittsfield Building do not hurt this place one bit. While there is a classic diner setup in the storefront, there's also "patio" seating out in the lobby, which provides some pretty wonderful indoor views. It's also great to have a place in this section of the Loop that is cozy and affordable, without either the tourist hubbub or trendy affectations. You get to sit at a counter and eat corned beef hash. It's sad that can be such a hard thing to do these days, which is why we need reminders of those simple joys via the Pittsfield Cafe.
Edgewater
All the classics are here in this no-frills Edgewater establishment. It's not much to look at, which is catnip for people who know their diners. Experts will not be disappointed. The portions are big, the coffee keeps flowing, and you can get a half-pound burger with soup and fries for eight bucks. If every corner had a place like Alexander's, this would be a better world.
Lakeview
There are only booths in this breakfast and burger counter spot on Irving Park, which only adds to the experience of inhaling an omelet at 2am. Built in an old rail car back in the '30s, the Diner Grill is open all day, but it is best known as a late-night flashpoint for the drunk and hungry of Chicago. Two particular menu items carry a special reputation: the "Dick Burger," named after former Alinea employee Richard Richardson, and an unholy (in the best way possible) mound of food called "The Slinger," which is hash browns, grilled onions, two grilled burger patties, two over-easy eggs, and cheese, topped with chili. We will just leave it at that.
Jefferson Park
I am a sucker for corned beef hash -- it's impossible to resist the siren's salty, fatty song leading you to the quintessential diner food. Not everyone in Chicago does it, which is fine, but Yellow Rose does it and does it well, with big chunks of meat instead of that thin mush that some places try to masquerade instead. Way up in the outer reaches of Elston lies the Yellow Rose Cafe, an absolute gem of a diner worth whatever it takes you to get there. Even if you don't like corned beef, it does just about everything right, including another signature dish, stuffed French toast.
Lincoln Park
A vintage Lincoln Park holdout that has been around since 1938, Frances' is one of the few Jewish restaurants still operating in Chicago. Although the deli name may throw some off, Frances is a full-service sit-down with a wide range of breakfast and sandwich options. The most important things to look for on the menu are the Jewish comforts like corned beef and an excellent matzo ball soup. For true Jewish deli devotees, it also has Dr. Brown soda. It's one of the few places left in Lincoln Park that can make you forget it is 2016.
Pilsen
Lord bless the Mexican diner. It is a marriage made in heaven, with the spicy bold flavors of our southern neighbor going perfectly with a plate of eggs or stuffed in an omelet. Parkview is a tiny little counter spot in the heart of Pilsen, and it has a tiny little menu, but don't let that stop you. The Spanish omelet is heaven, and the chilaquiles are crunchy and piled high. And if you are feeling up to it, don't let anyone tell you not start your day with coffee and a few tacos.
Sign up here for our daily Chicago email and be the first to get all the food/drink/fun in town.