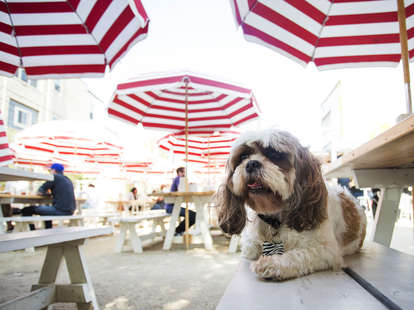 Even when your human friends won't join you for a drink because they're doing totally lame stuff like "going to work" or "not joining you for a drink," your canine friend is always down for a visit to a neighborhood bar or outdoor patio. So grab a leash and take your pooch to any of these 40 dog-friendly establishments in town.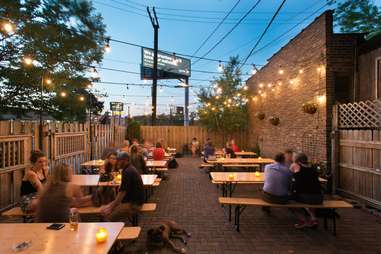 Bucktown
Bucktown Pub
1658 W Cortland Ave
A cozy old-school watering hole, Bucktown Pub has plenty of outdoor patio seating in the summer and also welcomes pooches to hang out inside with the patrons.

The Corner Bar
2224 N Leavitt St
Wouldn't it be hilarious if The Corner Bar wasn't actually located on a corner? Yes, it would. Buuuut, it also totally is. And it serves really cheap beers (as low as $1.75) while you hang out with your dog inside.

Jack and Ginger's
2048 W Armitage Ave
The underrated beer garden here is a great spot to catch a game in the summer, and the friendly waitstaff is quick to bring out a water bowl for Fido.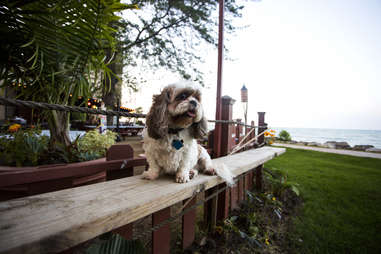 Edgewater
Waterfront Café
6219 N Sheridan Rd
A seasonal outdoor café offering excellent views of the lake, the aptly named Waterfront Café looks like a Key West joint if you down enough margaritas and maybe squint a bit.

Gold Coast
Bistronomic
840 N Wabash Ave
Doesn't it kind of seem like everyone in Gold Coast is walking a small dog at all times? It does, and they're probably going to hang out at Bistronomic, which has sidewalk seating where dogs are welcome to hang.
Humboldt Park
Archie's Iowa Rockwell Tavern
2600 W Iowa St
One of Chicago's most beloved dives, Archie's welcomes your pooch to hang out inside the bar until about 11 pm. Just don't feed it too many cheese balls.

Hyde Park
The Promontory
5311 S Lake Park Ave
One of the South Side's trending hangouts, The Promontory has outdoor seating where your dog is more than welcome to chillax.

Irving Park
Lizard's Liquid Lounge
3058 W Irving Park Rd
This Irving Park spot is dog-friendly inasmuch as the Insane Clown Posse loves Faygo and hates magnets. Don't be surprised to find a dog or two sitting on a stool next to the bar here.
Lakeview
Ten Cat Tavern
3931 N Ashland Ave
You won't find cats hanging out at Ten Cat Tavern, let alone 10 of them, because that would be ridiculous. However, you will find dogs because that's awesome, and they're allowed to hang out inside the bar.

Crosby's Kitchen
3455 N Southport Ave
Offering solid Bloody Marys and tasty comfort foods such as skillet cornbread and lobster deviled eggs, Crosby's Kitchen is a great spot to do dinner with your pooch on the outdoor seating.

Jake's Pub
2932 N Clark St
At Jake's Pub you'll find pool, darts, a jukebox, and probably other dogs that will keep yours company inside the bar.

Keenan O'Reilly's
3916 N Ashland Ave
Ping-pong, pool, cold beer, and dogs hanging out inside. What else would you want from a local dive?

Murphy's Bleachers
3655 N Sheffield Ave
A solid spot for people-watching on game day as you hang out with your dog on the outdoor patio.

Schoolyard Tavern
3258 N Southport Ave
Sure, you can hang out on your porch with your dog and a paper-bagged 40 in hand, or you can do the same on Schoolyard Tavern's sidewalk patio.

Temple Bar
3001 N Ashland Ave
Come for the curry chips and craft beers. Stay to chill out with your pup on the sidewalk seating.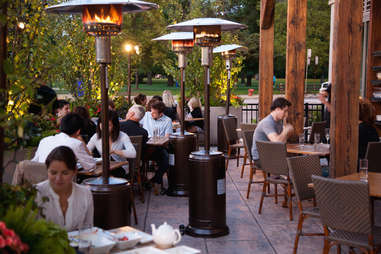 Lincoln Park
Perennial Virant
1800 N Lincoln Ave
Perennial Virant's outdoor patio is a great spot to grab some upscale eats and hang out with your dog before/after a visit to nearby Lincoln Park.

Harry's Velvet Room
1480 W Webster Ave
This retro-styled lounge has charm to spare, and it welcomes patrons to enjoy a classic cocktail while hanging out with their pup on the sidewalk patio.

River Shannon
425 W Armitage Ave
An old-school pub that's purportedly been around since 1946, River Shannon is a great spot to hang out with Fido inside the bar while munching on popcorn and playing giant Jenga.

Wrightwood Tap
1059 W Wrightwood Ave
This neighborhood bar will let your pooch inside, and you can also wash down a cold beer or 12 with free pretzel rods.
Logan Square
Parson's Chicken & Fish
2952 W Armitage Ave
Boasting one of the liveliest outdoor patios in town, Parson's has plenty of room for dogs and spirited games of ping-pong.

Longman & Eagle
2657 N Kedzie Ave
There aren't many Michelin-starred restaurants that welcome dogs, but you can bring yours to the partially outdoor Off Site Bar in the back.

Loop
312 Chicago
136 N LaSalle St
There aren't too many establishments to take your dog to in the Loop, but the staff at 312 Chicago are happy to hook your pooch up with a bowl of water while you lounge on the outdoor patio.

North Center
Grace Street Tap
3759 N Western Ave
Take advantage of cheap beer, pool, and a jukebox while your dog also hangs out inside the bar at Grace Street Tap.

The Bad Apple
4300 N Lincoln Ave
Grab a seat on the outdoor patio, order up one of Chicago's best burgers and some Old Bay fries, and sneak some bites to your four-legged amigo.

River North
Clark Street Ale House
742 N Clark St
Besides boasting one of the best whiskey selections in Chicago, Clark Street Ale House lets you hang out inside with your pooch.

Pierrot Gourmet
108 E Superior St
If your pup is used to the lavish lifestyle, it'll probably appreciate hanging out on the dog-friendly Pierrot Gourmet patio, which is located at The Peninsula hotel. Orrrr not, because it's a dog and just wants to chase tennis balls.

Roscoe Village
Four Treys Tavern
3333 N Damen Ave
Stop in for the pool table and karaoke, and stick around because the drinks are cheap and your dog can hang out inside.

Frasca
3358 N Paulina St
Offering solid Italian eats and a corner location that's great for people-watching, Frasca has a nice sidewalk patio where you can hang with Fido.

South Loop
Kasey's Tavern
701 S Dearborn St
One of the most-inviting bars in the South Loop, Kasey's offers a decent beer list and also lets dogs party it up inside.

Square One
1400 S Michigan Ave
Square One offers wine, cheese, and outdoor dining alongside Michigan Avenue. And Fido is welcome to join.

Streeterville
Howells & Hood
435 N Michigan Ave
Howells & Hood's taps pour more than 100 beers (and a few wines), while the big outdoor patio has plenty of room for your pooch.

West Loop
Tête Charcuterie
1114 W Randolph St
Just because you want to dine at one of Chicago's best new restaurants doesn't mean you have to leave your dog at home. Also, hope you like meat.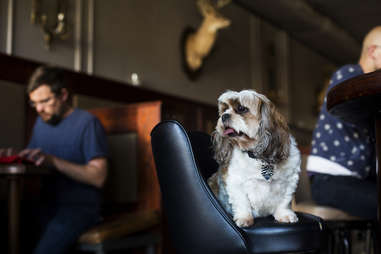 West Town
Sportsman's Club
948 N Western Ave
The scenic backyard patio is a great place to hang out with your dog while knocking back solid cocktails.
Fatpour Tap Works
2005 W Division St
Fatpour has one of the biggest beer selections in town, fried cheese curds, and a spacious sidewalk patio where your dog can hang out.
Gold Star Bar
1755 W Division St
It's only appropriate that one of the diviest dives in Chicago also lets dogs inside the bar. Shoot some stick, down a few $5 shot-and-beer combos, and let your pooch drag you home.
Happy Village
1059 N Wolcott Ave
The tent-topped outdoor patio here really is one of the most coveted in the area, so arrive with your pooch early on summer evenings if you want to snag a spot.
Innertown Pub
1935 W Thomas St
A classic dive, Innertown Pub has plenty of goofy stuff on the walls, a pool table, and a lenient policy towards letting dogs inside.
Rainbo Club
1150 N Damen Ave
This historic dive isn't exactly the most-spacious watering hole around, but it'll still let Fido in until about 11pm.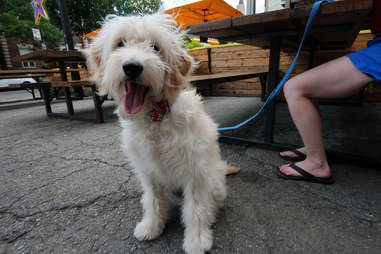 Wicker Park
Big Star
1531 N Damen Ave
You know about it. Your mom knows about it. Your dog knows about it. (Everyone knows about it.) It's one of the trendiest outdoor patios in Chicago.

The Boundary
1932 W Division St
Your dog probably won't be the only one hanging out on The Boundary's popular outdoor patio, and you can also sample more than 120 beers. Not in one visit though. BAD IDEA.
Sign up here for our daily Chicago email and be the first to get all the food/drink/fun in town.
Raf doesn't have a dog, but he'll totally take yours to a bar. Book an appointment: @RafFoSho.