Mike Gebert
Mike Gebert
Sure, we already handpicked Chicago's best spots for classic sandwiches, but Chicago has invented or co-opted plenty of other tasty dishes not on a bun. Here's the list of Chicago's favorite native dishes (and one cocktail!), and the best classic joints to get them at.

Stuffed Pizza
The Art of Pizza (address and info)
Lakeview
When out-of-towners like Jon Stewart defame Chicago pizza as a casserole, this style -- invented in the 1960s at Nancy's and (very loosely) inspired by the Italian Easter pie scarciedda -- is what they're ragging on. Never mind them though, go to this Lakeview parlor for the ultimate in pizza critical mass.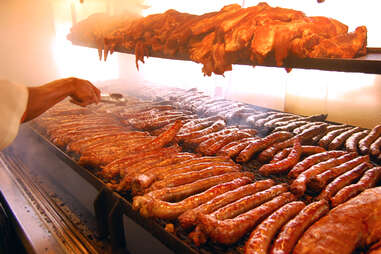 Rib Tips and Hot Links
Lem's BBQ (address and info)
Grand Crossing
Chicago's iconic barbecue meat got its start because the price was right -- meat packers were throwing rib tips away as scrap, and they were happy to have South Side pit masters like the Lemons brothers haul them away. They're not that cheap any more, but smoky tips and sausage are still a common man's meal fit for a king at this South Side BBQ classic, open since the 1940s.
Deep Dish Pizza
Pizano's (address and info)
Near North Side
The original deep dish wasn't as crazy-deep as Chicago pizza has gotten since, but it was taller than a hand-tossed New York pizza, and used a more biscuit-like short dough, topped with chopped tomatoes over the cheese. Rudy Malnati Sr. is thought to have devised it at Pizzeria Uno, and his son Rudy Jr. still runs this local chain (and can be found in residence at the Sinatra-era State St original), making them the way his Dad did.
Shrimp Kogane-Yaki
Ron of Japan (address and info)
Northbrook
Here's one the suburbs invented that remains largely unknown to the city. If you were ever a 12-year-old boy on the North shore, you probably had your birthday at a teppanyaki place like Ron of Japan or Tsukasa, and ordered what American diners called "Golden Shrimp in Golden Sauce": fried shrimp topped with a gooey, mayonnaise-y confection. It was apparently invented at Ron of Japan in Northbrook, and quickly spread to every place where Japanese chefs put on a show on the grill in the middle of the table.
Pan Pizza
Burt's Place (address and info)
Morton Grove
All thick pizza goes in a pan, but in the 1960s, Burt Katz invented his own unique Chicago-style -- in which cheese along the rim caramelizes into crispy black wonderfulness. Call ahead for a spot at his suburban spot to get the authentic thing, or get something close to it delivered from Pequod's, which he started and then sold.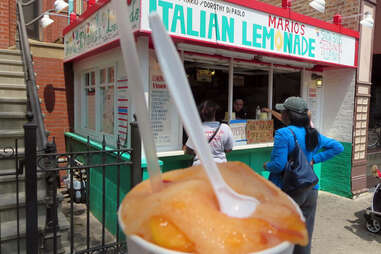 Italian Lemonade
Mario's Italian Lemonade (address and info)
University Village
Italian ice, a descendant of granita, is a common Summertime treat around town. Italian lemonade is often confused with it, but it's very different -- a lemonade-base mixed with other fruit flavors, slushy enough to sip with a straw. The world capitol of Italian lemonade is a ramshackle stand across from Al's Italian Beef on Taylor St, only open a few months each Summer. It's one of the great crossroads of the city where everyone (from cops to perps to immigrant Grandmas to little kids) comes together, united by a love of a cold refreshment on a warm Summer night in the city.
Shrimp De Jonghe
Bavette's Bar & Boeuf (address and info)
River North
Shrimp cooked under a layer of garlicky bread crumbs, this might be the oldest dish on the list -- invented at DeJonghe's Hotel and Restaurant on Madison near State in the first years of the 20th century. It's still on the menu at seriously old-school places like Gene and Georgetti's or the Cape Cod Room, but we like the revived and modernized version at Bavette's, which is less of a casserole and more of a lightly topped shrimp dish.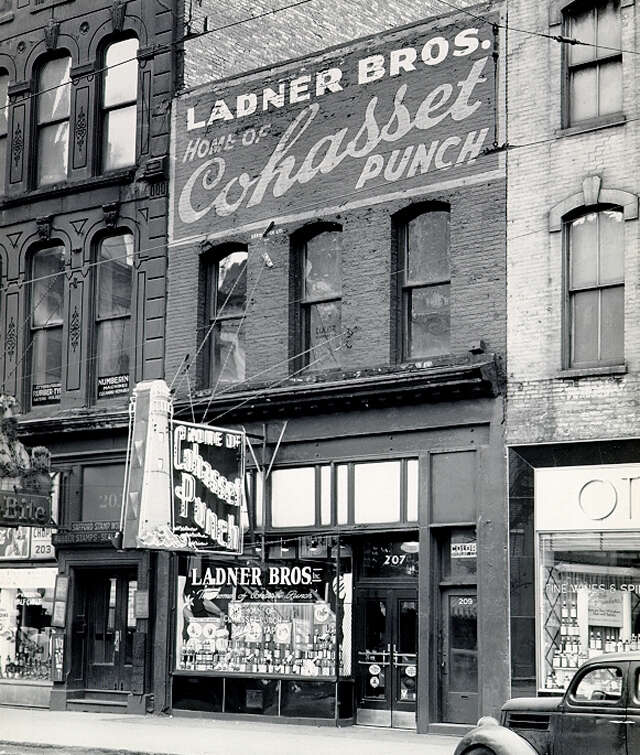 Cohasset Punch
The Drawing Room (address and info)
Near North Side
It's forgotten (except by cocktail historians now), but for much of the 20th century, Chicago had its own unique classic cocktail -- named, for some reason, for Massachusetts. Basically rum and Vermouth with half of a canned peach floating in it, it was officially the exclusive recipe of a bar called Ladner Bros. in the Loop, but common enough around town that it turns up causing trouble at a party in a Saul Bellow novel. To be honest, by modern standards, it's kind of an insipid drink, but a number of today's mixologists have played with their own take on it, such as the Cohasset Punch No. 2 invented a couple of years ago at The Drawing Room.
Black Truffle Explosion
Alinea (address and info)
Lincoln Park
There's lots of mad scientist inventiveness going on in Chicago's high-end restaurants, but if one dish has spread widely enough to endure, it's this unabashedly sensual one conceived by Grant Achatz while he was still at The French Laundry, and on Alinea's menu since opening day. A truffle-flavored gel is sealed in a ravioli, and you'd better pop the whole thing into your mouth, because it's going to explode with the musky, intoxicating liquid as soon as you bite down.
Flaming Saganaki
The Parthenon (address and info)
Greektown/Near West Side
It's a ritual of Greektown dining -- rubbery Greek cheese is splashed with grappa or some other alcohol, and lit aflame as the waiter cries "Opa!". It was invented at The Parthenon, unless it was invented at a long-gone place called Diana's, but either way, it's surefire tourist bait at any restaurant in the Greek neighborhood just West of the Loop. Apparently there were also many failed catchphrases before arriving at "Opa".
New York Cherry Ice Cream
Margie's Candies (address and info)
Logan Square
Chicago has its own ice cream flavor, which is named, for some reason, for... New York? New York Cherry, which is basically just vanilla with cherries in it, can be found on the menu at almost any old-school ice cream place -- Rainbow Cone, Cupid's, or the place where The Beatles went after they played Comiskey -- Margie's.
Chicken Vesuvio
Bacchanalia (address and info)
Pilsen
No one's quite sure where this name for roast chicken comes from (one good bet is a Loop restaurant called The Vesuvio from the 1920s), but the hearty, generously portioned dish has been on Chicago menus for close to a century, even as the recipe seems to change from place to place. It's chicken, oven-roasted in a white wine & garlic sauce, sometimes with lemon, with potato wedges (always), and peas (optional). This friendly place in the tiny Heart of Italy neighborhood does a great robust version.
Sign up here for our daily Chicago email and be the first to get all the food/drink/fun in town.
Mike Gebert is a James Beard Award-winning food video producer and writer and Founder of SkyFullofBacon.com. Follow him on Twitter @skyfullofbacon.