5 grilled cheese specials for National Grilled Cheese Day
Chicago There are a lot of dumb fake holidays out there, and National Grilled Cheese Day this Saturday, April 12th is... not one of them! Here to help you celebrate the only American holiday better than Flag Day, we've rounded up five limited-run grilled cheese specials across Chicago.
Siena Tavern
Siena Tavern
Available April 12th Only
For one day only, Siena Tavern is slinging a "Todo Italiano" grilled cheese: fresh mozz, Fontina, Stracchino, prosciutto, oven-dried tomato, truffle butter, and pesto aioli. It's served on brioche -- which is technically French, but we're equal opportunity grilled cheese-ists.
Continue Reading
RJ Grunts
RJ Grunts
Available through April 30th
April's grilled cheese special is actually a grilled cheese... burger... special. Two brioche/smoked Gouda/Fontina grilled cheese sandwiches soaked in a tangy tomato soup reduction that both sandwich a classic, juicy Grunts patty.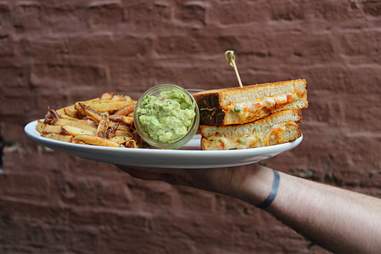 Bull & Bear
Bull & Bear
Available through April 10th
This Downtown tavern's limited-edition, Southwest-inspired brioche grilled cheese comes with Monterrey Jack, Chihuahua, cheddar, pico de gallo, tortilla strips, and a side of house-made guac and fries.

Public House
Public House
Available through April 12th
The definition of a good deal? A meaty grilled cheese with a 4oz burger patty inside of it, along with white American cheese, grilled onions, special sauce, a side of fries, and your choice of craft beer -- all for $10.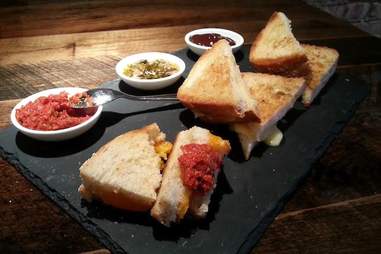 Bar Pastoral
Bar Pastoral
Available through April 30th
Grilled cheese flight!!!! BP's letting your mouth battle with three irresistible GC varieties: a traditional with Widmer's 1Yr cheddar and tomato tapenade, Castelinhos with charred scallion pepper jelly, and Maxx Extra with chocolate ganache.