Mike Gebert/Thrillist
Mike Gebert/Thrillist
Meaty, garlicky, and the prelude to a long nap after, gyros weren't invented in Chicago, but the industrially made gyro meat cone was, which makes it incredibly hard to choose between stands that use the same lamb- or beef-filled gyro loaf from Kronos, Devanco, or one of the other manufacturers. Instead, to assemble the pride of places on our top 10, we only taste-tested those making their own meat for the spit, like in the old country. (Oh and for the record, they aren't pronounced "Guy-rose" or "Jy-rose," it's "Year-rose," as a sign in every good gyro place will tell you.)
Mr. Greek Gyros is the standout for the rowdy, sometimes racially heated late-night food scene in Greektown, but looked at soberly, this small stand next door is much better at the standard Kronos product. It uses a finely ground cone -- practically "gyro-logna" -- crisped up just right.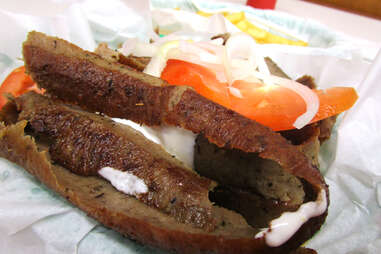 This South Side spot isn't much to look at, but it's utterly reliable for the classics (it puts out a mean Italian beef as well), and lesser stands should study the perfect crisping on its gyro alone.
This friendly, '70s-old-school family restaurant is probably the best traditional Greek restaurant outside of Greektown in Chicago, and it serves an excellent plate of gyros with well-seasoned and crisped meat.
A modern Greek restaurant in Wicker Park (though Taksim is actually in Istanbul... kind of the Wicker Park of Istanbul), Taxim does interesting takes on classics from that part of the world, like its unique duck gyro, wrapped in a giant wrap and drizzled with pomegranate syrup.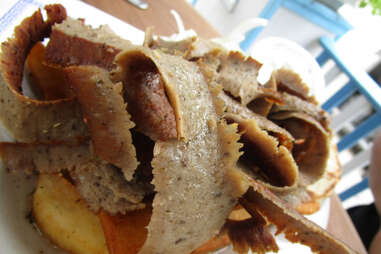 This Lincoln Park standby for roasted chicken and Greek fries soaking in lemony-chicken fatty oil also does a totally solid gyro. It may be a touch dry, as it's crisped to almost leather, but it's quality meat all the same, plus you get those wonderful fries that taste like schmaltz even when there's no chicken on the plate.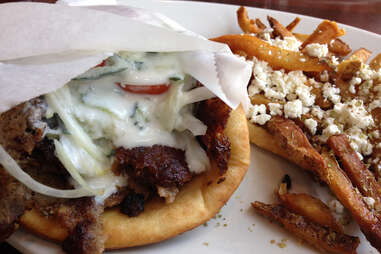 A family that used to have a famous Wrigleyville gyro place in the '80s and '90s revived it in Lakeview a couple of years ago, and if anybody's gyros could be said to be a thing of beauty, it's this place's. The house-made meat is crisp and flavorful, and it looks great next to the Greek fries with garlic and feta.
This is one of the only stands that makes its own meat cone. "It's a pain in the butt, I wish I could just buy it," the owner said when I asked about it. Considering all the signs on the walls saying it's homemade, he's stuck. But, as far as I'm concerned it's worth it -- the coarse, meatier meat tastes like real beef and lamb and fresh spices (including lots of garlic).
One of the busiest restaurants in the entire city, Greek Islands has so many specialties you could eat there for years without ever having the gyros. But they're excellent, with a rich lamb flavor, crispy and juicy -- plus they come with the restaurant's ultra-garlicky tzatziki, which will remind you of how good they were for days.
A Boystown Greek/Middle Eastern stand (with lots of off-color humor on the walls), Gyro-Mena offers traditional, plus pork and chicken gyros/shawarma sandwiches, with a wide range of toppings -- this is the only place where there's a distinction between Greek tzatziki (more garlic) and Turkish (more mint).
Another of Greektown's best-known restaurants (they claim flaming saganaki was invented here), The Parthenon lets you know you're in a higher class of gyros from the moment your order arrives with each part individually plated. The meat tastes like good-quality roasted lamb, not processed food (though they insist it's still a beef-lamb combo), and the tzatziki is garlicky and thick enough to stand up a fork in. The most natural-seeming gyros in town -- and for my money, the best.