The Best Hangover Foods in Chicago, According to Top Chefs and Bartenders
Every so often there will be that booze-fueled night that leaves you in such rare form the morning after, you'll contemplate swearing off imbibing indefinitely -- until, that is, you're faced with that bottomless mimosa opportunity that you just can't pass up.
Just in time for St. Patrick's Day and its tendency to leave you in such a state, we caught up with some of Chicago's top chefs and bartenders to learn about the ways they combat the after effects of their wildest nights -- because who knows the feeling better than the pros who got us into these grease-craving conundrums to begin with? From noodles and navy-strength gin to burgers and burritos, here's how these experts tackle the hairiest of hair-of-the-dog situations.
Potato pancakes and pastrami
Manny's Deli
"The smoky and peppery pastrami is incredibly satisfying after a long night, and the potato pancakes are a great way to soak up the booze. Couple those with Dr. Brown's Soda and a black and white cookie for the drive home, and it's a miracle cure. Or the prelude to a food-induced nap."
-- Aaron McKay, Executive Chef at The Radisson Blu Aqua Hotel
Bullseye French toast and Parathas burrito
Little Goat Diner
"I love breakfast in general, but especially when I'm hungover I go to Little Goat Diner for damage control. I start with at least three drinks (caffeine, water, bubbles) and get the Bullseye French toast with crispy chicken and eggs, or the Parathas burrito, a naan burrito with sunny side up eggs, avocado, and beans."
-- Danielle Lewis, Bar Manager of GT Fish & Oyster
Pho
Tank Noodle
"If it's really bad -- like, sunglasses, vampire bad -- I go with pho with everything in it. The more tendon and tripe in it, the better. I like to make the broth nice and belly-warming spicy, with chili garlic sauce (sambal). I also add a lot of lime to cut the fat, as well as refreshing Thai basil. Start with the Banh Xeo crispy crepe with pork, shrimp, and bean sprouts. The freshness from all the herbs and broth makes me feel like I am doing something healthy after polluting my body with alcohol."
-- Rebecca LaMalfa, Chef de Cuisine at Virgin Hotels Chicago
Smoked mackerel and steelhead roe with a glass of rosé, or brisket and grits with a "navy strength daiquiri"
Café Marie-Jeanne
"Cafe Marie-Jeanne is my go-to -- it's a quiet place to get work done, as well as a neighborhood gem to show off to guests. Mornings are especially coveted because every bleary-eyed bartender, waiter and cook in the neighborhood has the same idea."
-- Scott Stroemer, Bar Manager at Nico Osteria
A Bloody Mary with a Hamm's beer
Nico Osteria
"I'm in no shape for any solid substances after a night out. To avoid dreaded waves of nausea, I go straight to Nico Osteria and order a Bloody Mary with a Hamm's beer as a chaser. Works every time."
-- Mark Hellyar, Executive Chef at Momotaro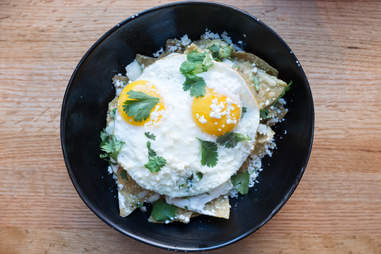 Courtesy of Dos Urban Cantina
Chilaquiles
Dos Urban Cantina
"My go-to Sunday morning hangover spot is Dos Urban Cantina. It's walking distance from my place, so it gives me a chance to stop for a coconut water, my most tried-and-true hangover cure, and the walk makes me feel slightly more human. Chilequiles, a side of avocado, coffee, and a paloma (or two, depending on how badly I hurt myself the night before) always sets me right. The breakfast pastries are also fantastic, and everyone there is so kind."
-- Sarah Mispagel, Pastry Chef at Sepia
Kevin Miyazaki
Cheeseburger
Au Cheval
"Nothing bangs out a nasty hangover like a cheeseburger from Au Cheval. If you can survive the wait to get in, you will be sweetly rewarded by the healing properties from this magical burger. Wash it down with a Bloody Mary, and you're ready to conquer the world -- or start the party all over again."
-- Russell Kook, Executive Chef at Hugo's Frog Bar & Fish House
Michelada
Mezcaleria Las Flores
"The usual hair of the dog stuff always works on me, a michelada, vermouth and soda, eating everything in sight, and so on. That said, the best hangover cure is a busy shift behind the bar. The first few hours are brutal, you sweat more than normal and definitely feel like you are going to die. But after a few hours (and a few good straw tastes), you realize you forgot you were hungover and thank your current profession for getting you out of the very position it got you into."
-- Caitlin Laman, Beverage Director of Mezcaleria Las Flores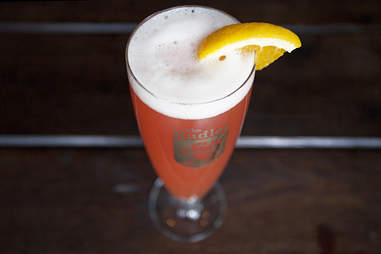 Tara White of Ranson Photography
Blood Orange Radler
The Radler
"My friends and I enjoy going to The Radler in Logan Square for brunch. My hangover cure comes in the form of one of their Haus Radlers -- specifically their Blood Orange Radler with Hefeweizen beer. I typically accompany that with The Old School: eggs, hash browns, meat, and a biscuit that comes with this incredible malted barley butter. It does the trick." --
Jeremy Barrett, Bartender of Annex at GreenRiver
Sign up here for our daily Chicago email and be the first to get all the food/drink/fun in town.