It's prime ice cream season -- although for some of us it's perpetually ice cream season -- and that means it's high time to find the best scoop shops in Chicago. Head to any of these 10 local ice cream spots to fulfill your lactose destiny.
Recommended Video
Here's Where to Get Discounted Pie for Pi Day
Beverly
Nothing sucks more than getting stuck in line behind the world's most indecisive ice cream eater. Avoid that situation altogether with a trip to the OG dessert shack that invented the answer to ice cream-related uncertainty: the eponymous Rainbow Cone. Stacked with chocolate, strawberry, Palmer House, pistachio, and orange sherbet, the colorful treat covers all the major flavor bases at once, and tastes every bit as great as it looks. A must-eat if you've lived here for any amount of time.
Roscoe Village
Made with ingredients sourced from central Wisconsin farms, the house-made custard at this cozy, family-owned shop is easily the best in town. Score custard served straight up in a cup or cone, drenched in hot fudge, blended into supremely rich shakes, or whipped into Blizzard-like concretes with mix-ins ranging from marshmallow cream and decaf coffee syrup to Butterfinger chunks and chocolate chip cookie dough.
Bridgeport
Ten out of 10 dentists polled agree that Sugar Shack is good for Chicago's collective (and hopefully cavity-resistant) sweet tooth, so go for broke with the Shack's famous Funnel Cake Sundae, which comes with a healthy dose of vanilla soft serve, your choice of wet and dry toppings, whipped cream, a maraschino cherry, and a dusting of powdered sugar.
Ukrainian Village/Roscoe Village
This two-location gelateria prepares its artisanal gelatos and sorbets from scratch every morning in order to offer guests the freshest gelato possible; as such, when a flavor runs out, it's out until the next day, so try to plan your visit earlier in the day. Flavors vary frequently, but have recently included malted vanilla, blueberry French toast, and cucumber rosewater sorbet.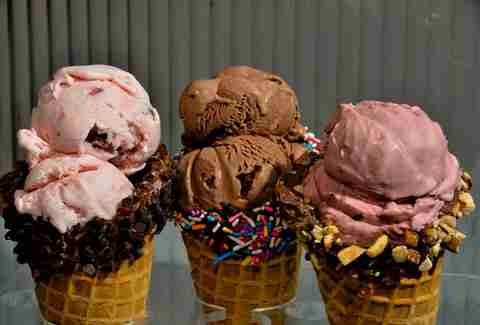 Andersonville
From a Hocus Pocus shake made with rainbow sherbet, Sprite, and Pop Rocks (!) to pretzel cones stacked with scoops of horchata and black raspberry ice cream, this spot knows a thing or two about creative frozen treats. Banana fans can indulge in a scoop of Fat Elvis, chocoholics have Zoreo (Zanzibar chocolate + Oreos), and even if everyone else you know forgot your birthday, George's birthday cake flavor will remind you of a time when you were loved.
Logan Square
The ice cream at this near-century-old ice cream parlor and candy shop is simple and straightforward on its own; mixed into a hand-spun malt or caught in a flurry of sundae toppings, on the other hand? A balance of comfortingly nostalgic and blissfully indulgent. Try a fully loaded banana split, Margie's signature turtle sundae, or the best damn chocolate malt you'll ever have.
Lakeview
This cheerful neighborhood destination serves a mix of classic and specialty homemade ice cream flavors, including a couple boozy numbers like the merlot-spiked "Signature Sunset" and the "Lakeview Barhopper," a decadent concoction of Dutch cocoa ice cream with your boy Jack (Daniels, of course) -- backwards Cubs hat and "Frat Star" muscle tee not included.
West Loop
No, it's not a pot of gold at the end of a rainbow -- it's Cone, Chicago's preeminent Irish ice cream shop. Craving soft serve? Order the "Shamrock," which is essentially a cone of soft serve covered in magically delicious Lucky Charms. Alcohol deficient? Refuel with "Arthur Guinness" made with Guinness and bits of Irish soda bread that's best described as a gift from the ice cream gods.
Avondale
Traditional Mexican flavors infiltrate a selection over 30 ice cream varieties at this outside-the-box ice cream shop, and the result is nothing short of mouthwatering. The avocado ice cream tastes like sugary guac (trust us, it's terrific), the rose petal scoops are unapologetically floral, and the mole ice cream packs serious heat thanks to four types of chili peppers ground into a chocolate base.
Gold Coast
This 22-seat Parisian-style gelato shop sports luxe finishes like exposed brick, wood trim, and crystal-encrusted light fixtures, and offers a vibrant selection of gelatos and several Lavazza coffee drinks. Stop in for flavors like dulce de leche, passion fruit, and dark chocolate -- all artfully shaped into the shop's signature flower shape atop a cone.
Sign up here for our daily Chicago email and be the first to get all the food/drink/fun in town.
Kailley Lindman is a contributing writer for Thrillist Chicago, as well as a food blogger, bacon enthusiast, and devout user of the Oxford comma. Follow her at @KailleysKitchen.