With warmer temperatures finally hitting Chicago, you're legally obligated to purchase and enjoy a cold, sweet treat. (You also have to take part in all the fun stuff to do in Chicago -- sorry, we don't make the rules.) Lucky for you, our city has an incredible range of ice cream options, so you can select the experience that's right for you, whether that's forward-thinking indulgences in Logan Square, the classic Rainbow Cone at Navy Pier, or a gelato from a takeaway window. Here are all the best spots to consider when making this important choice.
Multiple locations (Southport, Wicker Park, Lincoln Park, Old Town, Wrigleyville, West Loop)
Chain with a cult following and seriously unique flavors
Though Jeni's initially started in 2002 in Columbus, Ohio, the "splendid ice cream" shop grew into the Chicago area by September 2013 with its first scoop shop in Southport. What makes Jeni's stand out is its roster of flavors you wouldn't normally associate with ice cream, like sweet cream biscuits & peach jam or goat cheese with red cherries. While Jeni's might seem intimidatingly "artisanal," those looking for a more traditional scoop can't go wrong with cookies in cream, green mint chip, or milkiest chocolate.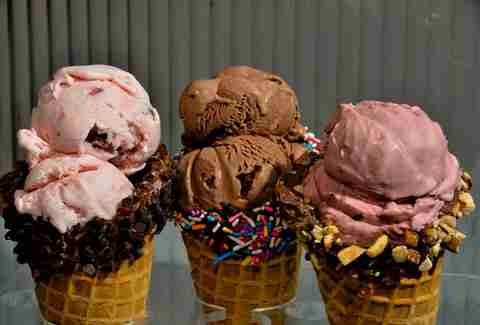 Andersonville
Casual, comforting, neighborhood spot with 32 flavors
The first thing you'll notice about George's Ice Cream & Sweets is its welcoming vibe. But alongside that comfortable atmosphere, George's serves hearty scoops of 32 flavors, including caramel chaos, ultimate Oreo, munchie madness, as well as seasonal, no-sugar added, and dairy-free flavors. Not in the mood for ice cream? The store serves baked goods both made in-house and from other local bakeries, plus Dark Matter coffee drinks and Italian sodas.
Bucktown
Local staple with huge scoops, homemade candies, and an old-time feel
Founded in 1921, the original Margie's Candies comes with tales of visitors like the Beatles and Al Capone. (We also named it one of the best ice cream shops in America.) This Bucktown staple has maintained the old-fashioned decor and vibes, as well as a knack for serving handmade confectionery candy, chocolate, and fudge. On the ice cream side, you can go for classics scoops of vanilla or butter pecan, topped with hot fudge, or you can make room for a turtle sundae. Margie's also makes "the world's largest terrapin," which features 15 scoops of French vanilla ice cream, topped with fudge, caramel, whipped cream, nuts, banana, and a cookie.
Roscoe Village
Mom & pop-style frozen custard shop with a bit of everything
What's the difference between ice cream and custard? Custard has added egg yolks for a creamier, thicker texture. With that out of the way, Scooter's is the go-to for fans of frozen custard in the Chicagoland area. While the friendly atmosphere is a plus, Scooter's uses local ingredients from family farmers in central Wisconsin, achieving an extra-fresh and thick frozen custard that's best devoured in the shop's concretes. Patrons can make their own or try traditional options like the Elvis: a large serving of vanilla custard with Reese's Peanut Butter Cups and bananas mixed in.
Edgewater/West Rogers Park
Retro spot with candy, custard, and indulgent concretes
Lickity Split Frozen Custard & Sweets serves frozen custard, sundaes, candy, and locally sourced sweets in an old-school atmosphere. Business has gone so well that they expanded into the West Rogers Park neighborhood. You could go "my way" with your choice of flavor and one topping, or you could go for a mix of cupcakes and custard in the Crazy Cake concrete. Even better is the "OMG": frozen custard with fudge brownies, hot fudge, and peanut butter. OMG, indeed.
West Loop
Family-owned, gourmet ice cream with Irish flair
Owned and operated by Sean McGuire, who was born and raised in Ireland, Cone offers a little bit of everything you expect from an ice cream shop, with an Irish twist. Among the traditional waffle cones and bowls are specials like Cone o'flake (European-style soft serve with an Irish chocolate flake bar); "the Blarney Turtle" sundae topped with caramel, fudge, and pecans; and the "shamrock," soft serve covered in Lucky Charms.
Logan Square
Fancy, unique ice cream & custard pops from a pastry chef
Founded by pastry chef Dana Salls Cree and Bang Bang Pie and Biscuits' Michael Ciapciak, Pretty Cool Ice Cream serves custard bars, popsicles, piecicles, and fancy ice cream novelties. The combination of flavors in each item makes this a standout, with fruit-flavored "truck pops" like passion fruit hibiscus and custard bars like the peanut butter potato chip. It's a unique take on the standard ice cream shop, but given its operators' backgrounds and those excellent flavor combinations, Pretty Cool is destined to last.
West Loop/Old Town
Walk-up window and sit-down location with gelato, bomboloni, and shakes
BomboBar started as a walk-up window off to the side of Bar Siena in West Loop, serving house-made gelato and filled, hole-less Italian doughnuts (called bomboloni). By mid-April, BomboBar expanded into Old Town with a sit-down, casual location offering those same sweet goodies, including chocolate shakes, Italian ice, and gelato sandwiches. With savory sandwiches, pizzas, and cocktails also available, you can have a little bit of it all at the new BomboBar.
Bridgeport
Funnel cake sundaes & made-to-order ice cream sandwiches
An ice cream sundae is already awesome, but that same sundae on top of a funnel cake sounds even better, right? This is exactly what 26th Street Sugar Shack serves, and it's a glorious mound of sugar. If you're not in the mood for something to straight up stop your day, this family-owned shop also offers soft serve and made-to-order ice cream sandwiches.
Pilsen/Oak Lawn
PInk building with popsicles and agua frescas
If you live in Chicago, you've probably seen a paleteria even if you're unsure of what that might be. These sweets-loaded stops are usually painted pink and serve everything from popsicles, agua frescas, ice cream, and even the occasional snack or tortas. Paleteria literally means an ice lolly vendor, and if you visit one of La Michoacana's locations, you'll want to try a cream popsicle with flavors like caramel, Oreo, strawberries with cream, or gummy bears.
Logan Square
Nostalgic neighborhood staple with classic soft serve
Soft-serve ice cream and fast food is The Freeze's speciality. Formerly known as Tastee Freez and founded in 1950, The Freeze is a go-to spot in Logan Square that often has lines of customers, young and old, forming around it during the warmer months in Chicago. If you like your ice cream soft-serve and loaded with nostalgia, it's hard to beat The Freeze.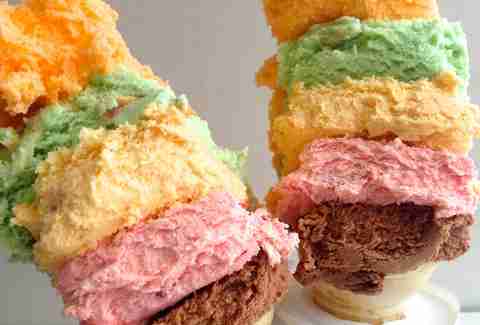 South Side/Navy Pier
Five flavors on one cone at a Chicago institution
Five flavors in one, that's really all you need. A Chicago institution that opened in 1926, the Original Rainbow Cone is known for serving a stack of five flavors -- chocolate, strawberry, palmer house (vanilla with walnuts and cherries), pistachio, and orange sherbet -- on top of a cake cone. While you can get that classic treat at the Navy Pier stand, you'll want to visit the original location on the South Side, complete with its decades-lasting pink-colored charm.
Sign up here for our daily Thrillist email, get Eatmail for more food coverage, and subscribe here for our YouTube channel to get your fix of the best in food/drink/fun.