Believe it or not, there are restaurants outside of Chicago that're good, too. No, not in St. Louis... gross. Definitely other cities though, including a ton of non-Chi cities in Illinois. Here's a look at IL's 12 best restaurants that're outside the city limits.
Zenwich (click here for address and info)
Elmhurst, IL
Made-to-order Asian sandwiches packed with Korean BBQ beef, chicken satay, and Panko-crusted crab cakes all make a trip to the Western suburbs worthwhile. But the Famous Remus sandwich (Thai-marinated grilled pork tenderloin, pickled daikon & carrot relish, and sweet & sour mayo all on a freshly toasted ciabatta roll) makes it dining destination-worthy.
17th St Bar & Grill (click here for address and info)
Murphysboro, IL
This isn't just one of the top BBQ joints in the state, it's one of the top 33 in the nation. Run by three-time Memphis BBQ champion Mike Mills (who's spawned restaurants in Vegas and a stake in NYC's lauded Blue Smoke), this five-hours-South-of-the-city BBQ mothership lives by Mills' favorite quote: "Life is too short for half a rack". You should probably listen to him.
Abreo (click here for address and info)
Rockford, IL
This inventive wine bar and small-plate patio helmed by Chef Paul Sletten sits right in historic Downtown Rockford (hometown of the actor who plays Mr. Turner in Boy Meets World). The menu is seasonally driven, while the duck nachos, Asian noodles, and white chocolate-blueberry bread pudding are... delicious-driven.
Bien Trucha (click here for address and info)
Geneva, IL
This tiny, Mexican dining room puts out some of the best tacos West of the city. Stop by when you're near Fox River Valley for guacamole del dia with fresh watermelon or blueberries, and adobo-marinated pork tacos.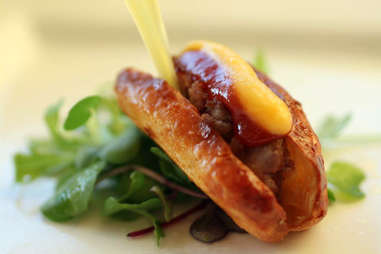 Montarra Grill (click here for address and info)
Algonquin, IL
Adorned with an authentic Chihuly chandelier, this modern-American restaurant truly looks and feels the part of a swanky Chicago hotspot, even though it's not in Chicago. Best bets: wet-aged steaks, seared lamb lollipops, bacon-wrapped dates, and/or/but-mostly-and triple-cream brie and black truffle fondue.
D'Arcy's Pint (click here for address and info)
Springfield, IL
This Irish tavern does something called "Horseshoes", a unique, regional specialty made of your choice of meat (ham, corned beef, turkey, bacon, Buffalo chicken) served over Texas toast, piled with fries, and topped with homemade cheese sauce. Yes, this is real.
One World Cafe (click here for address and info)
Peoria, IL
Should you indulge a little too much in the "whiskey capital of the world", hit this popular breakfast/lunch spot across the street from Bradley University, for sustenance in the form of coffee and decadent desserts. Then maybe tie one on again at the Green Dragon Bar and Lounge inside the restaurant.
Basil's Greek Dining (click here for address and info)
Aurora, IL
While Aurora doesn't have a Stan Mikita's Donuts (that Wayne's World documentary was BS), they do have one of Chicagoland's top Greek eateries with Basil's. What you're getting: the grilled octopus and gyros, both of which are "party time, excellent".
Black Dog Smoke & Ale House (click here for address and info)
Urbana, IL
You'll want the burnt ends with red Carolina BBQ sauce at Black Dog, and you'll want them immediately, 'cause they sell out quick. Put them down with a rotating craft beer selection (because this is an ale house) and whiskey from Prichard's Distillery (... because it's whiskey from Prichard's Distillery).
Gene & Jude's (click here for address and info)
River Grove, IL
This suburban hot dog stand claims to serve the best hot dog in the state. Test the iconic red hots for yourself, like the Double Dog topped with mustard, relish, onions, sport peppers, and whoa, fries.

White Fence Farm (click here for address and info)
Romeoville, IL
Their killer fried chicken and corn fritters are worth the trek to the family-run farmland. Just trust us on this one.
Burt's Place (click here for address and info)
Morton Grove, IL
You haven't polished off that deep dish bucket list until you've hit Burt's for their renown caramelized crusts. Pizza maker Burt Katz has left quite a pizza legacy around Chicagoland, ranging from The Inferno in Evanston, to Gulliver's in Rogers Park, to Pequod's in Lincoln Park.
Sean Cooley is Thrillist's Chicago Editor, and you can hear his dulcet tones in a recent WGN radio interview here. Follow him @SeanCooley.