They say no good decisions come after midnight, but that doesn't have to apply to food, if you plan ahead enough to keep your post-bartime self from succumbing to soggy 4am pizza delivery or a 7-Eleven roller hot dog. Here are 12 late-night spots promising to turn your last bad decision of the night into maybe the best one you've made all day.
Ugo's masterful fried fare
Logan Square
Nothing beats the deep-fried and salty at the end of a long night of drinking... especially when it's made by a chef (and lifelong night owl) whose CV includes Sixteen, Alinea, and Salero. Ugo's, the Italian-style diner from executive chef/owner Stephen Hasson, features charcuterie such as aged prosciutto and pork rillettes; antipasti like burrata with focaccia crackers; and blistered Neapolitan-style pizzas until 1:30am nightly. But it's the fried section -- with panko-crusted mozzarella that oozes on the inside; toothsome, buttermilk-brined calamari; beguiling curls of still-crackling fried Parm; and crunchy cured eggplant -- that your sauced self might just thank you for the most.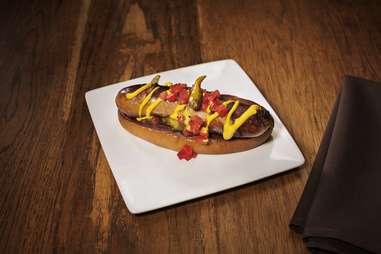 The best food on North Michigan Ave after midnight
Magnificent Mile
Wandering down North Michigan Avenue at night amid the closed shops could easily take on a dark, otherworldly creepiness a la Stranger Things. Luckily, you can retreat to The Purple Pig, where grilled, fried, and meaty Mediterranean-inspired delights await from James Beard Award-winning chef Jimmy Bannos Jr. The whole menu's fair game 'til midnight Sunday through Thursday and 1am on weekends, but you might not even want to venture beyond the shareables like antipasti (pork-fried almonds! Greek cornbread!), smears (salt-cured Greek yogurt! house-made nduja!) and fried things (nuggets of chorizo stuffed olives! crispy pig ears!). Just be vigilant when you venture back outside.
Turkish soul food
University Village
Galata may look like any University Village bar, where flat-screens dangle over the standard-issue wood bar and the cocktail menu is packed with Technicolor concoctions named Electric Lemonade and Stiletto. But the food tastes like Istanbul on a plate. Feast on shatteringly crisp borek (fried dough stuffed with feta), juicy beef-and-lamb doner, and an array of spreads from hummus to the less-expected ezme (bell peppers and tomatoes) until midnight on weekends, reassuring yourself that your last meal of the night could have been your best all day.
A mindful late-night burger
South Loop, River North
When your fourth meal can only be a burger, it helps if it's the kind that's handcrafted from additive-free, humanely sourced ingredients, right? As of July, Epic Burger's River North and South Loop locations have gone late-night, offering a focused menu of said mindful burgers -- topped with soft grilled onions, pickles, optional cheese, and "epic" (aka ketchup and mayo) sauce -- plus fries, from midnight to 4am. So it technically counts as breakfast.
The closest we'll get to In-N-Out Burger
Ukrainian Village
Maybe you've just closed down Tuman's or Beauty Bar, and you and your dancing shoes are a bit run-down. Refuel at Ukie Village hot dog stand Fatso's Last Stand with snappy Chicago-style char dogs (no ketchup requests, please), crisp-edged smash burgers, and seriously poppable panko-coated fried shrimp. If you ask for it, you can also get those shrimp on an off-menu po-boy with slaw. Everything comes with a side of fresh-cut fries and great hipster watching 'til 2am on Thursday nights and 4am on Fridays and Saturdays.
Tasty tacos and 19 different margs
Pilsen
East Pilsen taco and tequila bar Del Toro doesn't get half the love of trendier modern taquerias like Antique Taco and Big Star, but the tacos are as delicious as they are cheap ($2.50 to $3.50), and you can get them 'til 2am five nights a week. The adobo-encrusted pork or charred carne asada are solid standbys, while the Saturday-only steamed barbacoa is well worth the wait. The hamburguesa, an oregano-spiced double oozing with chihuahua cheese, is a non-taco sleeper hit. If you're still boozing, go for one of 19 different margaritas on the drink menu. Might we suggest the refreshing Pepino, laced with cucumber, jalapeño, and chile piquin? Almost tastes like it's good for you.
A reliable pick-me-up next to Wrigley
Wrigleyville
Pick Me Up Cafe has provided of the city's most veg-friendly menus for 19 years, and it's a delightfully kitschy old gem in a hood where they're in short supply. Wander into this vintage-style Wrigleyville cafe 'til 2am any night of the week, where you can get huevos rancheros or a five-high stack of pancakes at any hour, where Blink-182 is still in regular playlist rotation, and where the delectable cheese fries always come topped with real -- as in, not cheese sauce -- melted cheddar and little metal cups of tangy ranch and zingy fresh salsa.
College redux by way of mac & cheese pizza
Wicker Park, Wrigleyville
The unconventionally topped pies at Dimo's Pizza -- like the redundantly carby yet irresistible mac & cheese, the butter- and bourbon honey-soaked chicken & waffles, and Philly cheesesteak -- might make your sober, waistline-savvy self cringe a little, but they're nearly perfect at preventing a hangover. With locations open until 2am on Fridays and 3am on Saturdays in equally raucous Wrigleyville and Wicker Park's Six Corners, you may feel a few shameful pangs of college deja vu in the post-bartime line, but that alcohol sponge of a slice is well worth it.
High-five for dim lights and fiery noodles!
West Loop
How should one cap off a night of seeing and being seen at one too many West Loop bars? Slurping ramen- and pork-filled broth in the subterranean High Five Ramen -- both because low lighting works wonders on your complexion, and because the fiery, rich broth brimming with springy noodles and silky pork belly seems like as good a salve as any for tomorrow's hangover. Slurp 'em 'til 1am, Thursday through Saturday.
When regular nachos won't cut it
West Loop
If your "late" happens during a more civil timeframe (say 8-11pm), and your taste in late-night fare runs fancier than the standard nachos, doggies, and fries, Urbanbelly's recently launched late-night menu is for you. Bill Kim's Asian fusion spot serves up Asian-inflected bar bites like chicken gyro bao with yogurt nuoc cham; beef hot dogs topped with crunchy ramen, kimchee slaw, and curry mayo; grilled cheese with sambal and cilantro; and togarashi fries.
A finer diner breakfast
Logan Square
Sometimes hearing "last call" can invoke a Pavlov's dog-type craving for greasy-spoon breakfast. Luckily, revived Logan Square diner Johnny's Grill, helmed by the capable Sarah Jordan (Blackbird, GT Fish & Oyster, and Cicchetti), serves up classic diner breakfast (and dinner) fare without the duct-taped booths or lingering smell of bleach. Get the whole menu 'til 11pm each night, though on Fridays and Saturdays from 11pm until 2am, it shrinks to a focused list of staff favorites -- like blueberry syrup-soaked Johnny cakes, Irish fried breakfast, that double-patty cheeseburger, or coffee and beignets. Bonus: should hambre strike while you're sipping on mezcal at the adjacent Mezcaleria Las Flores, Johnny's late-night menu is available there, too.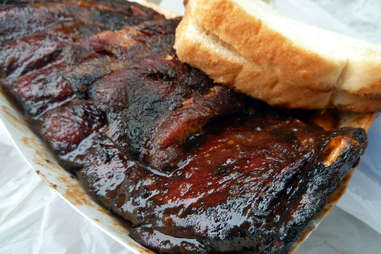 The closest thing to poppable BBQ
Grand Crossing
Did you know that rib tips (the irregular, cartilage-laced bits made famous on the South Side) are actually terrific drinking food? Lem's Bar-B-Q's sturdy yet tender, savory nuggets of crispy-edged pork are perfect to snack on on the ride home (provided your designated driver doesn't mind the BBQ smell overtaking the car). Throw in a few smoky hot links for good measure, all piled alongside Wonder bread and fries soaked in tangy, spicy BBQ sauce. Get 'em 'til 1am Sunday through Thursday and 3am on weekends; just don't forget to bring cash.
Sign up here for our daily Chicago email and be the first to get all the food/drink/fun in town.