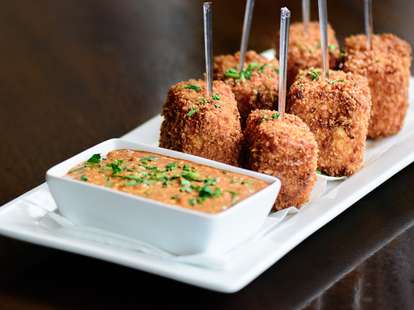 kailley lindman/thrillist
According to a recent scientific study by scientists about science, the only way to combat Chicago's current cold temperatures and the depression that comes with them is... mac & cheese! Especially if it's from one of these eight spots, which include everything from deep-fried lobster mac to mac & cheese-stuffed grilled cheeses.

Lincoln Park
It's no secret that Barrelhouse's craft cocktail list is among the best in the city, but it IS a secret that this Lincoln Ave watering hole's glorious, deep-fried lobster mac is up there, too. Each skewered block (there are six to an order) features a velvety interior packed with elbow macaroni, lobster béchamel, white cheddar, scallion, and red chile. Bonus: the side of spiced Louisiana remoulade is just the dipping sauce these bites demand.
Bucktown
After a chef change-up in late 2014 and a "refresh" in January, this neighborhood-y spot is back and keeping its mac & cheese game strong with an ultra-flavorful rendition that's packed with roasted tomatoes, bacon, green onions, Parmesan, bread crumbs, and a healthy dose of cream. Mmm... healthy cream doses...
Gold Coast
It's no secret that mac & cheese is an ideal accompaniment to tangy, barbecue sauce-soaked meat, and chef/partner Lee Ann Whippen's bruleed M&C is no exception. Served in a small cast iron skillet and coated with caramelized cheese and browned breadcrumbs, it's the perfectest perfect complement to her award-winning St. Louis-style ribs.
Lakeview
Looking for something... dangerously cheesy? This chef-driven burger joint has just the thing: Mac & Cheeto. Yeah, you read correctly: noodles smothered in a sharp cheddar and Romano sauce and topped with crumbled Cheetos. And for an extra few bucks, you can add pulled pork into the mix. Pro tip: add pulled pork into the mix.
Bucktown
The menu at Mindy's changes on the regular, based on what ingredients are in season, but the picture-perfect mac & cheese is a sure bet all year round. The magic here lies in the bubbly, partially charred layer of cheese of top, which imparts the dish a subtle smoky flavor.
Wicker Park
Picture this: a smoky Bloody Mary decked in all kinds of meaty accoutrements in one hand, and a spoonful of melty, gooey mac & cheese in the other. Alright, now actually go and accomplish this at casual-cool BBQ stop Smoke Daddy on Division, where the mac is baked, bread-crumbed, and piping hot while the Bloodys are made from scratch using house mix, garnished with smoked brisket and pulled pork, and served beyond just brunch.

Lakeview
The grilled cheese-stuffed sandwich here (dubbed "The Mac") comes with homemade macaroni and Merkts cheddar nestled between two slices of Texas toast, with a side of tomato soup for dipping. And since Cheesie's is open 'til 3am on weeknights and 5am on weekends, well, you get the idea...
Avondale/Lakeview
Mac & cheese goes DIY at legendary burger spot Kuma's, with bad-ass mix-ins like andouille sausage, bacon, jalapeños, sun-dried tomatoes, caramelized onions, and more. Pair with a brew from the rotating draft list, like Lagunitas IPA or Metropolitan Generator. Hell, pour some brew on top while you're at it.
Sign up here for our daily Chicago email and be the first to get all the food/drink/fun in town.
Kailley Lindman is a contributing writer for Thrillist Chicago, as well as a food blogger, bacon enthusiast, and devout user of the Oxford comma. Follow her at @KailleysKitchen.