Chicago is quickly becoming one of the most important food cities -- not just in the country, but in the world. And with literally thousands of Mexican restaurants to choose from, picking a spot can be overwhelming. Whether you're interested in authentic hole-in-the-wall joints or fine dining, our list of the best Mexican restaurants in Chicago is the perfect guide for all burrito buffs, taco takers, enchilada enthusiasts -- you get the point, we'll stop.
Ukrainian Village
The Mexican seafood capital of Chicago
There are lots of Mexican seafood restaurants in the city, but none are as popular as this one. Folks from all walks of life have lined up for big plates of shrimps and crab legs to go with whatever booze they brought with. If it's your first time, definitely check out the stuffed lobster, and bring your appetite (or a friend), as the plates are huge.
Pilsen
World-class food with a homey feel
Owner Alfonso Sotelo came to Pilsen from Xoco, where he learned under chef Rick Bayless. So when you eat here, you get a little bit of the mom-and-pop feel as many of the recipes are longtime family classics. But you also get some of the stuff one can only learn by training under a chef such as Bayless: cochinita pibil, tamales, and tortas that all look as good as they taste. There's a solid weekend brunch from 9am-noon, too.
Little Village
A cash-only, super cheap taco stand and grocery store to boot
To visit the city's best overall taqueria one must venture over to Little Village (of course). Located at 25th and Whipple, away from the hustle and bustle of 26th Street, this used to be one of the city's best hidden gems. Nowadays any taco lovers worth their weight in carnitas have already been. If you haven't, you're missing out on the closest thing Chicago has to an authentic Mexico City taco stand, where no taco costs more than $2 and everything is delicious.
West Loop
A Baja-inspired blend of Mexican and Japanese flavor
The Baja- and Japan-inspired eatery from Chicago chef Rick Bayless might be his best work yet. Taking his turn at the open-fire cooking trend has made the fish-heavy menu one of the most sought out in town. Anything on the menu that's grilled over the hearth is worth getting, but you should start out with their scallop ceviche maki roll, inspired by the Japanese who moved to Baja in the 1920s.
Lincoln Park, Old Town, The Loop
Trendy takes on Mexican faves in a colorful, casual space
Over the past year, Broken English has become a staple for folks looking for street-style tacos with a trendy twist. But the real highlights of this restaurant are the chips and guacamole and the outrageously delicious (and strong!) margaritas. And the interior is a millennial's paradise, with hip decor graced with piñatas or hanging bicycles (depending on the location) and a laid-back atmosphere. The name comes from how Spanglish can naturally bleed into conversations when cultures collide.
Avondale, Lakeview
An empanada mecca
This stellar spot boasts the "best empanadas" in Chicago, and frankly, they're not wrong. While Cafe Tola's Avondale location has indoor seating, the Lakeview spot on Southport is more of a true empanada stand with a simple wooden bar for seating on the outside. Enjoy breakfast, lunch, and dinner here and -- particularly at the Southport location -- take advantage of all the nearby retail options before and after your bomb meal.
Bronzeville
A beacon of Mexican goodness on the South Side
It's no secret that the Bronzeville neighborhood has a ton to offer residents and visitors alike, but it isn't exactly known for its Mexican fare. Taqueria Varitas is the bright spot in that darkness. The mom-and-pop shop opened last year and offers breakfast, lunch, and dinner favorites with some fancy flavors, including plenty of vegan options, that don't break the bank. If you go with a friend, split an order of the fully decked out al pastor nachos.
Wicker Park, Lakeview
For tacos with a side of honky-tonk
Of all the Wrigleyville developments of the past year (and there have been a ton), Big Star's Hotel Zachary location right across from the ballpark might be the most exciting. The restaurant opened in Wicker Park in 2009, branding itself a "late-night honky-tonk" focused on bourbon and beer -- and amazing tacos. The food menu is curated by executive chef Paul Kahan (of Chicago restaurant icons the Publican and Blackbird) and chef de cuisine Julie Warpinski, and their melty queso fundido and succulent pork belly tacos are notable favorites. Big Star just opened its second location by Wrigley this month, a glorious two-story space you won't want to skip, even if you could care less about baseball.
Albany Park
Casual spot for authentic southern Mexican fare
Another nod to Bayless's influence in Chicago's Mexican food scene, Ixcateco Grill's chef and owner Anselmo Ramirez worked under the world-famous chef (along with other bigwigs like Tracey Vowell, Sarah Stegner, and George Bumbaris) and later brought authentic southern Mexican cuisine to Albany Park. Ixcateco more sophisticated than your standard hole-in-the-wall, but is still laid-back and casual, with beautifully plated dishes served in a colorful, art-adorned dining room. The dinner menu has all the items you might expect from a Mexican restaurant, but definitely check out the New York Strip a la Mexicana, featuring a wood-grilled New York strip, mole agostadero, chunky garlic mashed potatoes, dried fruit, and sesame seeds.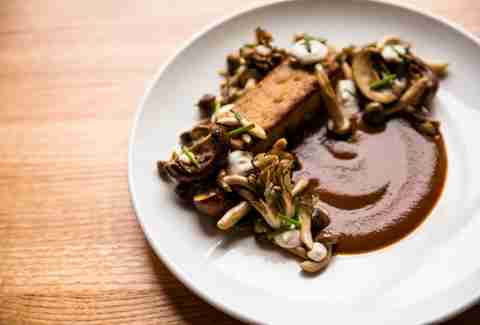 Logan Square
A classy date-night favorite
Logan Square has a ton of great Mexican options, but if you're looking for an upscale option to treat someone you care about, Dos Urban Cantina is the move. Featuring unreal seafood (you must try the octopus al pastor), a ton of veg-friendly options (the wood grilled spaghetti squash is to die for), and other classic Mexican dishes with an elevated twist, this spot is perfect for date night or a nice evening out with friends. Its beautiful art, exposed brick, and elegant wooden tables only complement the experience.
River North
A modern take on the Mexican market
Named Time Out's best new restaurant way back in 2010, Xoco might be old news to hipster foodies, but there's a reason it's still going strong eight years after its opening. Chef Rick Bayless is a food god, and Xoco offers contemporary takes on Mexican marketplace staples, including empanadas, churros, tortas, Mexican hot chocolate and more. If you want to experience trendy Chicago Mexican fare in a no-pressure environment, this is the spot you must try.
Sign up here for our daily Chicago email and be the first to get all the food/drink/fun in town.