By now you've got more than enough evidence to demonstrate how strong Chicago's taco scene is. One of the benefits of having that growing circuit is the constant addition of great new Mexican restaurants to the area. Whether you need a cheap lunch or a special night out, these are the finest Mexican spots in town.
Recommended Video
Make This Sushi Burrito at Home, Become a Snack Legend
Ukrainian Village
There are lots of Mexican seafood restaurants in the city but none are as popular as this. Folks from all walks of life have lined up for big plates of shrimps and crab legs to go with whatever booze they brought with.
Pilsen
Owner Alfonso Sotelo came to Pilsen from Xoco where he learned under Chef Rick Bayless. So when you eat here you get a little bit of the mom and pop feel as many of the recipes are longtime family classics. But you also get some of the stuff one can only learn by training under a chef such as Bayless. cochinita pibil, tamales, and tortas that all look as good as they taste.
Brighton Park
Chicago has produced many a Taco King, men who started off with one location only to grow to multiple spots scattered throughout the city. The couple behind Guapo Taco is next in line to the throne. Basket Tacos -- steamed tacos popular all over Mexico -- are the star here, and the supporting role is played by some of the best tamales in the city. Add in aguas frescas for refreshments and that's all the menu you need.
Little Village
To visit the city's best overall taqueria one must venture over to Little Village (of course). Located at 25th and Whipple, away from the hustle and bustle of 26th St, this used to be one of the city's best hidden gems. Nowadays any taco lover worth his/her weight in carnitas has been. If you haven't you're missing out on the closest thing Chicago has to an authentic Mexico City taco stand.
Pilsen
Chicago's large population from the Mexican state of Michoacán makes for lots of carnitas around town. None of them are as special as this longtime Pilsen business that only sells pork. You can get it by the pound or in a taco, either way it's just well-executed, succulent fried pig.
Archer Heights
Not just one of the city's best Mexican restaurants but one of its best places to eat period. The Zaragoza family has built up a loyal following for their braised goat. If it's good enough for Andrew Zimmern it's good enough for you.
Lakeview
A bit of a sleeper to many, this place has put out consistently good food since opening in 2008. It's definitely a date night-type place but their BYO policy allows you to go all-in on the Pan-Mexican menu with must-try Ensenada-style fish tacos.
West Randolph
The new Baja inspired eatery from Rick Bayless might be his best work yet. Taking his turn at the open fire cooking trend has made the fish-heavy menu one of the most sought out in town. Anything on the menu that's grilled over the hearth is worth getting, but start out with an order of sushi inspired by the Japanese who moved to Baja in the 1920s.
South Loop
Sundays at Maxwell are a staple for many local Mexican families and also those of us that can't get enough of the street food. Hitting the market is about as close to transporting directly to Mexico as you can get. Popular stands include the tacos at Rubi's and whoever is making enchiladas on that day.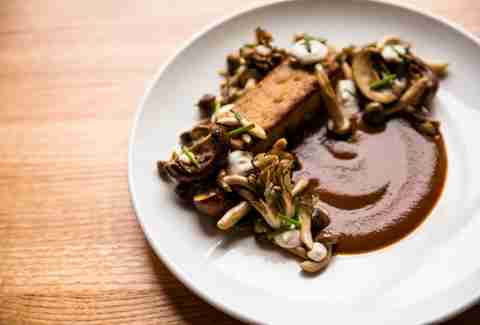 Logan Square
Another group of Bayless proteges (the man is everywhere!). The couple behind this Logan Square hotspot took use of everything they learned with Rick and combined that with their own visions. The end result is one of the best restaurants to have opened in 2016.
Sign up here for our daily Chicago email and be the first to get all the food/drink/fun in town.