Mike Gebert
Mike Gebert
Some cities were built on rock 'n' roll, but Chicago was built on big, greasy meat mountains ON rolls. Because someone had to, we scoured the city for 13 native Chicago sandwiches -- invented, or honed to perfection, here -- from 12 joints with real Chicago flavor (one makes the list twice).
It's a crash-course in being a Chicago guy. Plus, it's guaranteed to help you pack on some outer layers for the Winter.

Will Special
J.P. Graziano Grocery Co. (address and info)
West Loop
A now-departed foodie named Will Philpott invented the sandwich named after him at Riviera -- an Italian deli on Harlem Ave -- by ordering up the maximum number of made-in-house meats, cheeses, and spicy giardiniera (one of the Italian regulars, seeing his handiwork, told him, "pretty good for a WASP"). You can still get it at the original, but it became a Chicago thing when it went on the menu closer to Downtown at this fine, old, Randolph St grocer and deli.
Cemitas
Cemitas Puebla (address and info)
Humboldt Park
Cemitas are a traditional Mexican sandwich from the city of Puebla, but with a different bun and toppings than the typical Mexican torta. Tony Anteliz, owner of this West Side restaurant (coming soon to Fulton St), has experimented enough with the style -- and has enough fans among chefs like Grace's Curtis Duffy -- that we're predicting it as Chicago's next breakout original. Try his Atomica, which piles on the meat and the heat, or watch for the occasional Brisket Cemitas collaboration nights with Smoque.
Big Baby
Nicky's Hot Dogs (address and info)
Garfield Ridge
Back in the 1960s, lots of burger places experimented with different ways of doing a double-decker burger, all with "big" in the name (no doubt inspired by the seminal work of Big Boy). The South Side's version is this Big Baby, created by a one-time chain called Nicky's (they're mostly separately owned now). To be honest, it's pretty much just a regular double cheeseburger with grilled onions, but the Big Baby is close to the hearts of Southsiders who grew up on them -- like Chef Ryan Poli, who put one on the menu at Little Market Brasserie a couple of years back.
Breaded Steak Sandwich
Johnny O's (address and info)
Bridgeport
Maybe the ultimate Chicago gut-bomb (or at least it was, until places started putting pulled pork on half-pound burgers), this is a piece of steak that's been breaded, fried, then doused in tomato sauce & lots of cheese. Ricobene's on 26th is famous for it, but our choice is, again, this quintessential Bridgeport working man's joint.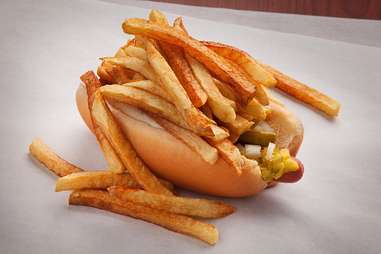 Minimalist Dog
Gene's & Jude's (address and info)
River Grove
The minimalist -- or Depression Dog -- is the oldest Chicago hot dog style, and a symphony of simplicity. It's a hot dog with mustard, a little onion, and sport peppers for kick, plus relish for a sweet note, rolled up in paper with fresh-cut fries... which absorb a little taste of onion and mustard (that's actually our favorite part of the whole thing -- the fries that taste like a hot dog). Owner Gene Mormino, a Chicago city worker, started this suburban joint in 1946 after he lost his first hot dog joint on Western Ave in a poker game. It's had a line out the door ever since, which is impressive for a menu with just three things on it: hot dogs, fresh-cut fries, and tamales. And nobody ever orders the tamales.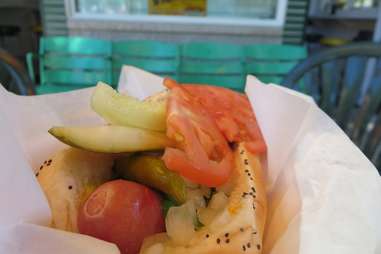 Garden Dog
Morrie O'Malley's Hot Dogs (address and info)
Bridgeport
This style -- in which a Vienna Beef dog gets "dragged through the garden" -- was the invention of the Depression, too. Just look at how much free stuff you're getting with your hot dog! A lot of places sadly can't make one without getting the bun soggy from the veggies, but this unpretentious stand in the shadow of the Sox does it spot-on, with a natural casing frank embedded in crisp, fresh vegetable crunch.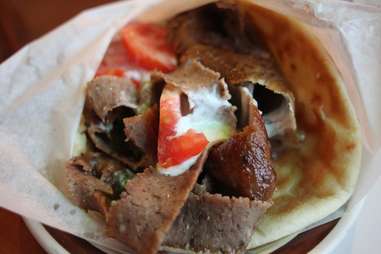 A Gyro
Central Gyros (address and info)
Cragin
Gyros aren't unique to Chicago, either, but with the two biggest makers of gyro cones based here, they're central to our civic identity... hence the name of this gyro place (okay, that's really just because it's on Central...). They do, however, have a terrific version that's full of flavor and not too gut-bomby, and it's a friendly place with some of the best Greek food outside of Greektown. And like the menu says, it's pronounced "yeer-os".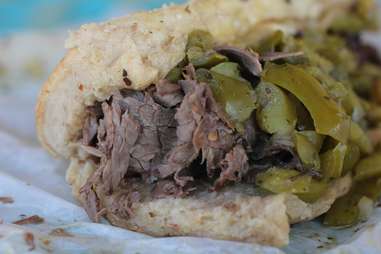 Italian Beef
Johnnie's Beef (address and info)
Elmwood Park
Invented in the '30s or '40s (maybe by Scala Packing Co., maybe by some Italian grill cook screwing around with a French dip sandwich), Italian beefs offer a taste of the old country in pure, American form. Johnnie's Beef, with its never-ending line (know what you want by the time you get to the front, or else), topped our Italian beef list a couple of months back for the same reason a skater wins at the Olympics: perfect 10s across the board. The meat's tender, the gravy's full of fresh seasonings, and the sausage is grilled over burning charcoal. Go USA!
Jibarito
Punta Cana Restaurant (address and info)
Logan Square
Invented in the 1980s at La Borinquen on California, this Puerto Rican sandwich is all over Chicago, though (just like Italian beef) it's not even really a thing in the country that inspired it. The inside is meat (usually steak, but could also be chicken, lechon, or gyro meat) with cheese, lettuce, tomato, and mayo. But it's the outside that makes it unique -- instead of bread, it's on two slabs of crispy, fried plantains. Our favorite comes from an immigrant restaurant with a Dominican name, but they serve up lots of tasty food from all over the area.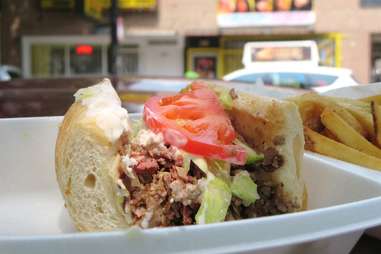 Jim Shoe
Southtown Subs (address and info)
Bronzeville
The South Side is home to lots of sub and hoagie shops -- often run by Pakistanis. This signature Chicago sandwich was invented about 20 years ago at one of them, basically by putting everything in the kitchen on a bun -- roast beef, corned beef, gyro meat, lettuce, tomato, mustard, mayo, tzatziki, and cheese -- to form one gooey, unholy mess (the name, according to culinary researcher Peter Engler, remains a mystery; maybe someone thought the result resembled a size-13 Air Jordan?). Is it any good, though? It really depends on how many beers you've had.
Meatball Sub
Bombacigno's J & C Inn (address and info)
Near West Side
Meatball subs weren't invented here, but they're a working man's favorite all the same (usually in the form of a veal or veal/pork meatball on a crusty bun with cheese and tomato sauce). Our pick is a little family-run Italian deli and lunch-only joint just outside of the Loop. Bombacigno's may look like a humble family operation, but it has ties to royalty -- the Mom's stepdad is Al of Al's Italian Beef. They make everything from scratch, except the bread it goes on. For that, they use the great, crusty-fluffy Italian loaf from D'Amato's.
Mother-In-Law
Johnny O's (address and info)
Bridgeport
Probably invented during the Depression for people who couldn't even afford a hot dog (or weren't willing to blow that kind of jack on their mother-in-law), this unusual sandwich consists of a Chicago-style tamale, usually a Tom Tom, slapped in a bun and decorated with chili and all the toppings of a garden dog. This vintage 35th St spot -- which survived the closing of all the factories in the area -- is exactly where you'd expect to find it. If you dine in, ask owner Peter Veliotis (Johnny O himself) about the time he sang the National Anthem at Comiskey.
Polish Sausage
Jim's Original (address and info)
University Village
Even Chicago hot dogs must've seemed wimpy to truck drivers and steelworkers from the old country. For them, a real meal was a hearty, deep-fried Polish sausage -- smoky on the outside, coarse-ground on the inside, and topped with mustard and onions. This takeout-only stand near the old Maxwell St market has been open 24-hours for all three shifts since 1939.
This list -- and all the rest -- look even sexier in our iPhone app. Get it now!
Mike Gebert is a James Beard Award-winning food video producer and writer and Founder of SkyFullofBacon.com. Follow him on Twitter @skyfullofbacon.