Despite its iconic Ferris wheel and Instagrammable city views, Navy Pier has acquired a bad reputation among Chicagoans as little more than an overhyped tourist trap with a serious lack of good eats. However, between a recent Navy Pier food renaissance and the continued growth of nearby neighborhoods, the area is slowly shifting from avoid-at-all-costs hellscape to culinary hotbed.
Sure, it still has a long way to go, but there are plenty of restaurants worth visiting right now, provided you know where to look -- and, luckily for you, we do.
600 E Grand Ave
When a Navy Pier outpost of this beloved Lakeview-based burger joint opened last year, we knew the area's burger landscape would be forever changed for the better. Stop in for grass-fed beef patties laden with toppings like roasted hatch green chile and charred balsamic red onions, and plentiful hand-spun boozy shakes to boot.
455 N Park Dr
If you're expecting a classic Chicago steakhouse, guess again; this Argentinean meat palace backed by celebrity chef Jose Garces ditches wedge salads and steak frites for braised octopus carpaccio, charred asparagus with Bagna Cauda, and wood-grilled skirt steak sourced from Uruguay.
600 E Grand Ave
Go for the eponymous grilled bone-in Berkshire pork chop; stay for the slow-smoked pork ribs, brisket, and mac & cheese, because this Chicago-based powerhouse doesn't mess around when it comes to mouthwatering Southern comfort fare.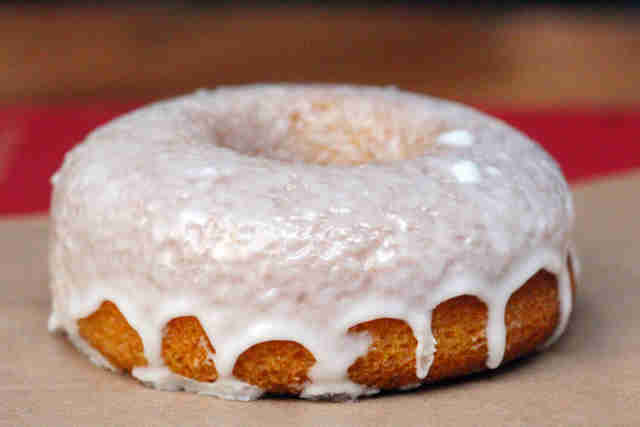 233 E Erie St
From a Valrhona chocolate glazed cake donut for chocoholics and candied maple bacon French crullers for those that need a hint of savory with their sweet, to an assortment of gluten free donuts, there's something for everyone type of donut fiend at this bustling Streeterville shop.
222 E Ontario St
The greater Navy Pier vicinity may bear little resemblance to a quaint Parisian neighborhood, but that doesn't stop this French restaurant from making a big impact with its extensive wine program, sautéed dover sole, and romantic atmosphere.
502 E Illinois St
Thanks to a menu that spans from red velvet French toast and biscuits & gravy to chia seed pudding and an egg white omelet, breakfast at Kanela can be as naughty or nice as you want it to be. Added bonus: most ingredients are organic and sourced locally, so even when you do err on the naughty side, you won't have to feel that guilty.
671 N St Clair St
Whether you're fueling up for work with La Colombe nitro coffee or lingering over a lazy weekend feast of Belgian waffles, shakshouka, and a side of brown sugared bacon, this neighborhood-y café has you covered.
Best fancy restaurant when you're not paying: Tru
676 N St Clair St
If "champagne taste on a beer budget" is a phrase you often use to describe your current financial situation, do yourself a favor and add this time-tested fine dining spot to your bucket list and save it for the next time the 'rents are in town and looking to spoil you; the caviar service and artsy tasting menu are worth the wait (and the cash).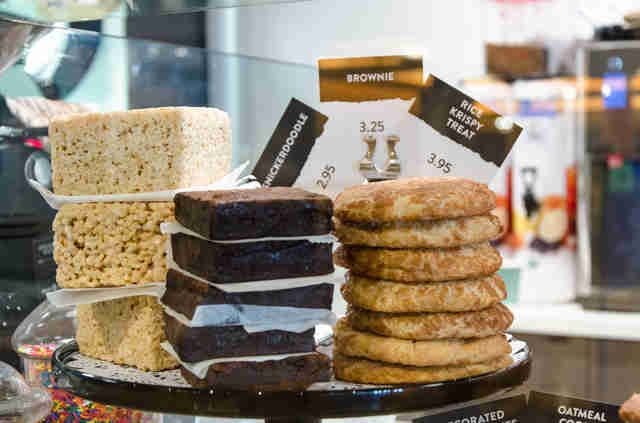 600 E Grand Ave
Show your sweet tooth some love with cheerful cut-out sugar cookies, hulking Rice Krispies Treats, assorted breakfast pastries, and a scoop (or five) of malted milk ball gelato at this all-day dessert destination on the Pier.
Best meal with a view: GreenRiver
259 E Erie St
There are many rooftops in Chicago, but precious few as impressive as GreenRiver's, which wraps around the interior dining space and boasts both panoramic skyline and lake views. Take in the urban beauty while treating yourself to whole roasted duck, trout rillette, and some of the finest cocktails in the city.
900 E Grand Ave
When you're in the neighborhood and desperate for a fried chicken fix, look no further than Lettuce Entertain You's all-things-chicken concept. The quick-service eatery slings strips, sandwiches, and punishingly delicious green chili cheese fries stacked with pickled jalapeños, as well as an on-point root beer float prime for balancing out the heat.
Best Italian: Volare
201 E Grand Ave
This lively resto has been serving Old World Italian food for nearly two decades, and shows no sign of slowing. Don't miss the soulful house-made pastas, including spinach fettuccine tossed with Bolognese, ricotta-stuffed ravioli, and lasagna al forno.
Sign up here for our daily Chicago email and be the first to get all the food/drink/fun in town.
Kailley Lindman is a contributing writer for Thrillist Chicago, as well as a freelance food photographer, food blogger at KailleysKitchen.com, and recovering vegetarian. Follow her at @KailleysKitchen.