As Chicago's love affair with brunch surges on, so too does the seemingly constant evolution of the city's brunch-time landscape. With revamped menus at local favorites and service launches from newcomers, a lot has changed since we last dished on new brunches. Read on for valuable information on cheesy biscuits and breakfast pizza.
Wicker Park
In addition to its chicken and biscuit-filled regular menu, this casual Southern-informed eatery in the former Carriage House space also offers a short list of stick-to-your-ribs brunch-only specials during weekend brunch hours. Absorb the remnants of a wild night out with a fluffy "cinnabiscuit" doused in warm glaze with a little hair of the dog in the form of amaro-spiked coffee, or go the savory route with an egg and cheese biscuit with your choice of bacon, sausage, or both.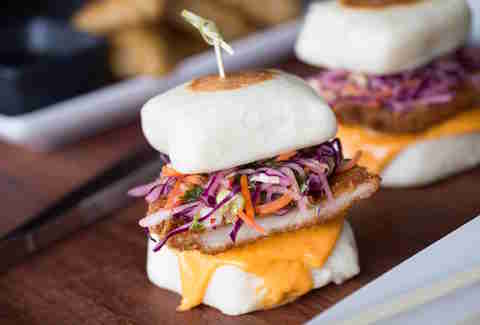 West Loop
It's a new year, new lineup for Chef Bill Kim's Asian BBQ joint, which has added a swath of small, shareable plates to its Sunday brunch service. Sink your teeth into sausage, egg, and cheddar sliders drenched in blueberry compote, satisfy a dumpling craving with homemade dumplings galore, and fill up on long noodle stir fry with peashoots, egg, and napa cabbage.
South Loop
If you find yourself in the neighborhood during brunch hours, you have no excuse for not stopping by Jose Garces's Catalan-inspired resto for it's new and unbeatable prix fixe brunch option. $27 earns you a customizable three-course meal stacked with items like soft scrambled eggs with poached lobster, beet salad with farro, Spanish feta, watercress, hazelnuts, and beet emulsion, and Torrijas bread pudding, as well as complimentary seasonal fruit and churros with espresso dulce de leche dipping sauce. And since no brunch is complete without something boozy to wash it down, don't miss the new tequila-based El Bolero made with orange juice, avocado, and triple sec.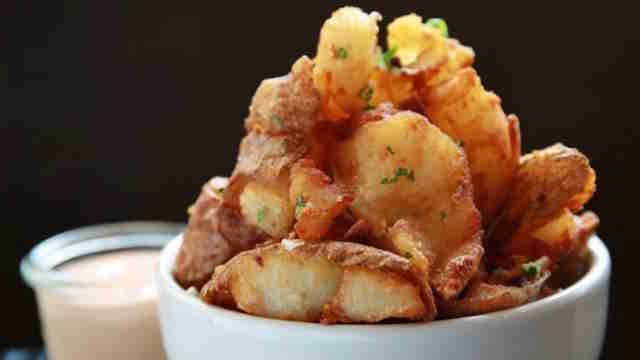 Evanston
Armed with quite possibly the most impressive brunch menu outside of Chicago's city limits, this Evanston gem proves that suburbs need not take the back seat in brunch game. Squash miso soup with coconut milk, apple fritter bites with salted caramel sauce, and pork pozole rojo shine on chef Brian Huston's inventive menu, while a potent Boltwood Bloody promises to quench your thirst.
Loop
From a lamb sausage Scotch egg with giardiniera and yogurt sauce to a Belgian waffle laden with blueberry compote, mascarpone, and roasted pistachio compound butter, the new items on the brunch menu at upscale Cherry Circle Room prove that what was old is new again, thanks to Chef Pete Coenen's limitless creativity and penchant for reimagining classic dishes.
Andersonville
Brunch takes a modern Mexican turn at this sweeping spot in the heart of Andersonville, where cajeta crumb cake and crispy honey comb tripe soup with radish and a poached egg are just the beginning. The unique menu delves into an array of traditional flavors, with dishes spanning from chilaquiles and to carnitas with a poached egg, masa dumplings, and vegetables en vinagre.
Lakeview
If you've ever felt like your weekend brunch routine lacked coastal Spanish representation, rest easy: mfk is here with a powerful Sunday brunch menu stacked with smoked guanciale and manchego breakfast sandwiches, cochon pibil with black bean escabechadas, and a sunny side egg, soft scrambled eggs tossed with smoked red trout and tomatoes, and a fresh take on avocado toast (poached shrimp, Fresno chile, lemon) that'll surprise even the most basic of brunch-goers.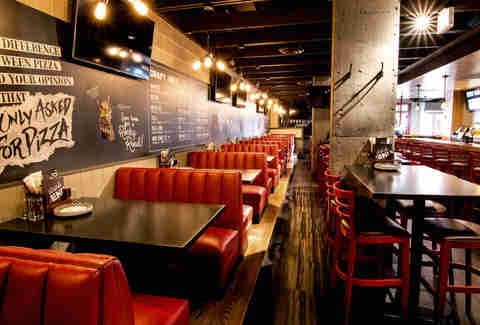 Gold Coast
Chef Tony Mantuano's (Spiaggia) casual-cool pizzeria is open for brunch 11:30am-2pm on weekends, and promises plenty of eats and drinks that effortlessly bridge the gap between breakfast and lunch. Get the party started with a Primal Mary, which arrives at your table in a 16oz mug outfitted with skewered beef jerky, provolone, spicy salami, bacon, a pickle, pepperoni, and an olive, and -- of course -- a PBR beer back. Since all that meat is best paired with more meat, team it with a "Rise and Grind" pizza (bacon, onion, cheddar, and egg) or a Diavolo pie (spicy sausage, jalapeño, cheddar, and egg).
Sign up here for our daily Chicago email and be the first to get all the food/drink/fun in town.
Kailley Lindman is a contributing writer for Thrillist Chicago, as well as a freelance food photographer, food blogger at KailleysKitchen.com, and recovering vegetarian. Follow her at @KailleysKitchen.