Chicago's 7 best new food trucks to hit this weekend
Chicago With this weekend featuring at least one of the eight days of sunshine per year in Chicago, it's time to 1) actually go outside, and 2) grab something delicious while you're at one of these seven new food trucks. From gluttonous to EVEN MORE gluttonous, there's a food truck for everyone.
Colin Joliat
Gino's Steak Truck: Find this things-between-bread-focused truck, if only because they serve a sandwich called "The Fatty" -- a steak and cheese gutsterpiece piled high with fries, homemade coleslaw, and BBQ sauce.  Continue Reading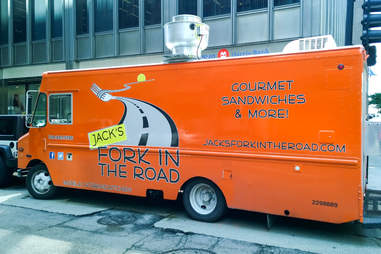 Colin Joliat
Jack's Fork in the Road: Jack's on Halsted goes mobile, finally bringing its gourmet sandwiches to the streets of Chicago. Unlike many trucks, Jack's "gourmet" sandwiches are actually gourmet, including a roast pork loin (with fig jam, prosciutto & apple slaw) and a fancy-pants grilled cheese. Schedule


Colin Joliat
Pierogi Wagon: The Pierogi Wagon is (surprise! [but not really at all!]) a Polish comfort food mobile doing handmade dumplings packed with braised beef, cheddar/potato, or sauerkraut/mushroom. There are five side options, too: grilled onions, bacon, sour cream, 'kraut, and "all four of those, please". Schedule

Chicago Pizza Boss
Chicago Pizza Boss: The head honcho at CPB serves seven different Neapolitan pizzas from the onboard, wood-fired oven, plus'll also do arancini (stuffed & deep-fried rice balls!) and French fries, because every pizza deserves fries. Schedule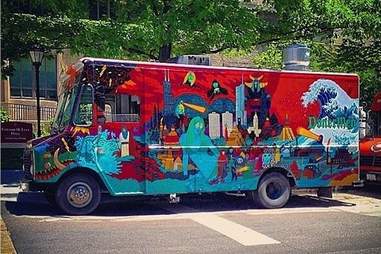 Döner Men
Döner Men: Döner Men brings German street food to the streets of Chicago, slinging Döner kebabs, currywurst, and more. What's currywurst? German sausage with Indian spices, obviously! They'll also have daily specials showcasing grilled meats and flavor combinations from around the world, so you can claim you're cultured.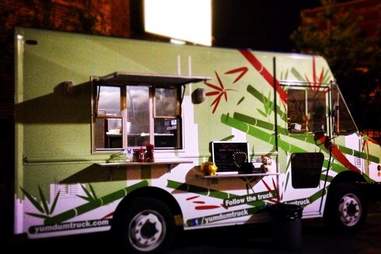 Yum Dum Truck
The Yum Dum Truck: Your perfect-dumpling search can finally come to an end on a Chicago street corner. There's nothing dumb about these fresh-steamed dumplings, rice bowls, and (bowchica) baowiches, though. Looking to be more gluttonous? Get the Kimcheesy Balls.

Model Chef
Model Chef: Model Chef proves that food from a truck doesn't have to taste gross to be good for you, serving kicked-up, actually healthy comforts like chicken crepes with velouté cheese sauce and lettuce wraps with mango sauce. Schedule