As they say, "April showers bring May flowers, and both of those months -- plus March -- bring a zillion bar and restaurant openings in Chicago". From a Filipino-American concept to an underground ramen shop, here are 15 of the best Chi openers from this Spring.
Kaiser Tiger (address and info)
West Loop
West Loop's new carnivore hangout houses an arsenal of meat ranging from the lethal Bacon Grenade to the Happy Gaucho (spicy Argentinean chorizo with fresh guac and tequila sour cream), and the requisite 24 tap beers to wash them down with. Important update since we broke the story on the opening: they're also offering a spherical (read: soccer-inspired) pork bomb ball special for the World Cup. God bless soccer.
Recommended Video
Proof That Iceland's Ring Road Is the World's Most Beautiful Road Trip
High Five Ramen (address and info)
West Loop
Brendan Sodikoff put himself on the ramen map (Editor's Note: can someone make one of these, actually?) with this new subterranean ramen shop beneath Green Street Smoked Meats. The cozy, dimly-lit space is home to a concise menu featuring both traditional and modern ramen offerings, eye-popping "canzillas" of Asahi beer, and boozy slushies to temper the heat of the noodles. Like most of Sodikoff's restos, High Five doesn't take reservations, so try off-hours noodle-slurping or prepare for a wait.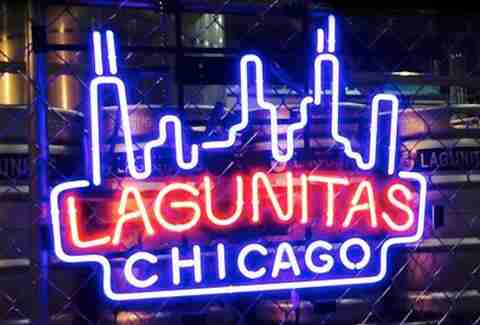 Lagunitas Brewery and Taproom (address and info)
Pilsen
In case you didn't catch our list of 10 things you need to know about Lagunitas and its new Chi brewery, it might be time you catch up. Also: the folks at Lagunitas said the taproom (which'll fit 300 people, showcase a 360-degree view of the brewing operation, and feature a broad spectrum of Lagunitas' usual suspects and the occasional one-off)
should be cleared for alcohol service on June 25th, so mark your calendar and do some liver crunches in preparation.
Masada (address and info)
Logan Square
New from the people behind Wicker Park's highly successful Sultan's Market, Masada sates Logan Square's collective hunger for tapas-style Middle Eastern cuisine that's amenable to every palette, from vegans to vegetarians (for sure get the Egyptian rice and lentils) to carnivores who like sumac chicken (trust us, you like sumac chicken).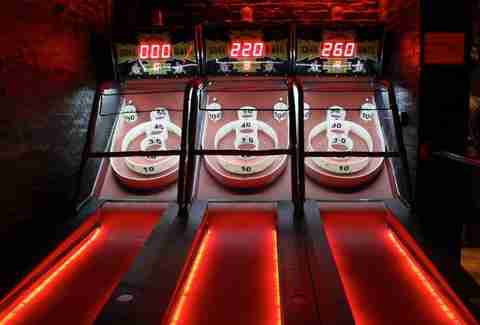 Slippery Slope (address and info)
Logan Square
Missing the arcade days of yore? Then you're gonna want to drop by this cavernous watering hole, stocked with two Skee-Ball machines for your enjoyment. The same guys who brought us gin-focused Scofflaw have brought this dance hall to life, and their influence is evident in the ingenious bottled cocktail offerings and chili- and onion-smothered tamales. Skee, on.
The Roost Carolina Kitchen (address and info)
Lakeview
Everyone's favorite mobile fried chicken unit (No. 9 on our Best Fried Chicken in Chicago list) took over a cozy, 30-seat BYOB storefront on Irving Park earlier this Spring, and they've been packing it ever since. Grab a sixer of your favorite beer and head over for the same chicken and buttery biscuits you know and love, along with sides like hand-cut potato chips, baked apples, and sweet, sweet peach cobbler.
First Draft (address and info)
South Loop
First Draft opened this month, adding an impressive 200-beer selection (64 on draft) to Printer's Row along with a sports pub menu featuring beer-brined, house-smoked ribs, angus burgers, pizza, and wings.
Craft Pizza (address and info)
Wicker Park
This BYOB pizzeria recently moved into the former Haute and the Dog space on Damen Ave, and has set itself apart from the competition with its special, 12-hour fermented starter (for flavor), 12-hour warm rise (for a crispy-on-the-outside and chewy-on-the-inside crust), and a scorching-hot pizza oven that yields perfectly blistered pies. You can also drop by in the morning for house-made bagels and Sparrow Coffee.
Doner Men (info)
Various Locations
Leading Chicago's latest wave of food trucks, Doner Men delivers German and Turkish street food in an immaculately designed wagon (look for the lasers, mermaids, and tsunami paint job). Aboard you'll find grilled sausages, kebabs, and currywurst that is oddly the... best.
Henry's Swing Club (address and info)
River North
From the vintage Playboys plastered on the wall to the plush seating, Henry's has modern amenities with a comforting dive mentality. DMK's latest burger bar has an unrivaled selection of sliders that are great eats for under $4, and the beer + shot specials are some of the cheapest you'll find in River North.
Spiaggia (address and info)
Gold Coast
Tony Mantuano's iconic Michigan Ave outpost underwent a thorough, five-month facelift, and along with its sexy new look (which comes without its old, stuffy jackets-required policy), has managed to come back better than ever. The modern Italian menu includes revamped versions of classics like foie gras-stuffed ravioli and black truffle gnocchi, reflecting the new, casually elegant vibe the dining space exudes.
Beermiscuous (address and info)
Lakeview
Complete with a cheeky name, curated selection of 12 beers on draft, and 300+ bottled brews (about half of which are sourced locally) to choose from, Beermiscuous promises to be one of the best openings of the year -- let alone the Spring. The craft beer café and liquor store feels like a coffee shop minus the coffee, with a relaxed and inviting atmosphere for beer connoisseurs and casual sippers alike.
Laughing Bird (address and info)
Lincoln Square
Anchored by owner Franco Gianni and former Top Chef contestant Chrissy Camba, Laughing Bird's Filipino-American perspective is a breath of fresh air. The restaurant stakes its claim in the old Tank Sushi storefront, and hits high notes with its charred octopus (with Chinese broccoli, dinuguan sauce, pickled banana peppers, and radish) and a chicken adobo smothered in a Laughing Bird-branded Co-op hot sauce.
Ani (address and info)
Lakeview
Miss out on celebrating International Sushi Day on the 18th? Right your wrong with the citrus-infused Double Sake maki and unagi nigiri at Arami's new "brother" restaurant (really though, Ani means "older brother" in Japanese). The 40-seat dining space sports clean lines and minimalist décor, ultimately letting Chef Shin Matsuda's innovative-yet-authentic Japanese fare do the talking.
Si Fu Chino Latino (address and info)
Roscoe Village
Tacos and Asian food collide at this colorful, customizing-encouraged taco shop where guests choose from a variety of proteins (cilantro lime chicken, tempura shrimp, lemongrass tofu...) and a variety of styles -- "Chino"-style (pickled daikon, cucumber, jalapeno, and carrots), "Latino"-style (cilantro, onions, lime), etc. -- on their preference of soft or hard-shell corn tortillas. Not feelin' tacos? They have burritos, egg rolls, empanadas, and more, too.
This list -- and all the rest -- look even sexier in our iPhone app. Get it now!
Sean Cooley is Thrillist's Chicago Editor and Kailley Lindman is a contributing writer for Thrillist Chicago. Both of them feel tacos. Follow Sean on Twitter here and Kailey on Twitter here.