You know it was a good month when the Totally Badass New Restaurant and Bars That Opened in Chicago This Month Report (working title) sports the following most commonly used words: ramen (7), beer (5), and bacon (4). You know it's an even better month when two of those three are used in the same sentence at least once, as they are in this May edition of the TBNR&BTOICTMR.
Recommended Video
How to Carbonate Liquor With SodaStream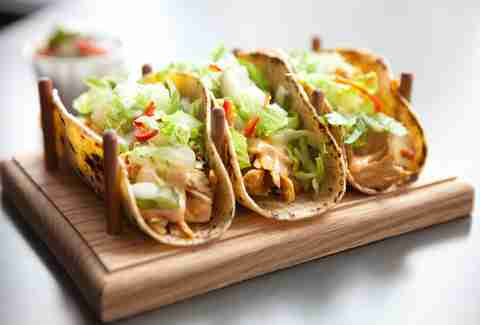 Elle on the River (click here for address and info)
River North
Elle -- Travelle's equally elegant outdoor sister -- opened on the waterfront earlier this month, and with her, breathtaking views and breathtaking specialty tacos. Also not to be missed: her house-made sodas, self-serve spiked punches, and cake-meets-mousse-meets-custard "Ellies" that come in German Chocolate Cake, Orange Creamsicle, and Strawberry Shortcake flavors.
High Five Ramen (click here for address and info)
West Loop
Ramen is in, as evidenced by Brendan Sodikoff's newly unveiled subterranean ramen shop beneath Green Street Smoked Meats. The cozy, dimly-lit space is the latest in the restaurant mega-mogul's slew of culinary projects around the city, and promises a concise menu featuring both traditional and modern ramen offerings, eye-popping "canzillas" of Asahi beer, and boozy slushies to temper the heat of the noodles.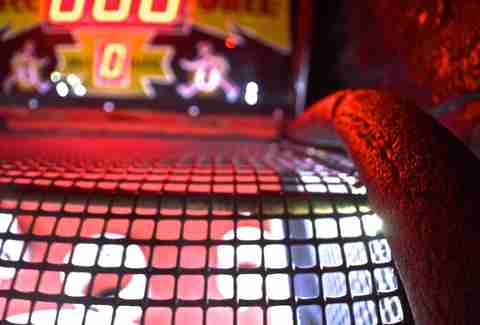 Slippery Slope (click here for address and info)
Logan Square
A cavernous watering hole that's bathed in a crimson glow, Slippery Slope is stocked with two skee-ball machines, and pulsing with danceable beats. The same guys who brought us Scofflaw are bringing this dance hall to life, and their influence is evident in the ingenious bottled cocktail offerings and chili and onion-smothered tamales.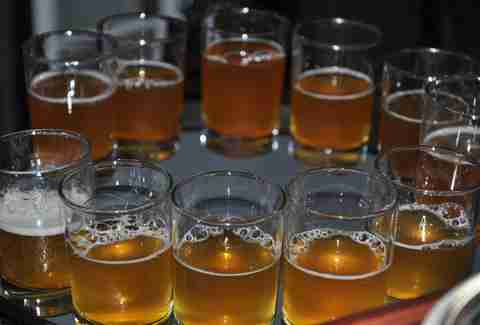 Moxee American Kitchen & Mad Mouse Brewery (click here for address and info)
University Village
For all things Southern and sudsy, head to this new nanobrewery on Maxwell St. The space is large enough to comfortably seat 120 hungry folks, and currently offers two in-house beer collaborations with Saugatuck Brewing (a pale ale and a Kolsch), along with hearty fare like shrimp and grits, crawfish étouffée, three kinds of po' boy sammies, and "filthy rich and dense" Texas sheet cake.
Osteria Langhe (click here for address and info)
Logan Square
We're still a little bummed about Brand BBQ's unexpected closing (twice), but the fact that Osteria Langhe -- a new concept focused solely around the Piemonte region of Italy -- moved in is more than consolation. It seamlessly blends slow food (literally, there's a snail confit) with fine wines, and manages to transport you to the Northern Italian countryside with its authentic flavors and a captivating panoramic photo, which serves as the restaurant's visual focal point.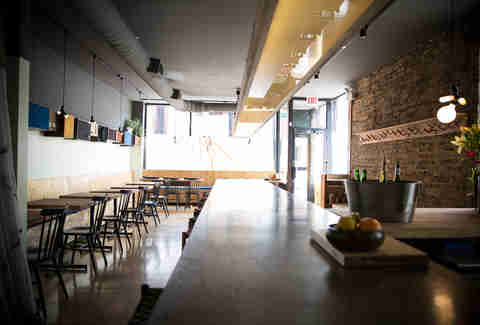 Parachute (click here for address and info)
Avondale
Beverly Kim and Johnny Clark (formerly of Bonsoirée) reclaim their place in Chicago's restaurant scene with Parachute, a 40-seat Korean-American resto with eclectic furnishings and rustic menu offerings. Start with the baked potato bing bread with bacon, scallion, and sour cream butter, and don't miss the raw Hawaiian kanpachi, dolsot bibimbap, or the turmeric chicken with taro root, coffee butter, white asparagus, and Chinese celery.
Ramen-San (click here for address and info)
River North
The former Paris Club lounge has transformed into the LEYE's minimalist new full-service ramen concept, which is open daily until 1am (2am on Saturdays) and prime for late-night slurping. The menu showcases seven styles of ramen (with a selection of broths, seasonings, noodles, and other add-ins), six appetizers, and assorted buns, son, and chicken wings. Plus: Singapore Slings and Japanese beer!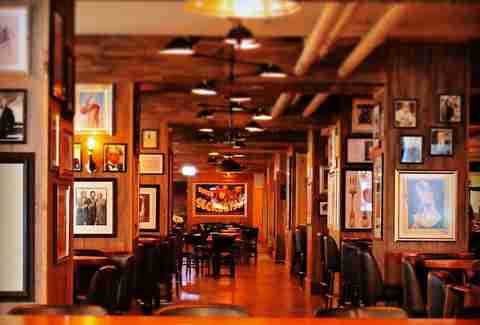 Randolph Tavern (click here for address and info)
Loop
Pub-esque digs with vintage signs and wood accents? Check. Pulled pork, scrimshaw mussels, and bacon popcorn? Check times three. After months of mystery leading up to its opening, this massive tavern delivers on all the goods. Go for comfort food and good times, and thanks to an airy spaced-out floor plan, you don't have to worry about bumping elbows with anyone/sharing your bacon popcorn.
Kailley Lindman is a contributing writer for Thrillist Chicago, as well as a food blogger, bacon enthusiast, and devout user of the Oxford comma. Follow her at @KailleysKitchen.