Courtesy of La Barra
Courtesy of La Barra
There's no question that Chicago is a pizza-wielding force to be reckoned with, and while we'll always have the well-established greats, there's also room for a fresh crop of noteworthy pizzerias. From bigger and better expansions of aforementioned greats, to trendy new concepts with the promise of staying power, here are seven of the best new pizza joints to have opened over the past year.
West Loop
On the heels of the success of the original Harlem Ave location, this Neapolitan pizza purveyor made the logical next move: opening a shop on Randolph Row. The area is a culinary hotbed, no doubt, but had long suffered from a lack of great pizza until these good folks showed up. Between its rustic, Old-World atmosphere and the VPN-certified pizzas, it's among the most authentic Neapolitan pizzerias in the city. Choose from a selection of red and white pizzas laden with quality, Italy-approved ingredients.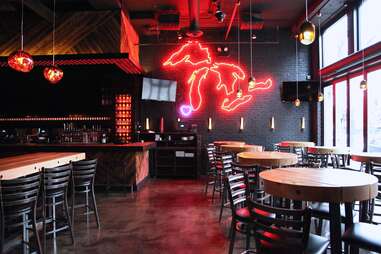 Old Town
Much like its Lincoln Park sister restaurant, Homeslice, this trendy pizzeria is an Instagrammer's playground, complete with photo op-ready tire swings and neon signs that look as though they were pulled straight from the closet of a graphic tee addict. The menu is equally playful, and runs the gamut from beer-basted breadsticks teamed with goat cheese and marinara to an array of meat-heavy and veggie-friendly pies named after people. The 18in Mike (Italian sausage, sun-dried tomatoes, red onions, Parmesan, and spinach-ricotta sauce), anyone?
River North
The signature part of this stylish resto's coveted pies is a top-secret dough recipe that took founder Robert Garvey some 20 years to perfect. The thin-yet-fluffy crust is the perfect canvas for upmarket creations, like a roasted duck breast pizza with Bella Viva plums, scallions, pecorino, Szechuan peppercorns, and hoisin, and a roasted red grape & fennel combo with taleggio and salted walnuts.
Lakeview
With a sleek and significantly larger space and an expanded menu, the Southport Corridor location of Chicago's favorite coal-fired pizza joint is everything the West Town outpost is and more. Score two vegan-friendly pies that don't skimp on flavor; an ultra-earthy number piled high with seasonal mushrooms, panna, truffle paste, garlic, and olive oil; and longstanding favorites like the pepperoni and whipped ricotta, or starters like charcuterie and burrata. Wash it all down with a selection from the thorough beverage menu.
Oak Brook
OK, so the pizzeria formerly known as Pizza Barra is in the 'burbs, but it's been flying under the radar since it opened last fall, and we're here to remedy that. The sizable pizza menu satisfies most pizza enthusiasts, with artisan-style Italian pizzas with a ciabatta crust, or Chicago-inspired thin crust like the La Barra Supreme, which comes stacked with mushrooms, onion, green pepper, pepperoni, and olives. But the real stunners here are the Chicago pan pizzas. The supremely thick masterpieces remind us, in all the best ways, of the coveted pan pizzas at Pequod's, crispy crust and all.
Lakeview
After nearly 70 years of satisfying the South Side's collective hunger for pizza, this longstanding local great finally brought its signature pizzas to the North Side. The Lakeview outpost operates out of a sprawling 5,500sqft space, and promises a huge lineup of pizzas broken down into categories like "Flame Thrower" (hot & spicy) and "Curve Ball" (think: bacon cheeseburger and Carolina BBQ chicken pizzas), as well as 16 beers on tap and a North Side-only mac & cheese skillet.
Lakeview
Having opened just in time for summer, this neighborhood-y spot has managed to seamlessly blend well-executed pizza with childhood nostalgia in the form of TVs screening '80s and '90s music videos from MTV's heyday. Like Forno Rosso, Lark also joins the elite group of precious few local restaurants cooking VPN-certified Neapolitan thin-crust pizzas, and while pizza may be the primary name of its culinary game, it's also home to house-made pasta, cheffy apps, and a respectable cocktail program.
Sign up here for our daily Chicago email and be the first to get all the food/drink/fun in town.
Kailley Lindman is a contributing writer for Thrillist Chicago, as well as a freelance food photographer, food blogger at KailleysKitchen.com, and recovering vegetarian. Follow her on Twitter and Instagram.