As Omar Little once said, "I got the shotgun. You got the briefcase. And Chicago's got seven epic new openings from April that include everything from a poutinerie to a dim sum parlor. It's all in the game though, right?" Right. Speaking of which, here's a look at those seven epic new openers. Oh, indeed.
Harding Tavern (click here for address and info)
Logan Square
This vintage theater-turned-modern pub is home to drool-on-everything grub like wasabi wings, chicken pitas drizzled in Moroccan aioli, and burgers with patties flavored with whole cloves of roasted garlic. Match your meal with The Final Chapter, which's both what you never read in high school (CliffNotes FTW!) and also a house cocktail made with bourbon, Luxardo, lemon juice, and Chartreuse.

The Roost (click here for address and info)
Lakeview
This mobile fried chicken unit finally found a cozy little brick-and-mortar place on Irving Park Rd to lay its deliciously batter-fried head. The same chicken and buttery biscuits you know and love are now available at the 30-seat, BYOB storefront during lunch and dinner hours, as well as a small selection of sides and sweet peach cobbler.

Leadbelly (click here for address and info)
Gladstone Park
The folks that brought you last month's majestic deep dish pizza-stuffed double-decker burger have seen so much success in the past year, that they decided to open a second location. Expect the same great burgers, friendly service, and ridiculously binge-worthy pork belly fried with crispy onions and Carolina mustard sauce.
Porkchop (click here for address and info)
Hyde Park
Restaurant row's stop for 150+ varieties of whiskey and Southern food has staked its claim on Southern(ish) Chicago territory. The second location brandishes the same wallpaper, cartoon pig paintings (phew), rustic wood tables, and menu as its Randolph St counterpart, but in Hyde Park, it's open from 7am to midnight (or later), and comes equipped with a stage for live musical acts.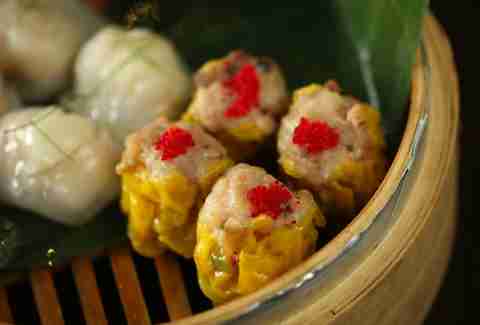 Yum Cha Dim Sum Parlor (click here for address and info)
Loop
Great dim sum restaurants seem to be few and far between in the Loop, but Yum Cha has arrived to remedy the situation. Choose from more than 40 traditional and reimagined dumplings, small plates, rice dishes, noodles, and perhaps best of all (wait, no, most definitely best of all), boozy tea cocktails.

The Big Cheese Poutinerie (click here for address and info)
Lakeview
This diet-unfriendly chain's mission is "to bring poutine to the masses using the freshest ingredients", and at its new Lakeview location, it succeeds in doing just that. Gorge yourself with a dozen-ish different poutine renditions, like the Bombay Bomber with buttered chicken, caramelized onions, green peas, and fresh parsley, or the American-to-its-core Hamburger Poutine with ground beef, cheddar, tomatoes, and special sauce -- just not all at the same time; the rest of the masses need their fill, too.

Packing House (click here for address and info)
West Loop
The former Market space has been re-concepted into a lively, three-story restaurant showcasing Chef Amanda Barnes' Mediterranean-inspired cuisine (think: escolar crudo with chilis, coriander, olive oil, lemon, and thyme). Those who prefer to dine al fresco (so: everyone) can enjoy the spacious, covered rooftop porch, and those who prefer their meal with a boozy accompaniment (again: everyone) can select from Packing House's lengthy list of alcoholic refreshments, including the Modern Gentleman with Gentleman Jack, Chambord, lemon and orange juices, simple syrup, and egg white.
Kailley Lindman is a contributing writer for Thrillist Chicago, as well as a food blogger, bacon enthusiast, and devout user of the Oxford comma. Follow her at @KailleysKitchen.
Other Stuff You'll Like In Openings Cheat Sheet