Because you need a place to meet or ditch (probably ditch) your family outside of turkey time, here's a super-duper, handy-dandy list of the nine best new bars, restaurants, and donut shops to open in Chicago this November.
Recommended Video
These Onion Rings Are Stuffed With Cheeseburgers
Wicker Park
Brendan Sodikoff checks "pizzeria" off his restaurateur bucket list with Roxie's, a cozy, 56-seat, brick-fired 'za mecca in the former Café Con Leche space, where Chefs Cameron Magee and Chad Anderson are slinging 28in Brooklyn-style pies by the slice for $4.50 a pop. Toppings include hot coppa, serrano ham, pork salami rolled in black pepper, sweet peppers, and more. Thirsty? Snag a cold one from the shop's selection of craft beers.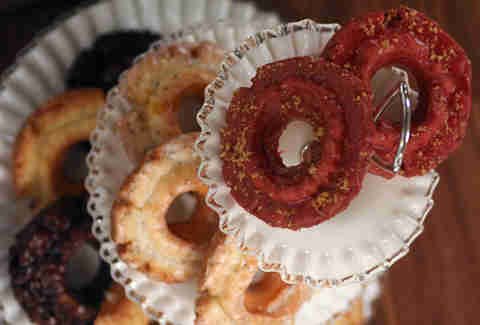 West Loop
Speaking of Sodikoff spaces, a new outlet for Doughnut Vault flew under the radar this month, opening on the ground floor of 111 N Canal, the Chicago HQ for Twitter and Uber. The Vault brings its roster of six different old fashioneds, including triple chocolate, pistachio, and coconut cream, plus a rotating special and Bow Truss Coffee pours influenced by the methodology of Japanese cafe Steamer Coffee Company (expect a pretty sweet rosetta on your latte).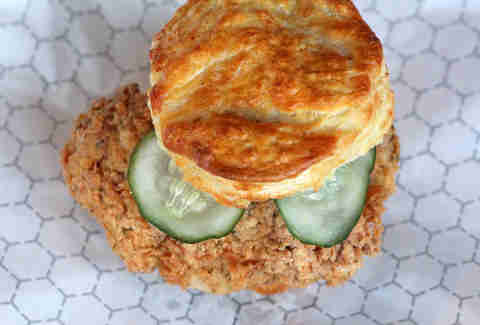 River North
Just when you thought River North had a dearth of politically charged fried chicken, Ukrainian Village chicken joint Leghorn swoops in with a second, decidedly more laid back outpost in the tiny storefront previously occupied by the Ohio House Coffee Shop. The diner-esque spinoff is open all day and serves up breakfast biscuit sandwiches, local doughnuts, and Stumptown Coffee in addition to classic fried chicken sammies and savory sides.
River North
NYC-born burger holy land Shake Shack fiiiiiiinally opened its first Chicago location this month, a 90-seater decked in string lights and reclaimed wood and really, really long lines. If you're willing to wait, it's worth it for a slew of Chicago-inspired Shack-ness, like the "Shack-ago Dog" made with Vienna Beef and the "Da S'mores" concrete blended with Bang Bang Pie's s'mores pie, plus all of the Shack classics, like burgers, signature crinkle-cut fries, and Brooklyn-brewed Shackmeister Ale.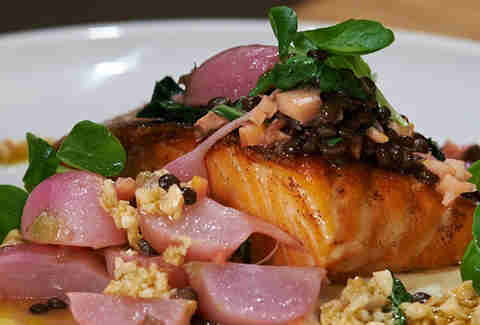 River North
Though Oak + Char technically opened in the former Graham Elliot space on October 30th, this isn't Communist Russia so we're gonna go ahead and include the new fire-themed resto anyway -- most of all because they finally nabbed a liquor license mid-month, which means out with the BYOB contingency plan and in with awesome, well-balanced cocktails. Staying true to its name, the space sports plenty of oak, as well as billowy light fixtures that look like plumes of smoke. Feast on ultra-flavorful "M.S.G." wings (trust us, it's not what you think) and a smoky double-patty burger, or go big with a market price 32oz bone-in ribeye served with bone marrow and sauce Perigueux on a badass wooden board.
Avondale
The latest food truck-turned-restaurant, Frite Street is a fry-centric offshoot of the slider slingin' Slide Ride. The brick-and-mortar space is simple -- even a bit divey -- with red walls, minimal seating, and not a whole lot else. Score a few of the truck's most popular sliders, along with 11 different French fry renditions, like poutine smothered in Guinness gravy; Korean frites with crispy pork belly, house kimchi, and garlic aioli; or the Mac Daddy number with pulled pork, mac & cheese, and a house pickle.
Streeterville
Piggy-backing on the success of the doughnut shop's Wicker Park location, California-based doughnut visionary Stan Berman and local bakery mogul Rich Labriola have joined forces once again to bring Stan's to Streeterville. The new shop boasts a similar modern aesthetic with retro touches, a wall of multi-colored KitchenAid stand mixers, and the same peanut butter pockets, lemon-pistachio doughnuts, and cinnamon and sugar-dusted pretzel twists you know and love (and eat).
Lakeview
For nicely priced seafood and a casual, laid-back vibe, look no further than Fahlstrom's, a bright storefront with cereal mascot-themed chalkboard art and vibrant blue accents throughout. Though it specializes in fish offerings like a cornmeal-encrusted catfish po' boy, New England clam chowder with bacon, and rotating catch-of-the-day specials, Fahlstrom's actually does really great burgers and meatloaf sandwiches, too. And thanks to a "breakfast anytime" menu, featuring omelets, pancakes, and more, you can even get your BFD (breakfast-for-dinner) fix.
Evanston
Pressing on in the hope of becoming America's Next Top... foodie-friendly Chicago 'burb, Evanston welcomes Ten Mile House: a comfort food specialist inspired by the city's oldest social gathering point. The inviting atmosphere reflects the equally inviting menu, which is loaded with things that'll help you pack on an extra layer of insulation this winter. Think: wood-fired pizzas, a slow-cooked pork shoulder sandwich, poutine, and dry-rubbed baby back ribs.
Sign up here for our daily Chicago email and be the first to get all the food/drink/fun in town.
Kailley Lindman is a contributing writer for Thrillist Chicago, as well as a food blogger, bacon enthusiast, and devout user of the Oxford comma. Follow her at @KailleysKitchen.