Because you deserve more than some embarrassing little list of 10 of the best new restaurants of the year in Chicago, here's a list of................... 11! From a dinner spot with bacon-studded baked potato bing bread to an alleyway BBQ joint doing the ultimate Frito pie, your eating-out itinerary just got infinitely awesomer.
Recommended Video
Make This Sushi Burrito at Home, Become a Snack Legend
Avondale
After a brief stint at bygone Bonsoiree, husband-and-wife team Johnny Clark and Beverly Kim have built a legitimate dining destination on a fairly sleepy stretch of Elston (apologies to Chief O'Neill's) with a menu that seamlessly blends vibrant Korean flavors and an American comfort food sensibility.
Start with the baked potato bing bread, studded with bacon and scallions and served with sour cream butter. The fact that they bother offering this as a half-order in addition to the full might be the only mistake on the menu. You'll make your way through yuzu and honey-kissed short ribs and sizzling hot (for real, be careful) bowls of bi bim bap that will feel simultaneously familiar to any lover of the Korean staple and like their own revelatory experience altogether. You'll be back. - Matt Lynch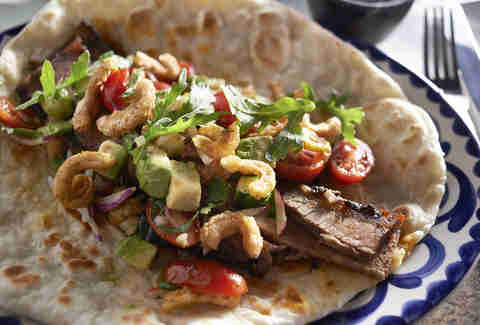 Wicker Park
With the addition of Dove's Luncheonette to the recently expanded Big Star and top speakeasy Violet Hour, Paul Kahan and One Off Hospitality Group now have a booming monopoly growing in the Six Corners. In Dove's they've got a retro Tex-Mex diner complete with stool seating, a juke box, and wood-paneled walls adorned with black-and-white photos of a pre-gentrified Wicker Park.
Starters like ceviche and pepper & potato hash set up heavy hitters like the gloriously meaty smoked brisket taco Norteño and the citrusy chicken fried chicken covered in chorizo verde gravy. Stick around for the tequila and mezcal-focused drink menu and come back again early for a tempura-style, deep-fried brunch with chile rellenos. And if you've had the tilapia tacos from Big Star (whose to-go window has its own dedicated kitchen in the Dove's buildout), you know the tastiness that is their tempura batter. - Sean Cooley
West Loop
Add "open an off-the-charts Japanese restaurant" to the BOKA Restaurant Group's ever-expanding list of accomplishments with this tri-level Lake St powerhouse. The group behind the likes of Balena and Girl & the Goat have delivered one of the most authentic Japanese dining and drinking experiences in Chicago, complete with a subterranean izakaya bar, with equal parts urban swagger and creative culinary finesse.
The four-page dinner menu designed by chefs Mark Hellyar and Jeff Ramsey runs some 40 items deep -- non-negotiable eats include the meatless Momotarotartare (Japanese sweet tomato, Maui onion, shiso), melt-in-your-mouth, robata-grilled Wagyu beef tongue, and the Santa Barbara uni rice with burgundy truffles. As for the sushi? It's straightforward and impossibly fresh. - Kailley Lindman
Uptown
You know how Penn and Teller work -- Penn stands out front, explaining things directly to the audience, and then Teller, wordlessly, makes something magical happen. That's pretty much what 42 Grams is like -- eight of you sit around a kitchen counter (there's a slightly larger, conventional table as well) as Alexa Welsh tells you what you're about to have and what it's all about... and then her husband, Chef/owner Jake Bickelhaupt, and a few other chefs plate up something astonishing for you. He does occasionally speak.
It might be tea-smoked salmon, a porky barley porridge, or Wagyu beef with Japanese accents. It might come in a spoon or a bowl, or on a stick. Whatever it is, the cumulative effect of the 14-course BYO tasting menu is like being in the owners' living room (they actually live upstairs) with a better spread than any dinner party you've ever been to. - Mike Gebert
West Loop
In a day and age when even your run-of-the-mill corner drinkery seems to be touting its charcuterie plate, it takes something extra to stand out in a sea of wooden boards propping up assorted pork products. Luckily, TÊTE has that something extra -- actually, multiple somethings extra. There's a dedication to making sure all the selections -- peppery coppa, rich fromage de tête, silky duck rillette -- are all given the proper attention.
There're also international encased meats from French boudin blanc to Moroccan merguez that'll push you further toward your meat coma, plus dishes like Peking duck with white miso and rutabaga mostarda that don't seem to really fit the concept, but are too tasty for anyone to get upset. - Matt Lynch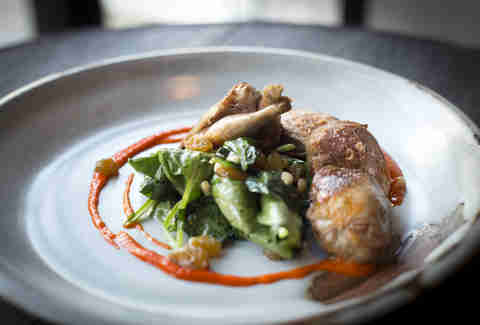 West Loop
Demure and unpretentious, Salero has become one of Restaurant Row's best-kept secrets since quietly opening at the tail end of Summer. But with an interior space that's sexy and bold, and unforgettable Spanish dishes, there's no way it'll remain a secret for much longer. Chef Ashlee Aubin (an Alinea vet and owner of Wood restaurant in Lakeview) pays homage to Spain with flavor-forward dishes like chorizo-stuffed quail paired with a sweet/savory mix of wilted spinach, pine nuts, and golden raisins, as well as a holy-crap delicious flat iron steak with salt-wrinkled potatoes, braised onions, and a piquillo pepper jam-packed with ultra-tender oxtail.
If you're looking for tapas, you're in the wrong place -- the menu lists straightforward starter and entrée options, but you can choose from a selection of pintxos if you're looking for something shareable to snack on up front. - Kailley Lindman
West Loop
Back in February, we deemed Green Street Smoked Meats to be the coolest restaurant in the city, and the moniker has held up nicely. Follow the BBQ aroma emanating from an alley off of Restaurant Row into a honky-tonk smokehouse with an aesthetic that's hipper than any bar this side of Austin.
Don't be intimidated by the winding line -- it happens to wind around a well-stocked whiskey bar -- besides, it's worth the wait for fatty smoked brisket, hot links, slaw-topped pulled pork sandwiches, and Frito pie (filling the corn chip bag with brisket chili, jalapeños, beans, and melted cheese). Or, sign your name on the clipboard attached to the door of High Five Ramen, and you'll find yourself slurping down bowls of face-numbingly spicy tonkotsu inside the 14-seat ramen den. - Sean Cooley
Lakeview
The success of The Roost's 30-seat, brick-and-mortar restaurant (and previous food truck) has coincided directly with the awesome Chicago fried chicken joint movement -- a trend that is hopefully here to stay, because the Carolina-style chicken recipes The Roost's put out are a welcome addition to Lakeview's restaurant scene. Order up a fried chicken biscuit sandwich and you'll see your buttermilk-brined chicken tossed in flour and spices and fried to order.
You can't go wrong with either the spicy chicken topped with tangy chipotle ranch and cheddar cheese, or the spectacular heat of the Nashville Hot contrasted with fresh dill pickles. Sides like creamy mac, a bonus biscuit, or peach cobbler are solid, though the supremely juicy chicken is what you're coming for. Also, be sure to take advantage of the BYOB policy and in-house cooler. - Sean Cooley
River North
This eccentric hotspot proves that it pays to dare to be different, so long as you have inventive food and an inviting atmosphere to draw people in and keep them coming back. Chef Jimmy Papadopoulos mans the kitchen, dreaming up and executing creative Eastern European fare that toes the line between Old World authenticity and sophisticated modernity.
Small plates like the bacon buns stuffed with chunks of bacon and brushed with smoky bacon fat (and a sprinkling of sea salt) will hook you, while the spiced grilled chicken paprikash with pickled sweet peppers, kale, and Czech potato dumplings will make you realize that BoHo is here to fill the Slavic gap in your palate. - Kailley Lindman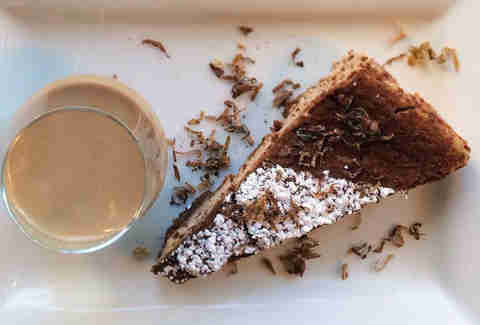 Logan Square
Chicago's restaurant scene seems to have an ever-increasing Italian accent, but that didn't stop Osteria Langhe from settling into the space vacated by Brand BBQ and distinguishing itself with cuisine inspired by Italy's Piedmont region. If you don't care about the finer points of Italian geography, said cuisine also distinguishes itself with deliciousness.
The vitello tonnato comes with a crispy breaded egg and a generous helping of citrusy tuna aioli that sets it apart from the all-too-familiar beef carpaccio experience. The risotto accoutrements change constantly, but the fact that you should probably get it does not. Braised rabbit with pork belly and roasted potatoes will make you wonder why you haven't been eating pigs and rabbits together with more regularity. The panna cotta will just make you happy. - Matt Lynch
Lakeview
While Salero offers an innovative -- even artistic -- interpretation of Spanish cuisine, this seafood-focused eatery transports you to a coastal fishing village in Spain with its simple, rustic eats. Both the menu and the presentation are as uncomplicated as they are mouthwatering, letting the ingredients and authentic flavors punch through and take center stage.
Small plates range from light, oceanic Cantabrian salt-cured anchovies served atop butter bread, to hearty, deep-fried manchego and speck-stuffed croquettes with a roast garlic aioli for dipping, while veggie-heavy offerings, grilled seafood, and made-for-two platters of cobia, ribeye, and chicken round things out. And with noon-to-midnight kitchen hours every day except Monday (still open 5pm-12am), you can roll in from lunch to "fourth meal". - Kailley Lindman
Sign up here for our daily Chicago email and be the first to get all the food/drink/fun in town.