Chicago Memorial Day marked the official start of grilling season. Not for you, though (you're terrible at cooking meat), but for... you know... other people. So instead, leave things to the professionals by checking out the latest steak additions to some of Chicago's best steakhouse menus. High Plains Bison Filet at Wildfire: You've probably had a bison burger before, but have you ever had a bison not-burger? If you haven't (or really, even if you have), you're gonna want to make Wildfire's new High Plains Bison Filet your first. It's a beautiful cut of coffee-rubbed Oregon Trail meat served on a small slice of toasted baguette, and topped with the perfectest perfect piece of butter.
Lamb T-Bones at Bavette's Bar & Boeuf: These Colorado lambs (which're butchered in-house) are larger and more flavorful than their New Zealand kin, because 'Murica. Two T-Bone steaks are broiled to medium-rare, served with chicken jus, and dressed with confit-ed roasted garlic cloves.


Continue Reading
Tomahawk Long Bone at Chicago Chop House: We don't generally pick our steaks based on having a cool name, but that said, it'd be hard to turn down Chicago Chop House's new USADA Prime Tomahawk Long Bone. The manly sounding Mishima beef is dry-aged and cooked in a ridiculous 1,200-degree broiler. It's an impressive enough piece that they only season it with salt and pepper.

42 Chop at Gibsons Bar and Steakhouse: Gibsons is known for its celebrity clientele, but none loom larger than Bears legend Sid Luckman. They named the newest permanent addition to their menu, the Gibsons 42 Chop, in his honor to celebrate their 25th anniversary. It's dry-aged for a full seven weeks, and was so well-received that it completely sold out in two days. Luckily it should be back by month's end.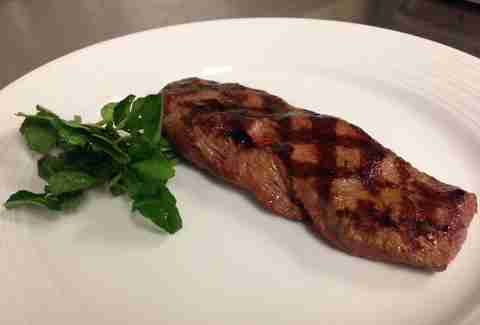 Vegas Strip Steak and Eggs at David Burke's Primehouse: Most people don't think of steaks as being discovered, but that's exactly what happened with the Vegas Strip Steak. Rick Gresh was the first chef in on the action, and while it's no longer new to their menu, it's most likely still new to you. It can be found on the breakfast menu of all places, so prepare for the best plate of Steak and Eggs in maybe all of Chicago.