5 new donuts you need to try this weekend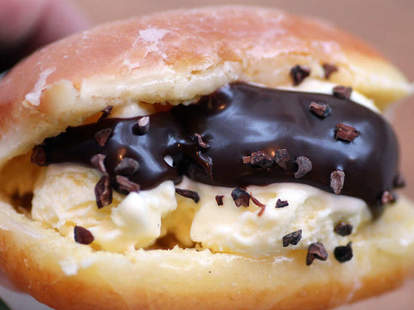 Chicago Unlike [spoiler alert] from Game of [Spoiler Alert] who was [spoiler alerted] in the first [spoiler alert], no one is going to kill Chicago's love of donuts, especially when new ones keep popping up, like these five we're totally hooked on this month.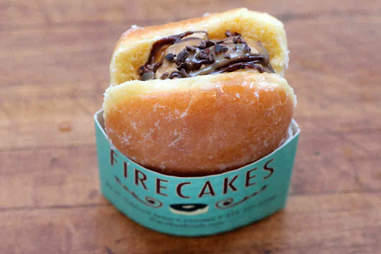 Sean Cooley
Donut Ice Cream Sandwiches, Firecakes Donuts: After a long Winter hiatus, one of Chi's most popular dessert mash-ups is back on Firecakes' menu. The coffee sleeve-clad sugar rush is comprised of a sliced honey-glazed held together with chocolate espresso or vanilla bean gelato, and adorned with rich chocolate, caramel sauces, and cocoa nibs. Hell to the yes.
Continue Reading
Glazed and Infused
Passion Fruit & White Chocolate Bismark, Glazed and Infused: G&I is known for its creative flavor combinations (remember that sweet/savory bar snack one?), and this sinful passion fruit and white chocolate combo hits the donut mark. The thick, pillowy Bismarks are infused with tangy passion fruit cream, glazed in white chocolate, and sprinkled with delicate white chocolate shavings.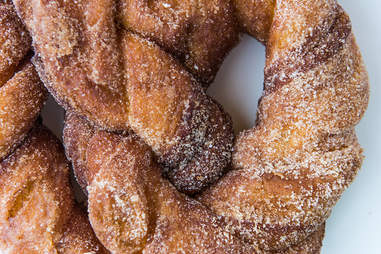 Kailley Lindman
Cinnamon Pretzel Donut, Stan's Donuts and Coffee: We've had our eye on this Wicker Park shop since it opened earlier this year, and we can proudly report that it lives up to -- [Buzz Lightyear voice] and beyond! -- the hype. While the Biscoff pockets and lemon-pistachio numbers are spot-on, it's the sugar-and-spice appeal of the cinnamon pretzel donut that's the move to make. Grab some of Stan's coffee and dunk away.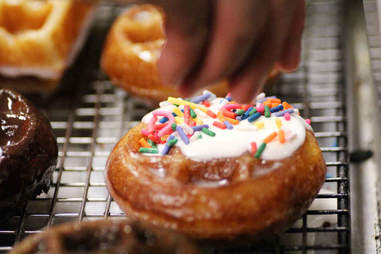 Sean Cooley
Wonut, Waffles Cafe: Between Dominique Ansel's Waffogato and Waffles Cafe's Wonut, it's safe to say that the waffle trend has a chokehold on America, and America is all for it! Kinky! Jump on the bandwagon and stuff your face full of red velvet and spicy Mexican chocolate Wonuts straight from the waffle-focused spot that created them.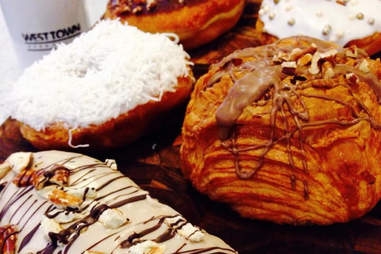 BHB West Town
Dulce de Leche Danish, West Town Bakery: Everyone's talking about the Donut Fest success of its beer and pretzel brother, but this ultra-sweet Danish donut (okay, geeeeeeez, it's just a Danish) is nothing to scoff at. The pastry dough is flakey and light, but it's loaded with enough deliciously caramelized sweetened milk to require a nap half-way in.