Chicago Just when you thought Canada couldn't possibly be any dumber, it went ahead and did something like this... and TOTALLY REDEEMED ITSELF. The 'this' we're talking about is obviously poutine (French fries! + Gravy! + Cheese curds!), which's been popping up all over Chicago as of late. Here're five of the most impressive options:
Poutine from Little Market Brasserie: This casual-American resto in the Gold Coast's Talbott Hotel does a classic poutine (fries, cheese curds, and a thick blanket of gravy), but with one important addition: chunks of freaking short rib.
Continue Reading
Poutine Burger from Spritz Burger: This open-facer includes fries, cheese curds, and sage country gravy, all ON TOP of SB's signature, grass-fed beef patty. Wash it down with a Smokey Mountain Rickey spritz. Or don't. It's your life.



Braised Beef Cheek Poutine from Bottlefork: Look at that. LOOK AT IT. That's the poutine-age you can get at Bottlefork -- the latest concept from Rockit Ranch Productions. It's a braised beef cheek poutine with Wisconsin cheese curds, Kennebec fries, and pools of stick-to-your-ribs gravy.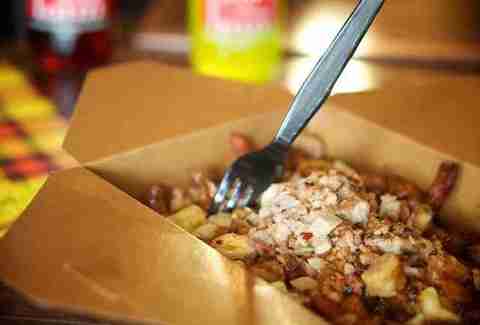 Cluster Buck Poutine from The Big Cheese Poutinerie: This everything-but-the-kitchen-sink poutinerie landed in Lakeview last month, and the masterfully named Cluster Buck is the early winner -- it takes North-of-the-border poutine and gives it an American cowboy twist with chicken, tangy barbecue sauce, and caramelized onions.

Breakfast Poutine from The Gage: When eggs Benny and smoked salmon just won't cut it (which would never happen, but just go with it), cop a plate of The Gage's alcohol-headache-healing breakfast poutine. The dish comes with breakfast sausage, black truffle, fries, Smoke Box gravy, and a free-range, sunny-side-up egg.