From a taco joint to a trio of restaurants in the West Loop's awesome, new, six-story hotel-cum-private club, Chicago was bursting at the seams with new bars and restaurants this August. And to ensure you're the one bursting at the seams in September, here are the nine best newcomers.

Streeterville
Just when you thought the donut trend was starting to lose steam, BOOOOOOOOOOM: cutting-edge donut purveyor Do-Rite adds a bunch of gas (that makes more steam… right?). The new outpost (conveniently located near Northwestern's medical campus) is the only spot in town where you can clutch a donut in one hand, and a delicious fried chicken sammie in the other. One-up that balancing act with a fried chicken and donut sandwich, an off-menu option for anyone who needs sweet and savory flavors in every deep-fried bite.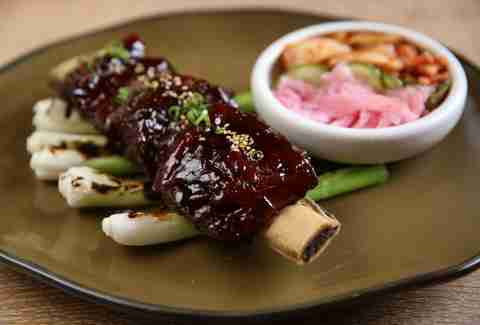 River North
Blurring the line between sports bar and restaurant, this two-level, Asian-influenced concept sports (ha!) a sophisticated audio/video system that stretches across the walls. Every seat is arguably "the best seat in the house", and whatever you order will be much-less-arguably the best sports bar fare you've ever had. Chef Rodelio Aglibot's nouveau bar eats include plates like popcorn shrimp ceviche, pork katsu sliders, creative sushi rolls, Havarti-crusted mac & cheese, and slow-roasted beef "long rib".
Chicken Shop, Pizza East & The Allis Lounge at Soho House
West Loop
The Chicago branch of the exclusive, members-only hotel club came equipped with three casual new eateries that are now open to the public: Chicken Shop (where you can satisfy all your spit-roasted chicken needs), Pizza East (aka, wood-fired 'za heaven), and The Allis, where you can belly up to a marble-top bar for a stiff Bourbon Iced Tea and small plates like a Scotch egg & prosciutto and grissini.
River North
Since opening in 2012, RPM Italian's show-stopping steaks have garnered enough attention that the Melmans and Rancics basically had to open an equally classy, anything-but-ordinary steakhouse. Inside it, you'll find a curated selection of locally and internationally sourced meats, cooked in ways that you could never pull off at home (see: broiled over charcoal and/or crisped in a cast iron skillet).
Noble Square
Nearly twice the size of its sister restaurant Picante, Felipe Caro's new cash-only taco stop promises more than just square-footage (it also promises a vintage façade that dates back to the 1930s when Snappy Service System slung $0.05 burgers... so yeah, two promises). Look for corn smut quesadillas (not as naughty as they sound, promise), elotes, spicy agua fresca, chicharrones, and beef tongue tacos. Added bonuses? There's a tiny patio for outdoor taco binging, and all the ingredients are locally sourced (which means less guilt for said taco-binging).
River North
Spotify your favorite video game-inspired playlist, and limber up those fingers -- Headquarters just invaded a 14,000sqft space in River North and brought with it new games, drinks, and eats. Yes, you read that correctly: in addition to 65+ vintage arcade and pinball games, 38 craft beers on tap, and 40 canned craft beers, the second HQ location also houses a kitchen that's serving up playful grub reflective of the beercade's atmosphere. Try the Kimchi Deviled Eggs with Asian Pear and a splash of chili oil for a sweet/heat fix, wash 'em down with the US Mint (mint-infused bourbon, honey, lemon), and go HAM on that pinball machine you haven't played since the eighth grade.
Wicker Park
At long last, Rick Bayless heads West of the Kennedy with the second location of his Mexican street food emporium. Expect the same spread of tortas, soups, and snacks as the original, along with new features like brunch (!!!), a fully stocked bar (duuuuuude!!!!!!), full-service digs, and a 30-seat patio with your name on it. In case you missed it, here's an in-depth look at your new favorite Wicker Park torta joint.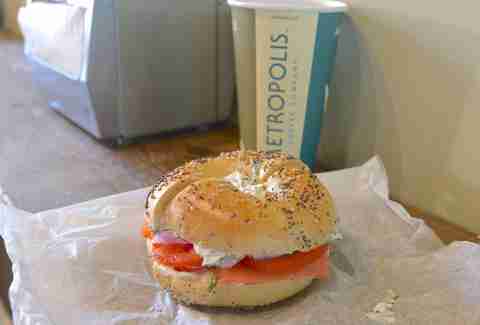 Wicker Park
The gents behind Piece Pizzeria & Brewery and 1980s bagel institution Jacob Bros Bagels are getting after it again with a new counter-service bagel shop that touts equal parts old-school "crunchy-on-the-outside, chewy-on-the-inside" bagel recipes, and new-school accoutrements like Sriracha & garlic confit cream cheeses and vegan-approved, whipped tofu. You can also pick up a pizza bagel (wut), a BLT bagel sandwich with garlic aioli, and Metropolis Coffee. Did we mention it's right next door to Piece? 'Cause it totally is.
West Loop
Taking over the former Kabocha space on Morgan St, Takito Kitchen's Latin-inspired spin-off flaunts a bright, lively aesthetic accented with graffiti-covered walls painted by Chicago street artists, a lengthy concrete bar, and giant, lit-up letters that spell out "bar" suspended from the ceiling. The ultimate cool factor, though? House-made tortillas infused with Negro-freaking-Modelo. Dress that beer tortilla up with some pork shoulder or lamb barbacoa, and let the feeding frenzy commence; there will be a plate of popcorn butterscotch mousse and a tequila-drenched La Paloma waiting for you at the finish line.
Sign up here for our daily Chicago email and be the first to get all the food/drink/fun in town.
Kailley Lindman is a contributing writer for Thrillist Chicago, as well as a food blogger, bacon enthusiast, and devout user of the Oxford comma. Follow her at @KailleysKitchen.