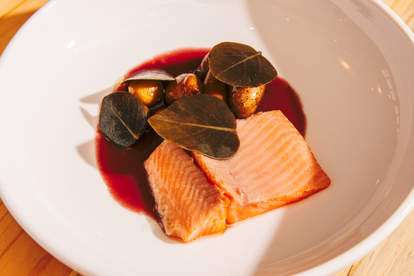 Food & Drink
Presented By
Chicago's Best New Restaurants of 2019
Presented By
It's finally time to look back on all the good memories from 2019 -- and by "memories" we mean food, obviously. It was a big year, host to Chance the Snapper, Montrose Beach's Piping Plovers (Monty and Rose), and plenty of mini-Malört bottles, but it would take more than the space we have here to process those events. For now, let's just appreciate what an incredible time this is for dining in Chicago, particularly because of the new additions to our already formidable dining scene. These are Chicago's best new restaurants of 2019.
MORE: Check out the 12 new restaurants we named best in the nation this year
Ina Mae Tavern and Packaged Goods

| Heather Talbert
Wicker Park
Excellent New Orleans cuisine from Chef Brian Jupiter
Chicago was blessed with a New Orleans cuisine staple when Ina Mae Tavern opened in June. Southern comfort masterpieces like a Po' Boy tower (so you don't have to choose one seafood) and pitch-perfect fried chicken make Ina Mae's the only place to be when you're in the mood for something Big and Easy. The vibe is there, too, in a down-to-Earth space (with indoor and outdoor seating) you can feel comfortable in.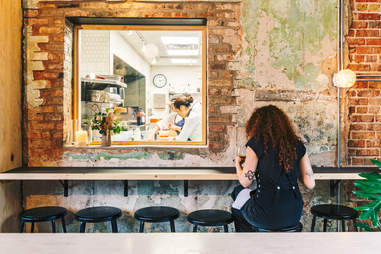 Wherewithall

| Cole Saladino/Thrillist
Avondale
Parachute's sister: an instant classic with a rotating menu and a wine bar
One of the most anticipated openings in the city this year did not disappoint. Each night, there's a rotating prix-fixe menu with seasonal dishes. Beyond the four-course meal, there's a bar that only accepts walk-ins featuring its own food, an excellent wine list, and aperitif cocktails. Chicago's wine bar scene just got much better, and it's no surprise considering this comes via Parachute chefs Beverly Kim and Johnny Clark. If you need further convincing, it made our national list of the best restaurants of 2019.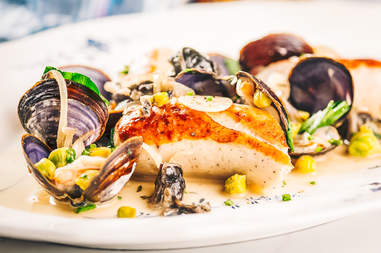 Courtesy of Café Cancale
Wicker Park
An escape to the coast of France via One Off Hospitality
Café Cancale takes a new approach to the Chicago seafood experience, adding a sleepier town take on the affair. Sure, there's still a raw bar, and yes, you can get frites and mussels, but comfort is at the top of Chicago's needs in restaurants this year, and Cancale delivers. The whole restaurant is based off chef Paul Kahan's trip to the coast of Brittany, France, where he explored French cuisine in a town called Cancale (also an oyster port) to figure out how to share it here. The menu is paired with French cocktails from the 1920s, along with, of course, French wine.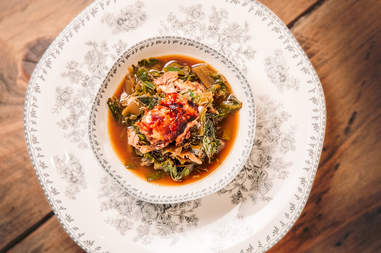 Virtue

| Gary Adcock/Studio37
Hyde Park
The pinnacle of Southern comfort food
Virtue has been a favorite recommendation from those in the know since its opening. The menu is simple in its naming conventions, sharing just the main portion of the meal for each dish, underlined with its accouterments. It's approachable, and the cheffy techniques are saved for the kitchen. Those techniques shine through in the execution of the dishes, hitting the soul of Southern staples like macaroni and cheese, pork chops, grits, and green tomatoes. With comfort as a high note and quality to back it up, Virtue is the Southern restaurant Chicago craved.
West Loop
Julia Momose's cocktail bar delivers unforgettable omakase
Paired up with Noah and Cara Sandoval, Julia Momose has created a bar with some of the best dining in Chicago. The upstairs Kumiko is reserved for casual drinkers and those not interested in the omakase, while Kikko, the downstairs bar, is a seven-course, eight-seat experience with Japanese small plates paired with cocktails. It's Momose's ideal dining and drinking experience, and probably yours, too.
Jeong

| Hahm Visuals
West Town
A prix-fixe Korean menu at a price you can afford 
It's easy to overdo it on a prix-fixe menu, but 2019 was the year Chicago restaurants toned the ostentation and focused on execution. Jeong's seven-course prix-fixe menu is approachable and affordable for a nice night with no worry of being overfed or going broke. This is unsurprising as Chef Dave Park is coming from Hanbun, the well-loved Korean fast-food suburban mall spot that also provided excellent dishes and approachability. The space here is upscale but inviting, and there's a separate a la carte menu if you're not down to commit.
Galit

| Sandy Noto
Lincoln Park
Israeli cuisine and Chicago's toughest new reservation
Dreamy vegetables, tiled wrap-around bar surrounding the open kitchen, a nightly frenzy of people, and an array of dishes from Israel's mélange of cultures -- this is Galit. Chef Zach Engel and partner Andrés Clavero have created one of Chicago's most-hyped restaurants this year, and it's nearly impossible to get into before 9pm. It's a mostly pick-and-choose menu, with a spread of four hummus choices, mezze, Yemenite, Israeli, and Bulgarian pickles, and options like spicy carrots and steak over coals. The lack of reservations speak to how much Chicago is totally here for it.
Thattu

| Vinod Kalathil
West Loop
A stall at one of Chicago's food halls stands out
Located inside Chicago's Politan Row, Thattu brings Indian street food from chef Margaret Pak to the city. It's a blend of spicy aromatics, curries, and savory masala cookies the city can't get enough of. The menu is to the point: a selection of four curries that deliver, fried chicken, and appam. Surrounded by other vendors with an excellent selection of cuisine, food halls can be difficult to parse. When one of your choices is warm curry and rice at Thattu, the decision is easy.
Bungalow by Middle Brow

| Alexa Viscius
Logan Square
Pizza and beer level up at this brewery
The pairing may sound like college, but pizza and beer go together just like peas and carrots, or something like that. Bungalow at Middle Brow goes above and beyond, delivering a crunchy crust and a killer margherita that may have you reconsidering your favorite standby. The beer's incredible, too, with brewery-only taps and flagships Chicagoans have probably seen around town. It's approachable and modern, with just enough down-homey-ness to make it fit for anyone.
All Together Now

| Carolina Mariana Rodríguez
West Town
A neighborhood bar with stellar plates and natural wine
A commuter's dream, All Together Now offers those in West Town breakfast to-go, all-day lunch, and dinner to satisfy every type of diner. Plus, the serious coffee and incredible natural wine program make it an easy place to work remotely or spend an entire Saturday. Either way, All Together Now offers a delicious escape where time melts away.
Sign up here for our daily Chicago email and be the first to get all the food/drink/fun in town.
Elizabeth Atkinson is a Chicago food and drink writer, a huge fan of gin cocktails and a minerally white, and will definitely ask to pet your corgi. Follow her @elizabethrose14.