What makes Chicago pizza great? Let's call it diversity of crust. You've got thin, Neapolitan, tavern-style, deep dish, stuffed, double decker, pan, and, a true original, pot pie. No other city can boast as wide a pizza portfolio. Here are Chicago's 13 best pizzerias, separated -- we'll spare you the existential "what counts as pizza" debate -- into thin crust and deep dish categories.
Thin crust pizza
Spacca Napoli (address and info)
Ravenswood
Jonathan Goldsmith knows maybe too much about Neapolitan pizza, having spent considerable time in Italy researching and developing his craft. Using the best possible ingredients (pecorino grand cru, San Marzano tomatoes), and taking great care with his dough, Goldsmith's Ravenswood pizza restaurant is rightfully well revered. If there's one must try pie on the menu it would be the Bufalina featuring blended San Marzano tomatoes, mozzarella di bufala and basil.

Vito & Nick's (address and info)
Ashburn
You don't get more South Side than Vito & Nick's. Around since 1932, this pizza institution feels unchanged by time (they're still cash only and don't do delivery) and that goes double for the pizza itself. They still get their cheese from Joliet's Mancuso, still use that South Side staple of fennel in their sausage -- the key to what makes pizza great in these parts -- and it's still a destination for families and neighborhood folks. You can't get much better in the city than a thin crust sausage from this pizza icon.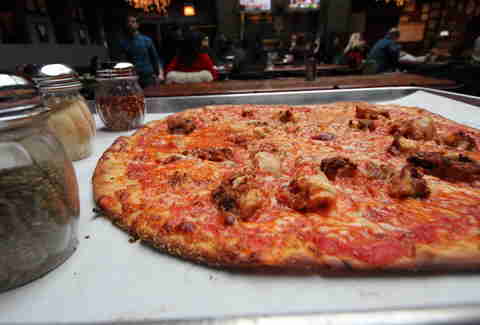 Piece (address and info)
Wicker Park
You wouldn't expect a slice of New Haven to be found inside the limits of Wicker Park, but Piece Brewery and Pizzeria (co-owned by Cheap Trick's Rick Nielsen) has been dishing Connecticut's favorite pizza style there to great acclaim for years. Dave Grohl and his fellow Foo Fighters cohorts visit every time they come to town and even Anthony Bourdain is a fan (having gone on record as being against Chicago's deep dish), calling it: "really, really delicious."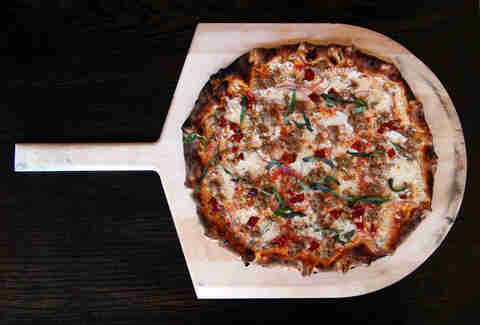 Coalfire (address and info)
West Town & Lakeview
This coal-burning pizzeria earns high marks for it's perfectly charred crust and easy foldability, a tremendous base for which any toppings are perfect. Coalfire's oven burns at 800 degrees and up, giving it that signature crispy, bubbly texture, a perfect base to pile on a load of specialty meats (prosciutto, mortadella, and Calabrese salami, perhaps?) on top.

Marie's Pizza & Liquors (address and info)
Albany Park
Another old-school Chicago classic. If you ever wanted to feel like you had walked into the spot where Billy Batts gets his infamous beat down in Goodfellas, Marie's is as close to that as you can find in Chicago. It's like a time machine – one that thankfully serves delicious tavern-style thin crust pizza as good as any other in the city. The crust holds up particularly well under the sauce, cheese, and assorted ingredients (note the fennel seeds in the sausage).
Boiler Room (address and info)
Logan Square
The sheer number of pizza specials at this revered Logan Square pizzeria are staggering, but easier terrain to explore than the prospect of building your own from their mind-boggling 53 available ingredients. The eponymous Boiler Room features their signature sauce, mozzarella ,and provolone blend, PBR meatballs, and homemade giardinera. The pizzas are big. REAL BIG. 20" BIG. The sort of size you need friends to go in with you on (lest you want to be eating pizza for days, which... wouldn't actually be that bad). The folks at Boiler Room are serious about their dough, too, giving is no less than two days to rise to it's pristine crispy encirclement.


Dante's (address and info)
Logan Square
Open since 2011, owners Tim Murphy and Aaron Butts have been making NY-style pizza with a punk rock/metal vibe to much local love. The crust is strong enough to tackle the numerous toppings it holds -- as is the case with the Minotaur (garlic sauce, Italian beef, giardineria, peppers, provolone, and mozzarella -- but pliable enough to fold. Like the pizza shop's atmosphere, the flavors come at you fast and strong as well, delivering a potent punch that elevates it from the sheer number of choices this city has to offer.
Deep dish pizzas
Lou Malnati's (address and info)
River North (& other locations)
There's just something about a deep dish pizza that allows for something as simple as plain cheese to still be fantastic. This is especially true of this iconic chain's pie, featuring a flaky, buttery crust with plum tomato sauce. The veritable "first family of deep dish," the Malnati clan continues to expand within Chicagoland area, never straying far from the Lake Michigan water that Rick Malnati (Lou's son) swears by.

The Art of Pizza (address and info)
Lakeview
Stuffed is the way to go here, and, since the format is already the pizza equivalent of lasagna, it's probably best with a healthy dose of vegetables inside like the Art's Special (sausage, mushroom, onion, green pepper). Eating a couple of slices of something this ginormous is quite an undertaking, so bring a friend to help you out. The secret is in the herbed crust.
Pizano's (address and info)
The Loop (& other locations)
Another Malnati, this time it's Rudy Malnati, Jr., who opened the first Pizano's 25 years ago (his father, Rudy Sr. was an original partner at Pizzeria Uno). Rudy uses the same ingredients that were originally found in the pizzas at both Uno and Due, giving customers a unique ability to eat history. The "Hey Hey" Jack Brickhouse special (sausage and mushrooms) is your go-to option.

Pequod's (address and info)
Lincoln Park
It's hard to mention Pequod's without referencing the recent passing of its founder, Burt Katz, who started the restaurant in 1970. Katz eventually sold it, and then started up Burt's Place in Morton Grove, but not before creating its signature caramelized crust (the upper rim of blackened mozzarella). It's a rich circle of dough, cheese, and sauce that begs to be made richer with sausage and pepperoni.

Chicago Pizza & Oven Grinder (address and info)
Lincoln Park
Nestled in an idyllic part of Lincoln Park sits this venerable pizza institution, which has been serving up its "pizza pot pies" for 44 years now. These adorable stuffed balls of Sicilian dough are filled with a house-made sauce (olive oil, fresh garlic, onions, green peppers, plum tomatoes), a mix blend of cheeses, whole fresh mushrooms and sausage. You're gonna get the pizza pot pie, but you absolutely must also order the Mediterranean bread, which is quite addictive. You may not want to share.

Nino's (address and info)
Alsip
Just outside the city limits, this old-school pizza joint has been slingin' pies in the South Suburbs to the delight of generations. The pizza gets all the raves and for obvious reasons. Its deliciousness stems from flakey crust walls damming in the pool of sauce and melty cheese that will string out with every slice you pull.

Sign up here for our daily Chicago email and be the first to get all the food/drink/fun in town.

Brett Hickman is a local freelance writer whose dying wish is to be buried in a pit of fried chicken. Follow him on Instagram and Twitter.