Considering we've already told you about Chicago's best pizza by neighborhood, best under-the-radar pies, and best slices in town, it might come as a bit of a shock when we tell you that good pizza exists beyond the Chicago city limits, but... good pizza exists beyond the Chicago city limits. These are the 19 best pizza places in the whole freaking state. Pizza road trips: now a thing.
Chicago
What you're getting: Margherita w/ fresh basil leaves
The best thin crust pizza in Chicago according to... um... us, the secret to greatness here is the coal-burning oven clocking in at 800 degrees. The end result is a nicely charred crust that's crispy and bubbly yet still foldable (in case you eat your pizza like some kind of NYC heathen). Anything here is good, but the Margherita with fresh basil leaves and mortadella really stands out.
Various locations
What you're getting: Sausage deep dish
Everyone knows Lou Malnati's, but did you know that Rick Malnati (Lou's son) swears by Lake Michigan water for its dough-making abilities and refuses to make pizza outside of Illinois? That's good news for us, resulting in the flaky, buttery, deep dish creations that your brother keeps making your Mom ship to him long after he moved to Colorado.
Various locations
What you're getting: Chicago Classic
The monster stuffed pizzas at this Chicago-area institution (with five out-of-state locations) guarantee one thing: you won't walk/slowly roll away hungry. Try the Meat & More Meat with pepperoni, salami, sausage, and bacon, or the Chicago Classic with pepperoni, mushrooms, green peppers, and onions -- all served on the trademark flaky, almost pastry-like crust.
Chicago
What you're getting: Classic cheese
This South Side institution is known for its square slices and the fact that very little has changed since the '50s, even after it was discovered by Guy Fieri. You need no other reason to visit here other than the textbook Chicago-style thin crust but, if you feel like getting weird, you can get egg pizza on Fridays.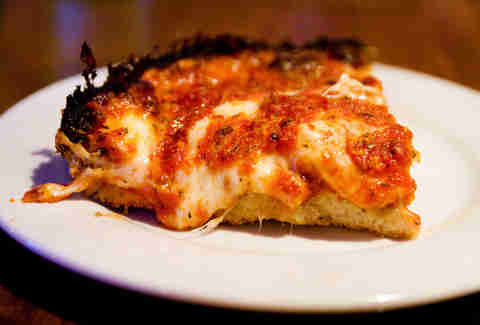 Chicago & Morton Grove
What you're getting: Pan pizza with meatball and Italian beef
What makes the unconventional deep dish at Pequod's stick in your mind? Try the extra-bread-y crust and the ring of caramelized cheese around the edge. The fatty meatiness of this pie perfectly melds with the crisp crust to feed your cravings at all hours of the night. Pizza sweats: also now a thing.
Chicago
What you're getting: Prosciutto e rucola
You know you're getting top-tier pizza when you've got a third-generation Neapolitan and certified pizzaiola slinging dough in the kitchen. Nella Grassano serves up authentic Neapolitan with a wood-fired crust that's chewy and smoky, and the white pizzas on hand (and everything else, really) are the best this side of Naples.
Chicago
What you're getting: Plain pizza
Perhaps most famous for celebrity collaborations such as the Honey Butter Fried Chicken Pizza (w/ Honey Butter Fried Chicken) and the current Goat Chili Pizza (with Girl & the Goat superchef Stephanie Izard), any day is a good day for pizza at Piece. The New Haven-style pies offer a signature thin crust and you can sub out mozzarella for Parmesan, garlic, olive oil, and tomato sauce, or you can even choose a BBQ sauce base. If you're into that sort of thing. Which you totally should be.
Morton Grove
What you're getting: Mixed bell peppers pizza-in-the-pan
No pizza roundup would be complete without mention of the legendary Burt of Burt's Place. While it may not be famous for its service, Burt's is famous for its massive pan-baked pizzas with a perfect balance of ingredients served in a crazy lodge-style environment. Pro tip: Burt is something of a celebrity around these parts, so best to call your order in ahead.
Champaign
What you're getting: Original Sicilian with pepperoni and green peppers
Offering pan, stuffed, and thin crust pizzas, this local Champaign hangout has been slinging pies for more than 40 years. The Original Sicilian Pan is a favorite among U of I students and locals, and legitimately gives Chicago deep dish a run for its money.
 
Urbana
What you're getting: Smoked duck pizza
The constantly changing menu at this local Urbana favorite offers a variety of pizzas, from classic Italian combinations like the wild mushroom with Italian sausage, caramelized onions, Gorgonzola, and oregano, to more experimental combos like the smoked duck pizza with hoisin sauce, mushrooms, scallions, garlic, and mozz.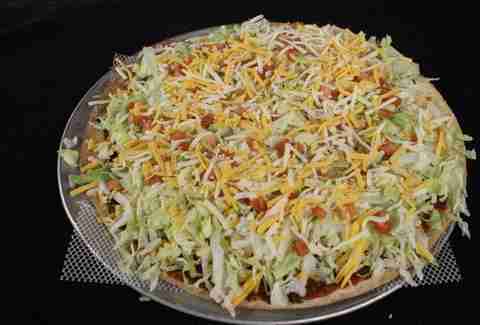 DeKalb
What you're getting: Taco pizza
It all starts with the homemade dough at Pizza Villa. For nearly 60 years, this pizzeria has been serving it in thin crust and pan pizza form to the surrounding population. Customize your pizza or try one of the specialty pies like taco, Buffalo chicken, and the Pizza Villa Special, which's loaded with sausage, mushroom, green pepper, and onion.
 
Springfield
What you're getting: Bacon chicken Alfredo pizza
Named the best pizza in the area by the Illinois Times, Gabatoni's specializes in the ultra-thin style. Choose your toppings or select one of the specialty pizzas, like bacon chicken Alfredo or the Meat Lovers.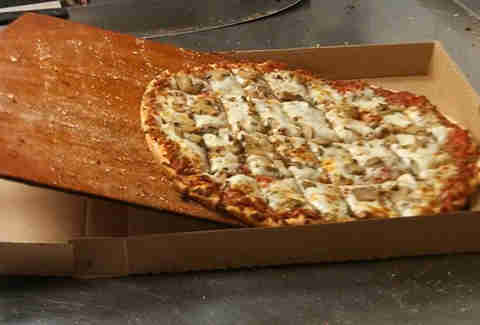 North Pekin
What you're getting: The "M"
As far as Mickie's Pizzeria is concerned, the secret to the perfect thin crust is in the dough. And as far as you're concerned, the secret to the perfect perfect thin crust is The "M", w/ sausage, pepperoni, and TWO types of bacon. Order that times infinity, or build your own.
 
Peoria
What you're getting: Hamburger and shrimp pizza
Known around town for its Tiger Sauce, a garlic-infused oil and vinegar mixture that tastes way better than it sounds, the family-owned "Aggie's" has been serving the Peoria community since 1926. Toppings include the usual sausage and pepperoni, plus slightly off-the-wall-but-OMG-YOU-NEED-TO-ORDER-THIS options like hamburger and shrimp.
Carbondale
What you're getting: Bianca Quatro's w/ virgin olive oil, ricotta, and spinach
Southern Illinoisans worship their deep dish almost as much as their brethren up North, but what really hits the spot at Quatro's is the signature homemade buttermilk ranch dipping sauce. This sweeter spin on the classic dressing complements Quatro's topping-covered pizzas effortlessly. Say hi to owner Steve Payne, who has been running the place for nearly 40 years.
 
Rock Island
What you're getting: Stuffed pepperoni
Claiming to serve the most authentic stuffed pizza in the Quad Cities, Alfano's is truly a diamond in the rough, and home to not just awesome choose-your-own-topping pies, but also calzones and garlic cheese bread.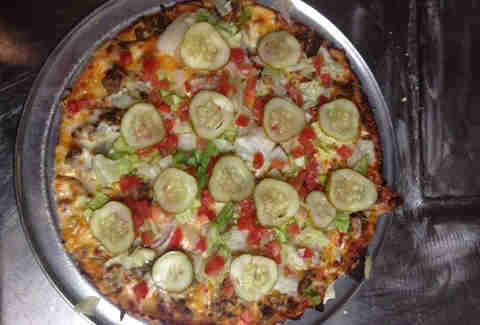 Belleville & Waterloo
What you're getting: Mac & cheese pizza
Papa Vito's has been serving up pizzas, ribs, and sandwiches in Southwestern Illinois for almost 25 years. Their signature pizzas are delicious but what you really have to try are their monthly pizza specials, like the Mac 'n Cheese pizza topped with sliced brats and bacon crumble.
 
Paris
What you're getting: Pepperoncini and anchovies, extra thin crust
Joe's Pizza is truly the place where everybody knows your name... even if you don't want them to. Locals rave about Joe's tangy pizza sauce, an often overlooked yet paramount ingredient for any great pizza. Joe's also does an excellent la nuova crosta extra thin crust with a kick of spices.
Rockford
What you're getting: Double sausage
Lino's has been a Rockford fixture for over four decades. And for good reason. Rockford natives swear by the thin crust pizzas, and the décor is second-to-none -- why eat pizza at home when you can go to Lino's and dine next to a replica of the Leaning Tower of Pisa?
Sign up here for our daily Chicago email and be the first to get all the food/drink/fun in town.
Jay Gentile is Thrillist's Chicago Editor and he has plenty of room in his 1997 Nissan for you on his next road trip. Follow him @ThrillistChi.