Chicago is the biggest Polish city outside of Warsaw, and if all you know of it is hitting the Red Apple for their super-cheap buffet, you're barely scratching the surface of the pierogi scene here. Here's our guide to Chicago places that capture the Polish spirit, from grandmotherly to hipster. There are sit-down restaurants, sure, but for the full flavor of the scene, you have to visit delis full of hanging unpronounceable sausages and bakeries full of paczki and poppy seed coffee cakes, too. In case you're afraid of getting lost in translation, we've also rated each spot's general handle on English, from "Good" to "Pretty Good" to "Just Point at the Menu."
 
Avondale
Milwaukee Avenue has lost a lot of its old Polish diners and luncheonettes to gentrification, but instead of fading away, this longtime standby spiffed up a few years back with Ye Olde Poland decor like iron chandeliers, and it makes for a fun, Disney-like experience. The food is a little more sturdy than Smak-Tak's, but it does well enough by classics like pierogi, potato pancakes, and devolay (chicken rouladen).
English: Good
Recommended Video
Can the NYC Steakhouse Survive?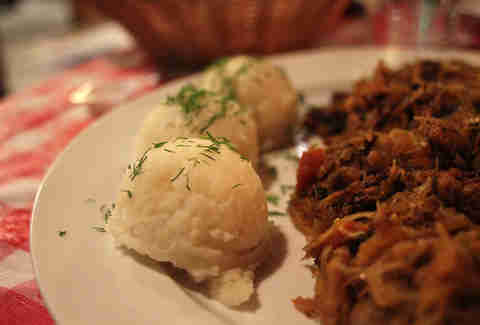 Jefferson Park
This cozy, hunting lodge-style restaurant on a quiet stretch of Elston has come to be recognized as the city's top Polish spot, even getting a Michelin Bib Gourmand. This is rib-sticking, sack-out-after food at its comfiest, like the hunter stew inside a giant potato pancake, the fluffy pierogi, and the excellent red borsch and mushroom soup.
English: Good
Burbank
This Polish-slash-Lithuanian diner straight South of Midway has the slogan "As good as mom's and better than the rest," and as that suggests, the atmosphere is pretty old-folks (note the prices for funeral lunches posted helpfully by the cash register). But brave it for the best and largest menu of Polish foods on the South Side, especially the crispy roast duck and the many soups, from borsch to czarnina to tripe.
English: Good
Humboldt Park
Hipster coffeehouse Polish: this brick-and-mortar version of the Pierogi Wagon has really nice handmade pierogi in some flavors you haven't seen before, served with bacon, onions, applesauce, and sour cream. It also has zapiekanka, open-faced sandwiches (including a veggie option), baked goods, a nicely off-kilter assortment of bottled sodas -- and friendly staff.
English: Good
Ukrainian Village
Kasia's pierogi are found in stores all over town, and her fame is attested to by the photos on the wall of her with everyone from George Bush to Lech Walesa. Her tidy shop has a nice spread of prepared foods for lunch, mostly but not 100% Polish (lasagna, jambalaya), plus, rare for such places, a couple of tables to sit at. Besides the trademark pierogi, try the red borsch, hunter stew, and -- heck, whatever looks good that day.
English: Good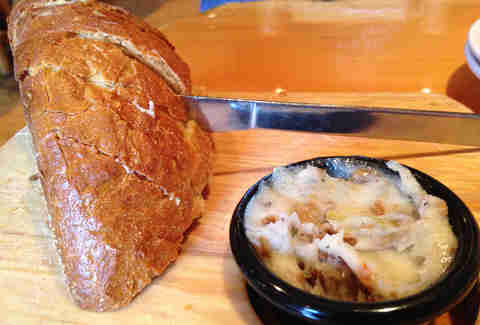 Wood Dale
Hiking it out past O'Hare for Polish food may be asking a lot, but it's worth it alone for the fact that the meal starts with crusty bread and smalec -- basically, spreadable lard studded with bits of bacon. This rustic place gives you the full, beyond hearty-to-heart-threatening Polish highlander experience, and after you've eaten there, you'll know there can be but one. And then salad for the rest of the week.
English: Pretty Good
 
Belmont Central
Most Polish restaurants in Chicago try to capture nostalgia for traditional Polish food, but that's not what they're eating there these days -- like everyone else in Europe, they're eating cheeseburgers and Turkish doner kebabs. This is one of the few restaurants that captures that 21st century reality, and the doner plate is a real mind-bender, grilled chicken and French fries under red cabbage, topped with something like tzatziki and something else like Thousand Island. It's a mess, but hey, so are gyros or late-night burritos, and it's got all the elements to be our next great drunk food.
English: Pretty Good
Jefferson Park
As far as we're concerned, this is the best (and most interesting) Polish deli in the city, a very European-feeling modern grocery with excellent, dirt-cheap selection in every area from prepared foods to breads and baked goods. But the real star is the sausage shop with more than two dozen kinds of house-made sausage hanging on the wall. And though they wouldn't necessarily know what you meant if you said "free range" or "farm to table," it's nearly all made the old-fashioned way from Midwest farms, often Amish, that raise their meat naturally.
English: Pretty Good
 
Avondale
You can smell the smoke when you go in this place, which is great for all the meats hanging on the wall, though maybe less so for the fresh fruit on the other side. Anyway, pick yourself a few plump sausages -- they're all variations on the same theme of pork in a tube -- grab a couple of pickles from the barrel and maybe some potato pancakes from the prepared foods, and have a feast.
English: Just Point at the Menu
Montclare
If you're willing to drive to the very edge of Chicago, this is a standout among Polish bakeries, doing the best and widest range of baked goods like ucierane (kind of like a big muffin), jabłecznik z kruszonką (apple crumble), babka orkiszowa (spelt flour cake) and house-made rye bread. It also has an excellent deli which uses organic products, and they smoke both their sausages and fish in-house.
English: Just Point at the Menu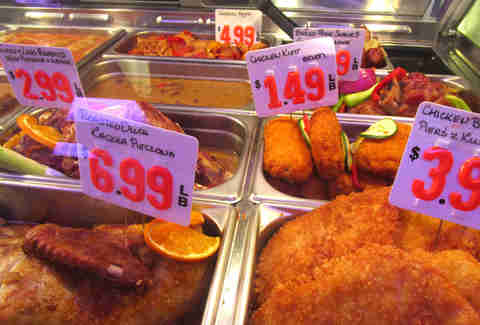 Portage Park, Dunning
A big grocery (two locations) with an impressive selection of breads and baked goods from every Eastern European bakery you can think of, and a handsome, English-friendly prepared foods counter that's the only one we've seen offer roasted duck to go.
English: Good
Portage Park, Old Town, West Loop
Owner Dobra Bielinski turns up in the news every year as an expert on Paczki Day, and the jelly donuts (that's what they are) are indeed very good, but the Old Town location also has a cafe -- and the stars of that spot are her house-made pierogi.
English: Good
Cragin
It's hard to tear yourself away from the plexiglass trophy cases of meats that line the counter like a piece of artwork by Damien Hirst, but this small yet top-quality grocery and deli has an excellent assortment of prepared foods for your takeout Polish feast -- or if you want to take that feast up a bunch of notches, they'll roast you a whole pig.
English: Pretty Good
Portage Park
Excellent sweet pastries in a modest, very friendly bakery and grocery, including paczki, danishes, cream puffs, and giant loaves of babka studded like panettone with dried fruit (but eggier).
English: Pretty Good
 
Garfield Ridge
Racine Bakery baked goods are in Polish groceries all over town -- often a bit stale. It's worth trekking to the South Side original location for freshly baked Polish and Lithuanian treats like bacon buns (also chicken buns... which we've never been brave enough to try), sweet coffee cakes with a little hint of cardamom, and babkas topped with big puddles of jam.
English: Good
Sign up here for our daily Chicago email and be the first to get all the food/drink/fun in town.