Chicago may no longer be hog butcher for the world, but that doesn't mean the city's culinary minds don't know what to do with pork -- and given the appearance of the average local, it's quite clear the citizenry hasn't forgotten either. With that in mind, here's a guide to our favorite ways to enjoy various parts of the pig, in various parts of the city
A couple of caveats: we realize this list doesn't cover every porcine nook and cranny (sorry, tripe), but it covers quite a bit of porky ground. Also, pinning down one specific area from which sausage comes is difficult, but don't worry, there are still some sausages name-checked within. Click here to get an expanded, printable view of the checklist, and if you have a favorite you think warrants mentioning, let us know in the comments.
Recommended Video
This Burger Has a Pizza Bun
Wood Oven Roasted Pig Face
Girl & The Goat, West Loop
There's a reason Stephanie Izard's perpetually packed Randolph St mother ship keeps this as a menu staple. Mouth-wateringly crisp discs of a rolled & sliced porcine grill (tongue included) get hit with a sunny-side up egg, maple gastrique, and are served over crispy potato shoestrings, making this possibly the best brunch ever, you know, if they served brunch. Tamarind vinaigrette and cilantro oil give just the right notes to remind you it's dinnertime.
Pig Ears With Malt Vinegar & Cornichon Aioli
Billy Sunday, Logan Square
You don't NEED one of Billy Sunday's outstanding cocktails to enjoy these fried pieces of porky goodness, which are perfectly complemented by a delightfully tangy aioli. But... it doesn't hurt.
Cappesanta
Spiaggia, Gold Coast
So, full disclosure: Cappesanta means "scallop" in Italian. What's this doing here, you ask? Good question. Said bivalve is paired flawlessly with crispy dewlap (the loose, flappy end of the jowl, mmm), and it felt right to celebrate pork's ability to steal the show even when it doesn't seem to be the star (I have been watching a lot of Chopped). Also, this dish is a documented Obama fave. Which, depending on your beliefs, may or may not be a selling point.  I am now mildly concerned about the comments section.
Pork Neck
Mott St, Wicker Park
The newest dish to crack this list, Mott St delivers an impossibly tender plate of pork that's marinated in whiskey (quit trying to rip off TGI Friday's, Ruxbin team!). But seriously, this dish makes you briefly wonder if you're ingesting too much pork fat, then makes you quickly decide that you don't care as you dip another hunk into the Nam Jim Jaew (that's Thai for "crazy addictive spicy dipping sauce").
Baby Back Ribs
Smoque, Irving Park
Whatever your speed, St. Louis or baby back, you can't really go wrong with the perfectly smoky and tender offerings from this early entrant into the Chicago BBQ boom. Their "bite 'em not fight 'em" approach, as outlined in their exhaustive BBQ Manifesto, lands in the perfect sweet spot between not quite tender enough and falling off the bone, while also describing Mike Tyson's occasional boxing style.
Rib Tips
Uncle John's BBQ, Greater Grand Crossing
Okay fine, we kinda doubled up on ribs, but these things are a bit of a different creature, and basically Chicago's only true claim to homegrown BBQ style. Get in line, don't be off-put by the bulletproof glass, and order yourself some tips. (Better yet, a tips & links combo -- get some sausage in the mix!). I tend to prefer the sauce mixed on the side (options are hot & sweet), so you can get the unadulterated smokiness on occasion. Even with that, it's still gonna get messy. Embrace it.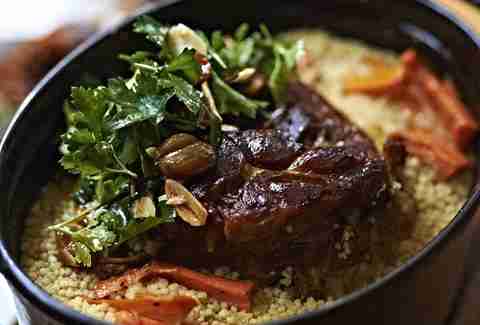 Wood Oven-Roasted Pork Shoulder
Avec, West Loop
Okay, it was tough not giving this to a pulled pork dish (Lillie's Q is a favorite), but things were starting to get a little BBQ heavy ("What's wrong with that?" says a hypothetical person who makes a reasonable point.). Regardless, this slightly more-upscale hunk of shoulder is outlandishly tender. The supplemental players tend to rotate, but the results are inevitably spot-on.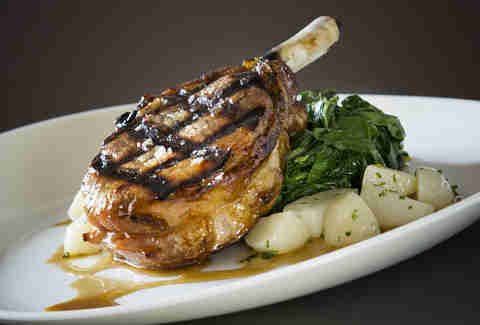 Berkshire Pork Chop
Tortoise Club, River North
So the chop kinda hangs out in the same region as the ribs, but it felt wrong not to give some specific love to Peter Brady's favorite pork cut. It would have felt equally wrong to omit TC's rendition... which is a generous helping of high-quality pig with abundant juiciness, and a hint of spice from its chipotle glaze.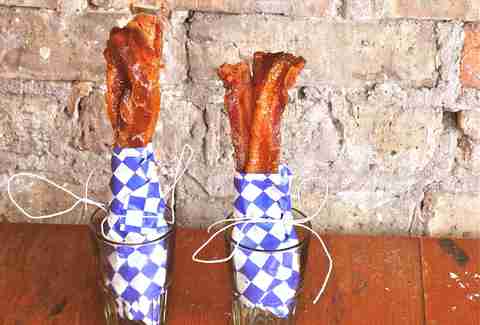 Candied Bacon
Bang Bang Pie Shop, Logan Square
Oh, pork belly. You give us bacon. You give us the pork belly tacos from Big Star. And you also give us these little bundles of bacon-y joy, which start with applewood smoked Nueske's that're given a dose of brown sugar and black pepper from the Bang Bang folks, with just as much attention to detail as they put into the pies and biscuits.
Pied de Cochon
Chez Moi, Lincoln Park
This is one of the pig's more overlooked cuts (the name is literally "pig's feet" if you failed/ didn't take French), but the LP bistro gives trotters an elegant turn, deboning them and serving them up with foie gras and fingerlings. Not recommended if you're averse to a little pork fat, though if you are, you probably didn't make it this far anyway.
Pork Wing Carnitas
Polanco, Logan Square
Despite what Geico would have you believe, pigs can't fly, and thus these "pork wings" are actually shank cooked carnitas-style, served with a spicy sauce, and some vegetation you aren't likely to bother with.
Spicy Pork Rinds
Publican, West Loop
So, Publican probably could have populated a good proportion of this list just on its own, but it's near-impossible to pass up these airy, crispy, spicy hunks of Slagel Farms pork skin that pretty much demand you polish them off with a selection from the excellent Belgian-leaning beer menu.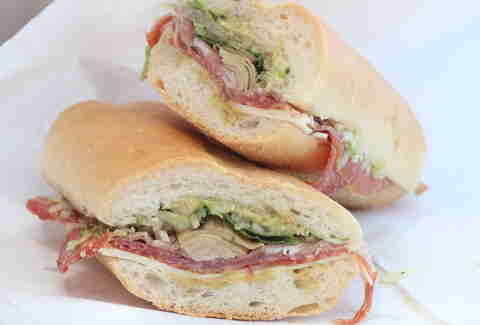 The Mr. G
J.P. Graziano, West Loop
Ham is great by itself, but there may be no finer vehicle for it than this platonic ideal of an Italian sub from the West Loop institution. It consists of thin layers of prosciutto di Parma (along with soppressata and Genoa salami) that are played against aged provolone, truffled mustard-balsamic vinaigrette, marinated artichokes, and fresh basil... it all works together perfectly with the crusty-yet-soft D'Amato's bread.
Pig's Tails
The Purple Pig, River North
Like the Publican, The Purple Pig could make a serious claim for several spots on the menu (their crispy pig ears are another version not to be missed). But few places tackle the tail successfully. They're braised in balsamic until they're impossibly succulent and simply offset with a bit of egg and parsley. You'll wonder why these flavorful end bits aren't on more menus.