How did something that we all used to eat from $1 packets become today's hottest, most argued-over food trend? As with flamewar bait like pizza or donuts, all it takes is a food that's so simple that everyone feels qualified to judge what perfection is. Well, we judged (mostly by tonkotsu ramen, with thick, porky broth), and we're sure we're right: here are the 15 best bowls of ramen in the Chicago area, in ascending order toward ramen nirvana.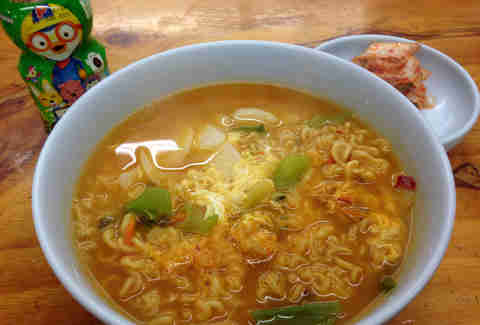 Avondale
The tiny food stand in the back of this Korean grocery serves ramyun, Korea's version of ramen, which doesn't have true Japanese depth of broth but makes up for it with kimchi spiciness. Be sure to spring for the extra dollar to get a bunch of slices of springy rice cake. Best bowl of ramen in town? No, but best $5 bowl of ramen? Yeah.
The Loop
The West Loop's first dedicated ramen spot offers a break from sandwich and salad shops, but it's more "good for the Loop" than great. The broth isn't bad, but could be richer, and the noodles could be firmer/toothier. The best thing in the bowl is the chashu, a really tasty roulade of pork with a sweet glaze.
River North
Downtown's great-authentic-Japanese-restaurant-in-a-scary-flophouse, Ginza, is gone now, which leaves this River North spot as the kind-of-chic, kind-of-homey place that Japanese businessmen and tourists go to eat their comfort food. The ramen is soothing like Grandma's chicken soup -- nothing profound, but as a lunchtime Japanese getaway from the office, this is a hidden gem.
Lakeview
This is another homey, old-school Japanese spot, where regulars line the bar and the sushi chefs are usually watching baseball as they cut your fish. The shoyu ramen is a comfy bowl of soy-based broth with good, chewy noodles.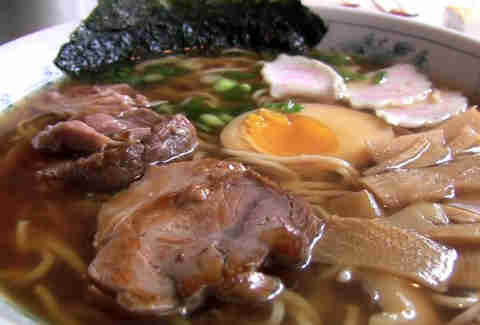 River North
The star at Takashi Yagihashi's ramen joint is Tokyo-style shoyu ramen, with a soy and chicken-based broth. The noodles, made to his specs in California and shipped here, are excellent, and the accompaniments are gorgeous (though the broth is on the salty side, thus, 11).
West Loop
Soup has always been one of Bill Kim's strong points, and though Urbanbelly's are mainly Korean-flavored, this is a pretty traditional and well-made Japanese bowl, lighter on spice than it looks from the red oil on top. The only thing is, it's curiously sweet for ramen, which you'll either like, or not. The crinkly, toothy noodles are very good, and as you might expect from the name, so are the bacon-y slices of pork belly.
Lakeview
This Lakeview "Asian street food" spot has several types of ramen, starting with a pretty tasty pork tonkotsu broth and chewy noodles in a nice, if slightly smallish, bowl. While it may not win the prize for Best Ramen, it could take what's arguably an even more important title: Best Ramen Grub Hub That Will Deliver in Lakeview.
Logan Square/North Center
A few years ago this might have been the best and most authentic bowl of ramen in the city. It looks the part (we especially like the gooey egg), but the broth doesn't quite have the unctuous porkiness of the best places that have sprung up in the last couple of years. Still, give it props for being a traditional, no-funny-business bowl.
Wicker Park
There are various modernist takes on ramen on the menu here, but the traditional Oiimen is a great classic bowl with lots of deep porky flavor -- which unfortunately is immediately masked by the presence of a pungent garlic oil they sprinkle on top. Get them to leave it off, or at least use a light hand, because this is a pretty fine bowl without it.
Arlington Heights, IL
Hidden in a half-empty strip mall (the sign actually says "Sushi & Grill"), this tiny spot features very little English and does a variety of authentic Japanese lunch dishes like grilled mackerel, as well as a nice bowl of ramen with cloudy, porky broth, toothsome noodles, and a really fresh-tasting garnish of green onions and shaved radish. And at $9.75, it takes the "Best Ramen Under $10" prize on this list.
Arlington Heights, IL
When this Japanese ramen chain opened an outpost at the Mitsuwa Market in this Northwest burb, it was hailed as the most authentic ramen to hit Chicago to date. After that hype, we expect a deep, almost gelatinous broth, but it isn't quite that -- it's a fast-food bowl at heart. It's very good, but to get to great, you'll definitely want to spring for the $3 add-on of the incredibly velvety and supple pork cheek -- sheer piggy magic.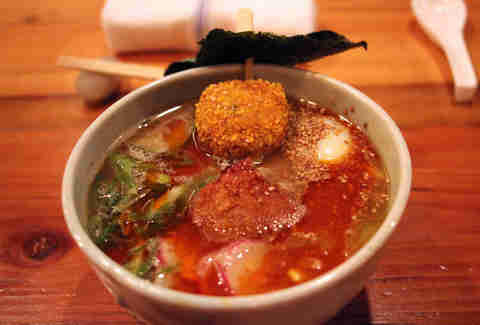 Avondale, Hyde Park
Yusho's Logan Poser Ramen was one of the first signs of the hipster ramen explosion to hit Chicago, and remains the star of their Sunday ramen brunch. To be honest, though, the ways it broke with tradition (like the meats on a stick that came with it) were tastier than the ramen itself. Now labeled Logan Poser Ramen #2, it's been refined with a richer, porkier broth (under a spicy sesame oil slick), and the pork/fish ball that comes with it is fantastic, making it one of the best unorthodox bowls around.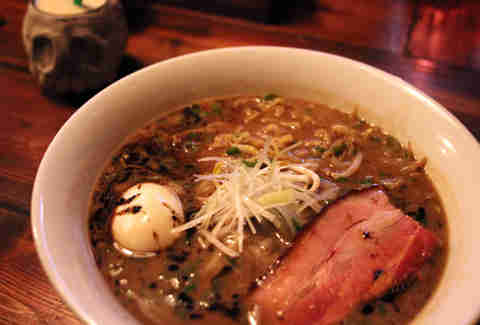 West Loop
With two-hour lines out the door every night, Brendan Sodikoff's tiny 16-seater, beneath his Green Street Smoked Meats, has become the epitome of hipster ramen trendiness. But damnit, once again his restaurants live up to their hype -- the tonkotsu is dark and funky -- a lowdown, dirty broth (if a little too salty), and the noodles are fantastically chewy, almost wiry. Note that spicy is the order of the day -- a half-spice bowl is plenty hot, and the spicy is reputed to be genuinely punishing.
Mount Prospect, IL
Located in a modest strip mall on a nowhere stretch of a Northwestern suburb, Misoya looks like the ramen version of a diner -- but don't let the lack of pretension trick you. If ramen-mania is starting to bug you, the no-bull way this place dishes out its different types of ramen -- tied to different parts of Japan (from Hokkaido chashu to spicy Tokyo), each impeccable for its own category -- is the antidote to excess ramen attitude. You're going to take a picture of soup? You're going to get into a screaming match about broth? It's hot and it's good for you. Shut up and eat.
Chinatown
Chinatown's first dedicated ramen shop imported a Japanese noodle-making machine, and the noodles that result are the best in town -- dense with a soul-satisfying mouthfeel. But the tonkotsu broth, from Berkshire pork bones boiled for 48 hours, is equally satisfying; as thick and tasty as a pork milkshake, you feel like you could stand your chopsticks up in it. This terrific bowl proves that great ramen is simple to make -- all it takes is doing everything perfectly.
Sign up here for our daily Chicago email and be the first to get all the food/drink/fun in town.
Mike Gebert is a James Beard Award-winning food video producer and writer, and founder of SkyFullofBacon.com. Follow him on Twitter @skyfullofbacon.
Other Stuff You'll Like In Power Rank