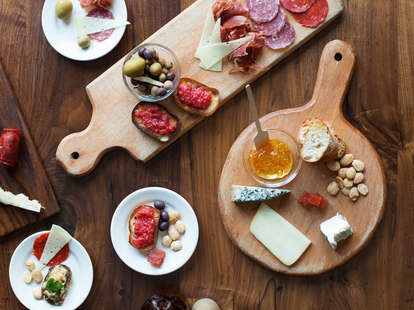 Group dinners can be a pain, especially when you get stuck with the task of locking down the venue or splitting up the check or guilting friends into Venmoing you for drinks they "forgot" they ordered. With a little planning, your next group outing can be simplified with a number of restaurants offering set menus, large-format dishes perfect for sharing, and communal seating for larger parties. From BYOB Cuban and Costa Rican spots, to intimate Italian and picnic-style American, here are 10 options to consider the next time you're planning a group dinner.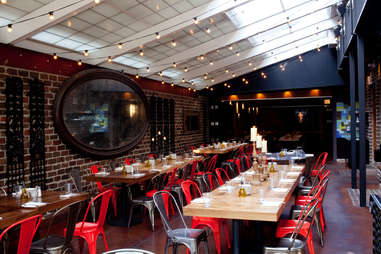 Lincoln Park
Tapas are one of the easiest dishes to share, so a meal at Cafe Ba-Ba-Reeba! is ideal for feeding larger groups. The restaurant can accommodate up to 20 guests in the main dining room with a normal reservation and no set menu, or you can design your own menu with dinner packages ranging from $30-$45 per person. Large communal tables are ideal for bigger parties and make sharing pitchers of sangria and plates of bacon-wrapped dates easy.
Logan Square, Roscoe Village
Restaurants that offer reasonably priced food and allow you to bring your own booze are two major perks when planning a group dinner. 90 Miles Cuban Cafe offers both and two locations in the city -- plus a new suburban outpost in Lincolnwood -- you're bound to find one that's convenient for your crew. Try the signature puerco rostizado, with a side of live flamenco on select evenings.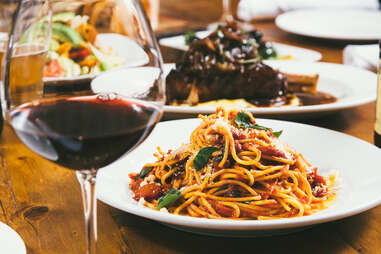 River North
Osteria Via Stato is a great venue for large groups due to the style of its food: traditional Italian. There are dishes for adventurous and timid eaters alike, and groups can order a la carte, or off the Italian dinner party menu. That menu includes a multi-course dinner including antipasti, pastas, a main course, and sides. Groups can sit in long communal tables amid the warm stone and wood space.
Bucktown
While smaller in size, BYOB Costa Rican restaurant Irazu is able to accommodate larger parties. For larger groups, they offer a family-style menu with dishes including chifrijo, a dish with pork, beans, rice, pico de gallo, avocado, and Lizano sauce. Food portions are not only generous, but very affordable.
West Loop, Wicker Park
Parlor Pizza Bar's West Loop and new Wicker Park restaurants both feature plenty of large group seating, both indoor and outdoor. Pizzas are not only easy to share and customize, they keep costs low. Be sure to try the Craziest Bread, house beer bread topped with garlic, mozzarella, shallot, scallion cream, Parmesan, pepperoni, and cherry peppers, as well as the Great Balls of Fire pizza with meatballs, pepperoni, house giardiniera, Parmesan, and fresh mozzarella.
West Loop
Carnivale is possibly one of the largest (and certainly most colorful) restaurants in Chicago. They offer a three-course tapas menu for larger groups of 10 to 16 people, starting at $39 per person. The menu features popular items including ropa vieja, arrachera, and cotton candy. They are also able to accommodate large parties with just a two hour notice for those last-minute group outings.
West Town
Frontier is known for its large-format group dinners for adventurous eaters including whole smoked animals like pigs, boars, lambs, and alligators. All whole animals serve 12 to 15 people, but adjustments can be made for larger groups. Each meal is served with sides like five-cheese mac, and substitutions can be made for vegetarians and vegans alike. If you prefer not to have your dinner staring back at you, Frontier can create a sharing menu based on traditional menu options.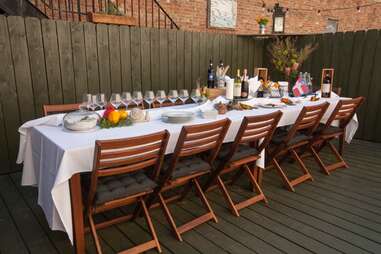 Logan Square
Osteria Langhe offers a "Giardino Segreto" (secret garden), which is a reservation-only backyard featuring a communal table for up to 14 people. The space can also be used for a cocktail party-style gathering for up to 30 people. The enclosed space also houses a fresh garden where Chef Cameron Grant sources fresh fruits, vegetables, and herbs. You can choose the food and drink you'd like when making a reservation, including family-style appetizers, pastas, and a custom curated wine list.
West Loop
The Allis at Soho House Chicago recently revamped their space, expanding into the former Pizza East restaurant. The additional seating is especially convenient for larger parties. If you're looking for a laid-back experience, choose a cozy couch area, or for a more traditional dining experience, opt for a communal table. With a reasonably priced all-day menu, your group can eat breakfast, lunch, or dinner, satisfying even the pickiest of eaters.
Loop
Cindy's, the rooftop restaurant at the Chicago Athletic Association Hotel, serves a menu of shareable picnic-style foods and beverages in a bright space with plenty of communal seating. Large-format dishes that serve four to five people can be combined to create a full menu. Platters include the shrimp a la plancha and a double cut pork chop with piquillo pepper jam. The beverage menu includes an option for large format punches served in a glass apothecary jar for dispensing among groups.
Sign up here for our daily Chicago email and be the first to get all the food/drink/fun in town.
Amanda Topper is a contributing writer for Thrillist Chicago, foodservice industry analyst, and food blogger for TheGhostGuest.com. Donuts are her favorite food group. Follow her at @AmandaTopper.