Chicago's Chinatown, a triangular slice of the Near South Side loosely bordered by Cermak Road, Wentworth Avenue, and a northbound-snaking branch of the Chicago river, has been fueling Grace Wong's culinary cravings long before she cut her teeth dishing on the city's vibrant restaurant scene for the Chicago Tribune.
"Both my parents are from Shanghai and they immigrated to Naperville, which is about 40 minutes outside of the city," says the esteemed former dining reporter, recalling her suburban upbringing. "When I was growing up, we'd make this semi-monthly pilgrimage into Chicago, especially Chinatown and the Argyle area, to get supplies because there was no real Asian population where we lived. There were maybe two small Asian grocery stores at the time; when we got an H Mart, it was literally the biggest news of my life. My mom was so hype about it."
"It was always just a huge deal, piling into the van," she continues. "We would go for dim sum in the morning and then the entire afternoon we'd be following my mom around to all these different specialty grocery stores so she could get the ingredients she needed to make dishes from her homeland. I remember being a kid and carrying giant plastic buckets around because we would pick up live crabs and live fish, stuff like that."
Wong now lives on the North Side and although both the pandemic and her recent departure from the Tribune and their centrally located office has made travelling down to Chinatown a bit less convenient, she still manages to pay her favorite establishments a visit every now and then.
"I haven't gone much since the virus hit but I have made the trip a few times, mostly when I'm just like, 'I need my Boba fix!'" she says with a laugh. "And then once I get down there I'm like, 'Oh my God, I need barbecue pork from BBQ King House. And I need my roast duck. And I might as well go to Park To Shop because I'm out of like, I don't know, oyster sauce or whatever.' It always ends up being an extended time."
Getting the lay of the land
It might look like one cohesive cityscape at first glance, but according to Wong, Chicago's Chinatown is actually composed of two distinct, nuanced districts.
"So, there's new Chinatown and there's old Chinatown," Wong explains. "The big plaza with all the Zodiac animals next to it—that's considered, at least to my parents, new Chinatown. And then old Chinatown is down Wentworth Avenue, south of Cermak. If you look at a map, there's a little triangle where Archer, Clark, and Cermak meet. Everything south of Archer is more old Chinatown and everything north of Archer is more new Chinatown."
"Growing up, we spent a lot of time at old Chinatown, mostly because there are a bunch of bakeries there and we would bring home pastries to eat for weeks and weeks," she says. "As I got older, we started going to new Chinatown more. You'll see a younger demographic in new Chinatown, trendy places like Bonchon and Mango Mango—that's more of the vibe. And it's more touristy in the sense that the people who go into new Chinatown to walk around and spend their day there, they might not necessarily live there. Whereas with old Chinatown, you're bumping past the old ladies that have lived in that neighborhood forever."
What makes the neighborhood stand out?
After high school, Wong moved to California to pursue a degree in journalism at USC. And while she enjoyed the years she spent on the (much, much) sunnier West Coast, her experience in Los Angeles only further cemented her devotion to Chicago's Chinatown.
"I think a lot of Chinatown's across the country are kind of going away," she says. I was in LA for like six and a half, seven years, and the actual designated "Chinatown" there is maybe one city block. Here, you can bump into people who straight up just arrived from China or Taiwan one minute then turn around and talk to someone who has lived in the area for generations the next, that's all they know. I think that's really cool."
"Another important thing to note is that Chinatown is not only for the people who live there but also for all the Asian-Americans who in the surrounding suburbs, of which there are so many," Wong adds. "To be able to go to a place where my parents can just chit chat with whoever without any worries about language, or where I can tell someone my very specific boba order and they'll get it exactly right without asking me all these questions—I don't know, it's just a really special place for everybody."

Grace's list of can't-miss Chinatown spots: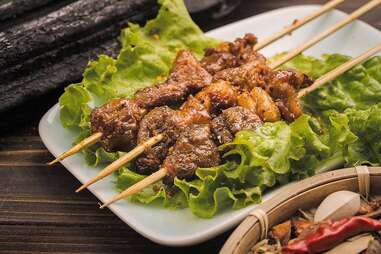 "One of my favorite places to get dumplings is Qing Xiang Yuan. They also have a location in the Loop. They do a lot of different styles, all handmade, which is really awesome. They're really playful with the fillings and you can customize if you want them boiled or fried. And they have these really amazing takeout boxes that they designed for themselves—yes, I'm here for that packaging. They're also pretty new and modern. I don't know if my parents would love it, per se, because they'd be like, 'This is a fancy restaurant.' But it's just dumplings! Go there and you'll have a really great time."
How to order: Click here to order online.
"Just south of QXY is the entrance to the Richland Center, which is basically a glorified food court. It's one of the few places where you can get really regional cuisine and it's also home to Elitea, one my favorite places to get boba. They have this fire brown sugar boba that is just, I mean, incredible."
How to order: Click here to order online.

"For soup dumplings, I like to go to Hing Kee. Back in the day there were always, like, aunties making dumplings in the window—I loved that. Every now and then I'd go for some other kind of snack, but their soup dumplings are the best."
How to order: Click here to order online.
"Hello Jasmine on Clark Street is really good for Taiwanese snacks and boba. I usually get their roasted oolong, popcorn chicken, and maybe some sausage skewers. They also have this fried chicken sandwich that's unreal. It was definitely a spur of the moment decision to get it, but it was so good I posted about it on Instagram."
How to order: Click here to order online.

"For hotpot, there's this new place called Laojiumen. They basically do 'fancy hotpot' and I honestly can't wait to go there when I feel like it's safe to do so."
How to order: Click here to order online.
"Bingo Tea has the best cheese tea. They were one of the first and the biggest to do it. You know how cheesecake is cheese but not really? Like how it's sweet but has a touch of like salt to it? Imagine that but whipped. There's a fruit or loose-leaf tea on the bottom and on top there's this foam—like latte foam but thicker. The name might be a little bit of a marketing issue, but don't knock it until you try it!"
How to order: Click here to order online.
"Lao Sze Chuan is a classic for Sichuan food across the board. It might be an unpopular opinion, but I love their dry chili chicken. People say it's for tourists, but it's actually so good!"
How to order: Click here to order online.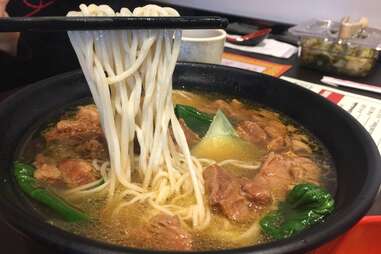 "Slurp Slurp Noodles is in the old Chinatown area and their hand-shaved noodles are some of my all-time favorites. They're super bouncy and springy and served in this delicious sauce. And they're not soupy noodles—more like the dry, tossed-in-a-wok kind. They also make their own mustard greens, which are fire. It's a solid spot."
How to order: Click here to order online.
"BBQ King is the absolute go-to for all your barbecue needs. And they're for sure doing takeout right now, I know that from experience."
How to order: Click here to order online.
"MCCB, they do ridiculous, mouth-numbingly spicy food and it's fantastic. Their grilled whole fish, it's just swimming in chilies, and you're like, 'I'm going to die and I'm going to enjoy every moment of it.' I love it there."
How to order: Click here to order online.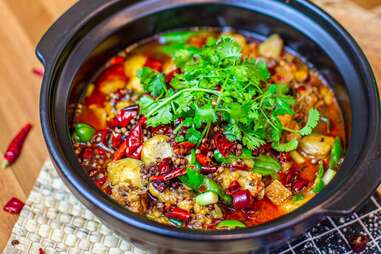 "Another good place for spicy Sichuan-style food is Chef Xiong. They have a really cute logo with a Panda on it. I don't know if I have a favorite dish, but I would say just go, sit down, and whatever they tell you to eat, do that. You won't regret it."
How to order: Click here to order online.
"If you want to feel like you're at a club but also eating Chinese food, Dolo is the spot for you. They also do cocktails and their food is definitely good, but it's just like, 'I'm here with my parents in this dark room with this loud music… I don't know what to say.'"
How to order: Click here to order online.
"Barbecue pork buns? Obviously great. Ham and egg buns? Obviously great. Cream horns? Obviously great. Am I missing anything?"
How to order: Call 312-808-1113 to order.
"You have to check out a grocery store because grocery stores are the best. We love going to Park To Shop—there are two big locations in Chinatown. One is on Archer and one is farther south but both are great."
How to order: Click here to order online.
"Xi'an Cuisine, they do what people call Chinese hamburgers. I kind of hate that name because it's a bun that's been pan fried and stuffed with cumin-spiced meats—to me, that's not really a hamburger, but I understand the desire to assign it a name you're familiar with. Either way, they taste great."
How to order: Click here to order online.
"Up near the Richmond Center there's this little candy specialty store called Aji Ichiban. I love going in there for sweets—they have Japanese candies, Korean candies, Chinese candies, all the candies."
How to order: Click here to order online.
"More recently, there have been a few pop-ups coming from second generation Chinatown kids like this one out of Moon Palace. Pop-ups are such a big COVID thing. I would be remiss not to mention them."
How to order: Click here to order online.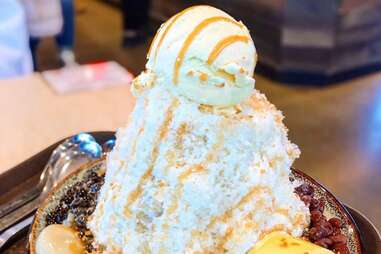 "Another place for dessert is Meet Fresh—it's so good. And you will definitely be shell-shocked by a tiny, 90-pound Asian girl eating an entire mountain of ice cream on her own because, yeah, that's a normal occurrence there. It's happened to me twice now and I'm shocked every time. I'm talking a mountain of shaved ice and pudding and taro balls—delicious, but you'd need at least four people to eat it. It's amazing."
How to order: Click here to order online.
Meredith Heil
is originally from St. Louis, now lives in Chicago, and in between has been to all 50 states (that's feet on the ground, none of that airport BS). She enjoys reading about, thinking about, talking about, writing about, putting on events about and drinking about craft beer.