Sponsored By
San Pellegrino
If you know where to look, Lakeview actually has way more to offer than just places to post up before and after a Cubs game. But if you don't know where to look, you can start with these 12 restaurants. From treasured crêperies to 24hr diners, you won't have trouble finding a place to celebrate how amazing Wrigley Field is after the Cubs lose.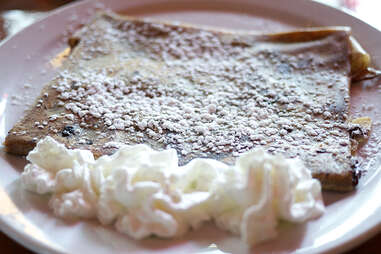 2845 N Clark St
This French family-owned classic has been a total institution since 1973 and sadly almost saw its demise a few years back due to financial strains. Rescued at the 11th hour thanks to a partnership between with the original owner Germain Roignant and Duke of Perth proprietors, it's back to dishing up traditional Breton crêpes.

3155 N Broadway
The brisket and short rib-marbled patty comes with chile-tomato jam, aged cheddar, pickled sweet onions, optional smoked bacon (ha!), and arugula, because, you know, leafy greens are important for your health. Pair it with a home-brewed bev or four.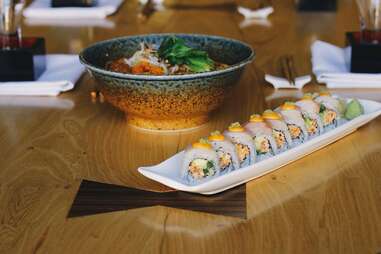 Best sushi: ANI
3056 N Lincoln Ave
Brother of Arami, one of the 21 best sushi spots in America, this is not an entry-level sushi restaurant -- Chef Shin Matsuda's innovative yet authentic Japanese fare is probably not for the California roll-exclusive crowd. Start with the Tako Yaki -- octopus beignets -- and follow with a three-for-$4 sake flight.
1017 W Irving Park Rd
Even the combo meals that come with thin, crispy fries, and a soda are under $10, which means it's totally financially feasible for you to buy two to three combo meals.

3763 N Southport Ave
Ribeye, strip, filet -- whatever you fancy, Tango Sur's got it, and for a relatively decent price. Booze, however, is on you. So bring your own 40oz, as they are also a relatively decent price. Actually, just bring wine.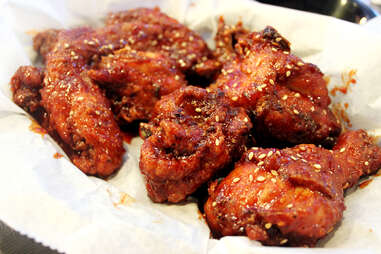 Best chicken wings: Crisp
2940 N Broadway
Twice-fried Korean chicken coated in the Seoul Sassy sauce of ​ginger, soy, and garlic ensures bar wings will never be the same again.
3033 N Ashland Ave
Deep-dish or thin-crust, you're still getting a slice of one of the 10 best pizzas in Chicago. Go for Art's Meaty Delight with sausage, bacon, ground beef, pepperoni, and sliced beef. It seems like a lot of animal products, because it is. Delicious, delicious animal products.
946 West Wellington Ave
Helmed by Chef Andy Aroonrasameruang, formerly of the much-loved Tac Quick, ATK leads as one of the 11 best Thai spots in Chicago with seriously bold flavors. Try the boat noodles, a conglomeration of rice noodles, beef brisket, and pork rind complete with Chinese broccoli and bean sprouts in a sweet and spicy broth.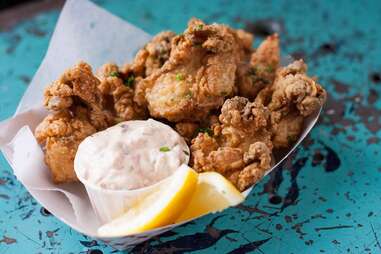 2956 N Sheffield Ave
The group behind DMK Burger Bar's crispy, delicious sweet potato fries takes on a seafood shack that serves up seasonal shellfish and an excellent Maine-style lobster roll, plus make-your-own s'mores for dessert.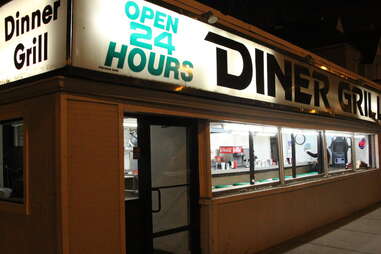 1635 W Irving Park Rd
Built from an ancient railroad dining car with one counter and zero tables, this 24hr eatery is a perfect, no-nonsense old-school diner -- and one of the best in all of Chicago. See if you can stomach the legendary Slinger -- a giant pile of eggs, hash browns, chili, grilled onions, and burger patties with cheese -- or opt for the off-menu Dick Burger, complete with a runny egg and hash browns.

2945 N Broadway
A great li'l wine and cheese bar with a huge emphasis on the cheese part, Bar Pastoral is the bistro outpost of one of the multiple cheese-shop only locations. Take your date to the winter prix-fixe dinner of raclette -- a Swiss dish of melted cheese paired with potatoes and charcuterie -- just maybe not the first date, as dairy is quite gaseous. Just looking out for you.
3552 N Southport Ave
Stroller moms and their cavalry are inevitable, but if this is cause enough to avoid the amazing brisket and gravy or streusel stuffed French toast, they win even more. If you can't beat 'em, join 'em, or something.
Sign up here for our daily Chicago email and be the first to get all the food/drink/fun in town.
Carrie Dennis is an associate editor for Thrillist and Zoolander is her favorite movie. Follow her on Twitter @CarrrieDennnis.