Given its accessibility by public transit and our unending praise of Frank Lloyd Wright, it's easy to forget that Chicago's western neighbor isn't technically part of the city. But that doesn't mean Oak Park is outside of the thriving culinary sphere, because the dining scene has some notables of its own. Here are the 11 best restaurants, which will challenge your stance on suburban dining.
100 S Marion St
The sweet corn quinoa fritters, duck ravioli, and balsamic-glazed lamb chops are killer at this casual bistro and gourmet market combo, but let's be honest, you're really here for the cheese flights. All themed five of them.
 
6427 N Ave
This socially responsible, prison-themed sausage emporium grants second chances by hiring ex-offenders. Cheekily named franks, like the Chicago-style "Misdemeanor Wiener" and the "Parolish" Polish sausage, are every bit as criminally good as they claim to be.
144 S Oak Park Ave
Snag a spot under the shade of an umbrella and let the alfresco margarita imbibing and cochinita pibil feasting commence.
 
139 S. Marion St
Between the free popcorn, an oyster happy hour, and nearly 40 beers on tap, this local favorite knows a thing or two about how to keep folks coming back for more. And when you throw stick-to-your-ribs pub fare like "Po'Phils N'awlins Gumbo" and a one-third-pound Murphy Burger into the mix, we're not sure why anyone would ever leave in the first place.
1116 Madison St
The signature mole, made with chocolate and 42 (42!!) additional secret ingredients is a fan favorite, and the shrimp and skirt steak "mar y tierra" is a welcome take on surf & turf without the price tag.
906 S Oak Park Ave
Dishes at this BYOB are remarkably authentic, like the feijoada, which bursts with smoked pork and sausage, and the chicken croquettes known as coxinha, that are best when paired with Guarana soda. Don't you dare be deceived by the space's humble appearance.
 
Best meal made by students: Eyrie
128 N. Oak Park Ave
Run entirely by students enrolled at Robert Morris University Illinois, this BYOB offers a damn decent local, seasonal menu and an experiential learning environment for the aspiring chefs who prepare it for you.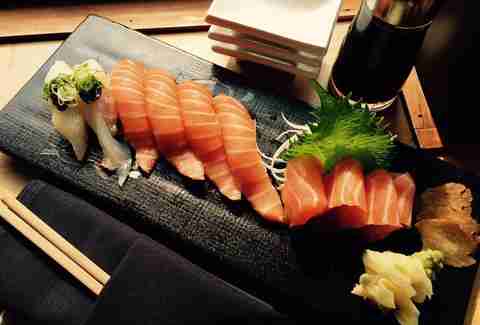 814 S Oak Park Ave
With a mix of maki classics and creative rolls, like the "Sen" -- shrimp tempura, scallion, fire-torched scallop, squid, lime juice, cilantro, with a lemongrass reduction -- this 30-seater sets a high bar for suburban sushi.
 
1034 Lake St
Come here for simple, reliable breakfast fare like corned beef hash, bacon-studded Belgian waffles, and all manner of eggs, plus fresh-squeezed orange juice -- none of that "from concentrate" nonsense. 
525 N. Harlem Ave
Prepare to meat sweat from gargantuan gyros, full slabs of ribs, and massive cheeseburgers at this reasonably priced counter-service gem. You'll be so full it might hurt a little, but no pain, no gain, people. That is, if your goal is to gain, which is kind of a contrarian goal, but you do you.
1111 Lake St
Whether you want to score a midday gelato fix or simply stop in for a prosciutto and arugula pizza, this casual bistro will satisfy. Granted, the menu isn't without its American touches (Fries? Really?), but we're willing to overlook that in the name of house-made gelato and cannoli.
Sign up here for our daily Chicago email and be the first to get all the food/drink/fun in town.
Kailley Lindman is a contributing writer for Thrillist Chicago, as well as a food blogger, bacon enthusiast, and devout user of the Oxford comma. Follow her at @KailleysKitchen.