Chicago's suburbs aren't all that bad (sometimes they are bad, like mind-numbingly bad). These 17 restaurants offer up some pretty convincing reasons to visit the suburbs. Besides, of course, seeing your parents and stuff.
 
Elmhurst
What you're getting: Spicy Garlic Shrimp Sandwich
Fun fact: the name Zenwich is inspired by the transcendental high that occurs after eating one of its sandwiches. Okay so that's probably not true, but you won't care once you set foot in one of the state's best restaurants. Bring one of these flavorful Asian-inspired sandwiches back to the office and you'll spend your entire lunch hour blissfully unaware of the fact that your Big Mac-eating co-worker is staring enviously at your Spicy Garlic Shrimp or Pork Katsu sandwich while secretly plotting your demise.
Elmwood Park
What you're getting: Italian beef with sweet and hot peppers
Johnnie's Beef is consistently listed as the top Italian beef joint in Chicagoland by pretty much everyone who's ever been there, including us. Blame the expertly seasoned cuts of beef; spice-rich, complex gravy; and juicy, perfect-every-time sausage for lines that snake out the door on a hot summer day. Order yours with sweet and hot peppers and spend the rest of your afternoon basking in a well-earned beef coma.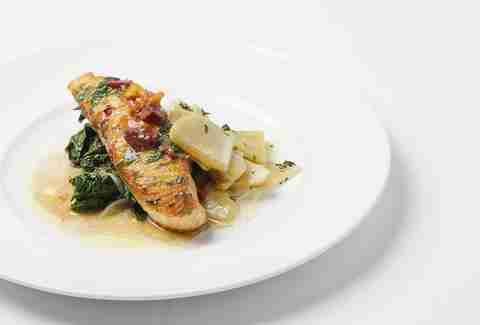 Western Springs
What you're getting: Wood-Grilled Vie Burger
When creating a list of best restaurants in the suburbs, there's not a lot everyone agrees on. Except for the inclusion of Vie, Paul Virant's seasonal contemporary American showstopper that also happens to serve one of the best burgers in the state. The menu's inspiration is drawn from local Illinois farms, with its fabled pickling techniques passed down from both of Virant's grandmothers. Vie has received a ridiculous amount of awards, including a Michelin star in the past. But don't go there for the awards. Go for the pickles.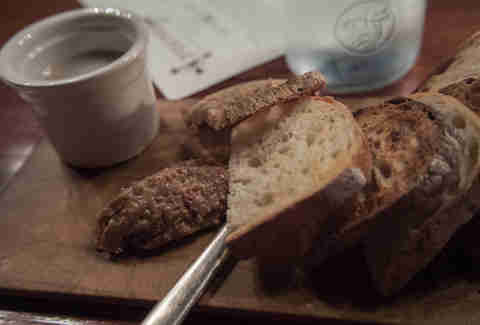 Evanston
What you're getting: Wood Oven Roasted Pork Chop
There's a reason why Found Kitchen has been dubbed "the hippest restaurant on the North Shore." It's the type of place you'd go when you want a River North-level dining experience... without actually dealing with River North. Found Kitchen features an eclectic, Bohemian-Paris-inspired vibe and sources most of its ingredients from local businesses and farms. Go for the Wood Oven Roasted Pork Chop and lamb meatballs. Stay for the live jazz.
Skokie
What you're getting: Cordero
Don't blink -- because you just might miss Libertad. From the outside, this "Nuevo Latino" restaurant is somewhat plain and unassuming, but don't let that fool you. Get your butt inside, ditch all preconceived assumptions about what you think Latin cuisine should be, and start by indulging in one of its specialty cocktails. Order the Cangrejo (pan-seared lump crab cake, papaya-jicama relish, jalapeño aioli, balsamic reduction) from the seafood menu and Cordero (braised leg of lamb, wild mushrooms, hoja santa-fennel couscous) from the meat menu. Just make sure to leave room for dessert.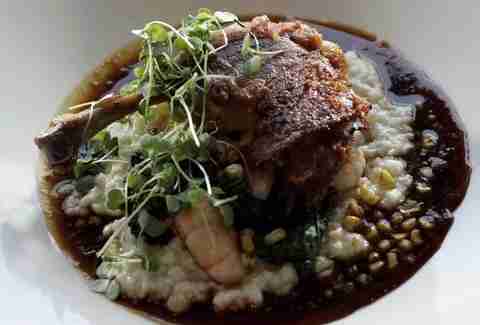 Algonquin
What you're getting: Filet mignon
Algonquin may basically be Iowa as far as most of us in the Chicagoland area are concerned, but we're more than happy to make the trek if a visit to Montarra Grill (one of the best restaurants in the state) is in the cards. Let's put it this way: it's kinda like your favorite old-school steak and seafood joint ditched the Rat Pack vibe, learned a few new tricks, added some global flare to the menu, AND discovered the power of bacon-wrapped everything. Come hungry, bring a few friends, order anything from hand-cut certified Angus steaks to hand-rolled ricotta gnocchi, split everything, and stuff yourselves silly.
Evanston
What you're getting: Half chicken mole
Boltwood has become one of Evanston's most popular restaurants thanks to Chef Brian Huston, a 2015 James Beard Award semifinalist for "Best Chef: Great Lakes." The menu changes daily and is based on local and available products, so stop in for a chicken thigh sandwich at lunch before returning for dinner to sample everything from grilled octopus and black bean toast to dry-aged duck breast and half chicken mole.
 
Evanston
What you're getting: Double bacon cheeseburger
If we didn't know any better, we'd think that old "pig in truffles" idiom was inspired by Edzo's. Seriously, we dare you to not scarf down its famous truffle fries. While its griddle burgers are ground in-house daily and are some of the best in the state, it's the crazy variety of milkshakes and fries that will really get you hooked. Along with nine different types of fries and milkshakes, it frequently adds a few specials into the rotation. Salted caramel milkshake and lobster fries? Get in our bellies.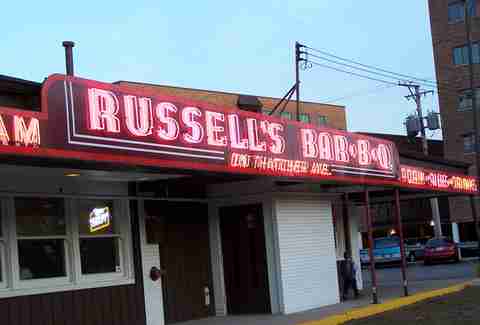 Elmwood Park
What you're getting: Baby back ribs
We have it on good authority that back when Russell's Barbecue opened in 1930, Chicagoans would travel all the way "out to the country" to chow down on Russell's famous barbecue. 85 years later, Russell's popularity has changed about as much as its appearance. While you can't go wrong with any of its smoked barbecue items and sandwiches, we personally recommend its baby back ribs. Don't expect your typical Michael Scott-loving chain ribs doused in heavy BBQ sauce, however. Russell's 'cue boasts a rich, smoky flavor perfectly complemented by its signature sauce that manages to be sweet, yet light enough to allow the smoky flavor of the meat to shine through.
Wheeling
What you're getting: Superdawg!
Superdawg has been a Chicago institution since 1948 and while its relatively new suburban location doesn't emit the same nostalgic charm as its original location, it does have a bigger parking lot! Superdawg stands apart from cookie-cutter suburban hot dog stands thanks to both its killer branding and clearly superior ingredients. Its pure-beef hot dogs are specially smoked, cured, and spiced and are (of course) served in a trademark box, nestled alongside crinkle-cut fries that are perfectly crispy.
River Grove
What you're getting: Double Dog
No list of the best restaurants in the suburbs would be complete without the fabled Gene & Jude's, one of the state's best restaurants AND its most iconic. Open since 1946, this no-nonsense eatery has mastered the art of the perfectly cooked, natural casing, Vienna Beef classic red hot topped with French fries. But you would be foolish not to order the Double Dog topped with mustard, relish, onions, sport peppers, and of course, a heaping serving of fries.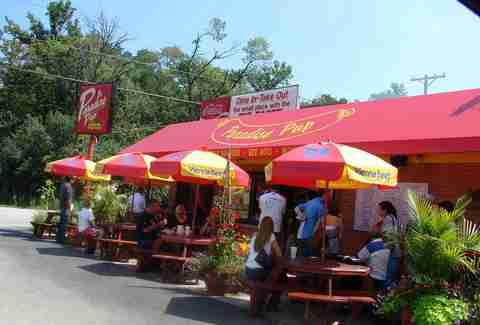 Des Plaines
What you're getting: Char Cheddar Burger
Paradise Pup is a small roadside burger joint that is a favorite among locals thanks to its juicy, delicious char-grilled burgers topped with Merkts cheddar cheese, which is known as one of the best in the state. Add addictive crinkle-cut fries (which cheeseheads can also add Merkts upon) and one of its killer chocolate malts and you've got a meal that's worth both the trek and the lines.
Geneva
What you're getting: Bien Trucha taco
In America's No. 1 taco town, top taco competition is fierce. But out in the 'burbs, there's one unassuming little Mexican dining room standing head and shoulders above the pack. Bien Trucha's tacos -- from grilled skirt steak and ancho-guajillo marinated pork to shredded swordfish and cubed tuna -- are simply miracles in your mouth. Pair yours with a mojito or Mexican beer and consider yourself lucky.
 
Arlington Heights
What you're getting: Miso ramen
If someone tells you it's worth a 45-minute drive from the city to eat food in a food court, they're probably lying. Unless they're talking about the food court at Mitsuwa Marketplace, the always-packed oasis of cheap and authentic Asian delights. There's a sushi joint, ramen joint, Chinese joint, Japanese joint, and Korean joint, as well as a bakery, café, and confectionary. Grab a bowl of one of Chicago's best ramen and a bento box alongside a choco crab donut and green tea and vanilla swirl ice cream for a trip that will have you seeing the suburbs in a whole new light.
Oak Park
What you're getting: Duck ravioli
Although it specializes in cheese, the Marion Street Market is much more than a simple purveyor of fine fromage. While its impressive selection of wine, cheese, and chocolate is basically a snooty Frenchman's dream, this Michelin Bib Gourmand restaurant is also well known for standout main courses like duck ravioli and crab crusted walleye, not to mention its sweet and savory brunch selection. Its French toast is pure perfection and the omelet with Gruyere, chevre, and Cabot white cheddar will ruin every omelet you eat thereafter.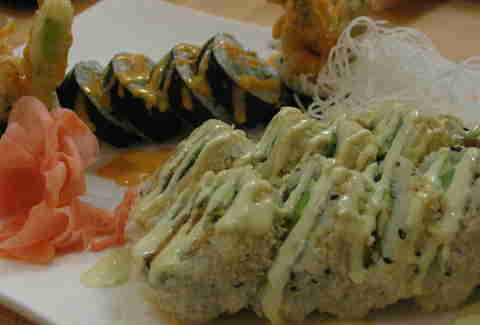 Oak Park
What you're getting: Sen Maki
The Midwest isn't exactly known for seafood. Yet somehow, the pescetarian delights on offer at Sen Sushi (Oak Park's second Michelin Bib Gourmand restaurant) taste so fresh you'd swear Oak Park was oceanside. While Sen's classic sashimi and makimono are delicious, it's its contemporary maki that's earned it a huge following. The menu is pretty extensive so if you're unsure where to begin, we suggest going for the Sen Maki (featuring a killer lemongrass deduction) and the spicy Ghost Ship Maki.
Sign up here for our daily Chicago email and be the first to get all the food/drink/fun in town.
Jay Gentile is a Thrillist contributor who always opts for the Double Dog. Follow him @innerviewmag.
Lisa Marie Chatroop is one of the founders of Chicago-based lifestyle blog Daily Urbanista. Although she was born in Chicago, she'll begrudgingly admit to spending most of her formative years in the ever-so-charming suburb of Bensenville. Say hi to her on Twitter via @Chicagoista or @DailyUrbanista.