Chicago's ultimate South Side eating guide
If you're one of those people who view anything South of the Stevenson Expressway as "nope!", we're probably not gonna change your mind when it comes to visiting the South Side. Not even if we got two veteran South Side food writers -- like, say, Mike Gebert of Sky Full of Bacon and Titus Ruscitti of Chi BBQ King -- to handpick the absolute best South Side Chicago eats. That said... we did it anyway, because, well, you're not the boss of us. Here's your ultimate South Side eating guide, Chicago.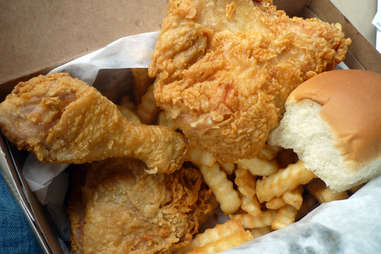 Mini Hut (click here for address and deets)
Garfield Ridge, Ashburn
"This little grease shack off Archer out by Midway was a popular stop long before fried chicken became fashionable. The star of the show is the chicken boat, which comes with their famous butter-crust fried chicken, a boatload of crinkle cut fries, and a roll. Locals love it so much they've ventured out to a second location and have plans to franchise more." -Titus
Pizza Castle (click here for address and deets)
Gage Park
"Everybody always brings up Vito & Nick's for old-school, South Side, thin-crust pizza, so I'm throwing in this one instead; straight East of Midway and an excellent first stop back in town. They make everything from the dough to their sausage in-house (and by 'house' I mean 'strip mall'), baking it to a crispy crust in a Faulds oven -- the official badass oven of old-time Chicago pizza joints." -Mike
Lem's BBQ (click here for address and deets)
Greater Grand Crossing
"Lem's is the oldest barbecue joint in town, circa 1946, and still presided over by James Lemons, last survivor of Three Barbecuing Brothers. It packs them in every night for ribs, rib tips and chicken wings. Quality can vary depending on who's working the pit, but when the ribs and tips are good, they're 'thank you Jesus' good." -Mike
Pop's Italian Beef (click here for address and deets)
Mount Greenwood, Multiple Locations
"Ask [any] South Sider their favorite Italian beef spot, and Pop's will be mentioned more than anywhere else. They've been serving up their thinly-sliced, well-spiced beef and signature hot peppers to a few generations of families. Great gravy breads, too." -Titus
Chicago's Home of Chicken and Waffles (click here for address and deets)
Grand Boulevard, Multiple Locations
"I love the old church-supper combination of chicken and waffles; hearty enough to be fortifying late-night food, yet dignified. It's caught on around town, but you have to go to a soul food Sunday breakfast place like this to get the full fashion show effect of South Siders eating while duded up for church in all the colors of the rainbow. It's like a Cosby sweater explosion." -Mike
Calabria Imports (click here for address and deets)
Beverly
"Formerly of Blue Island but now in Beverly, this is the second home of the Freddy Sandwich. Not nearly as well-known as its cousin, the Italian Beef, the Freddy is an Italian sausage patty on a French roll with marinara, sautéed green peppers, and melted mozzarella cheese. Folks also shop here for Italian groceries and deli meats and cheeses." -Titus
Calumet Fisheries (click here for address and deets)
East Side
"If you've seen The Blues Brothers, you've seen this shrimp shack that's also one of the last surviving slices of steel-mill Chicago. Fried shrimp and smelts are good, but the smoked chubs from the on-site smokehouse are fantastic. Buy a bag, eat off the hood of your car while watching the barges go by, and enjoy food like a blue collar man for once." – Mike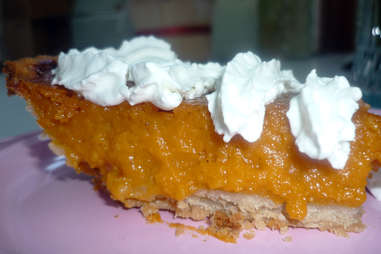 Jimmy Jamm's Sweet Potato Pies (click here for address and deets)
Beverly
"Namesake Jimmy Ferguson has been making sweet potato pies almost since she was a baby. Taught by her daddy, she and her husband (along with their nephew) decided to open a pie shop with the recipe in her Grandfather's honor. But that's not all they do here. The menu features everything from baked-and-loaded sweet potatoes, to dessert favorites like cobbler and bread pudding. Everything on [the menu] has some sweet potato in the ingredients." -Titus
Al-Bawadi (click here for address and deets)
Bridgeview, IL
"The best Middle Eastern food in the city isn't even in the city, it's just over the border in Southwest suburban Bridgeview, where at least three Palestinian restaurants grill kebabs over burning charcoal in specially-built grills like they have in Jerusalem. Hit this place for fantastic grilled chicken and lamb, then swing by Village Pita & Bakery next door and stock up on great, cheap potato and spinach pies." -Mike
Zacataco's (click here for address and deets)
West Lawn, Multiple Locations
"You can't smell the stockyards on the South Side any more, thank God, but you can smell steak sizzling a half-mile away at any location of this South Side taco chain. The menu is short, but everything they do, they do damn near perfectly: juicy greasy steak, tart al pastor, and crispy tacos stuffed with mashed potatoes. [It's] as insanely comfy as a TV dinner." -Mike
Garifuna Flava (click here for address and deets)
Chicago Lawn
"The South Side spot has countless Caribbean eating options, but most of them tend to be Jamaican. Garifuna Flava is named after the food of the Garifuna people who are direct descendants of Carib, Arawak, and West African people who settled in Central America. Sample one of the world's rarer cuisines -- the soups are where they really shine -- while enjoying a drink at the bar." -Titus
Dons Drive Inn (click here for address and deets)
Ashburn
"Back in the '70s, if you were driving down Kedzie and saw a hot dog standing on a small building torturing himself by spraying ketchup all over his body, you learned that building was Dons Drive Inn! This prototypical Chicago-style hot dog stand is a favorite of workers at the Nabisco Factory down the block. One of their menu favorites is the Fire Polish: a deep-fried Vienna Beef Polish sausage dressed like their popular hot dogs. The sliced cucumber on top makes for a nice palate cleanser." -Titus
Birriera Zaragoza (click here for address and deets)
Archer Heights
"The nicest Mexican family in town makes some of the best soul-filling food in the city: spicy yet comfy birria -- aka slow-roasted goat stew -- which you pile onto tender, house-made tortillas hot off the grill and spice to center-of-a-volcano levels with house-made salsa or straight-up crumpled chiles." -Mike
Sean Cooley is Thrillist's Chicago Editor, and wishes Pizza Hut would keep giving him free pizza for reading as an adult. Follow him @SeanCooley.