For many, Schaumburg, Illinois, is a suburban hell where dreams go to die (unless said dream is pretending you're Silent Bob in the American romantic comedy motion picture Mallrats). Sure, the closest discernable thing to a "Downtown" is the Woodfield Mall, and mile after mile of chain restaurants and retailers litter the main thoroughfares, but if you know where to look, there are actually several worthy places to eat! But some are still chains, so let's not be too ambitious here.
Best burgers: Kuma's
1570 E Golf Rd
Chicago's premier heavy metal-themed burger joint recently brought its iconic patties, blistering music, and devil-may-care attitude to the soccer mom streets of Woodfield, where you'll now have to fight lines of Hot Topic-wearing teens for the eponymous pretzel-bunned burgers.
Recommended Video
Ghost Kitchen: How This NYC Restaurant Is Responding to Coronavirus
853 S Roselle Rd
The strip mall facade may scream Better Call Saul, but inside you'll find some pretty darn delicious jollof rice -- rice, tomatoes and tomato paste, onions, salt, and hot red pepper -- served with your choice of goat, beef, chicken, or fish, and fried plantains.
1370 Bank Dr
From the folks who brought us Chicago Prime Steakhouse is this 250-seater. The plates range from large to holy-mother-of-meatballs massive, which means you'll need help from a few friends if you want to conquer all that veal saltimbocca and tilapia Caprese.
 
200 E Golf Rd
Its goal is to provide an authentic Chinese dining experience, starting with Mongolian beef, the stir-fried steak dish popularized by family-friendly chain P.F. Chang's. But Chinese-American interpretations notwithstanding, the massive menu does include some unusual options, like Szechwan-style lobster and jellyfish.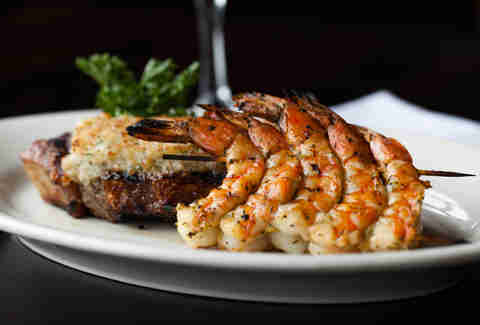 Best steakhouse: Wildfire
1250 E Higgins Rd
With dark-wood paneling, carpeted floors, and snazzy jazz tunes, this supper club-style steakhouse exudes dusty, old-school charm... even though this outpost only opened in 2003.
 
225 W Golf Rd
Traditional mains like homestyle roast duck curry and basil mussels are fine, but desserts of deep-fried bananas and sticky rice with coconut ice cream are the real stars.
 
1900 E Higgins Rd
This suburban counterpart to Lettuce Entertain You's Chicago-based crab house keeps things streamlined with the same lineup of oysters, maki, and cooked fish as the Hubbard St location.
1900 E Higgins Rd
Avoid a lovers' quarrel by stuffing your faces with all kinds of flash-fried chicken tacos and ramen burger fusion. Your mouths will be too occupied to say anything unbecoming and who knows? Maybe your credit card won't be the only thing seeing some action tonight!!  
 
2001 N Roselle Rd
We told you options are limited here, people.
1 S Roselle Rd
Buttery crust, vine-ripened tomato sauce, Wisconsin-made mozzarella, 42 locations -- you know the drill.
 
506 W Wise Rd
Whether you need to soak up last night's indiscretions or you're just in need of a fat stack of blueberry flapjacks, this greasy spoon will satisfy. Try the Hawaii Five-O -- an omelette stuffed with pineapple, bacon, ham, and Monterey Jack.
Sign up here for our daily Chicago email and be the first to get all the food/drink/fun in town.
Kailley Lindman is a contributing writer for Thrillist Chicago, as well as a food blogger, bacon enthusiast, and devout user of the Oxford comma. Follow her at @KailleysKitchen.