Just as the cosmos and time are infinite, so, too, is mankind's selection of sandwiches. In a world where you can put nearly anything between two slices of bread (except sprouts, which are glorified mower trimmings), how are you to find your way? We've scoured time and space (mostly Chicago around now-ish) to find five great sandwiches that belong in your hand.
VBQ, Saigon Sisters
Near West Side
Thankfully not short for "vegan BBQ", this Viet BBQ banh mi on chewy French bread comes piled with remarkably flavorful Wagyu beef, providing a richness that's cut with Thai basil and jalapeño, making it a standout among a loaded sandwich lineup.
#43, Eleven City Diner
South Loop
Big enough to take on two or three comers (Mitch Hedberg might recommend bringing a loaf of bread and some other people), this double-decker deli favorite has certain other establishments beat when it comes to the art of integrating potatoes between bread, incorporating a crispy latke into a pile of corned beef along with a smear of sour cream and fried onion strings on a challah roll.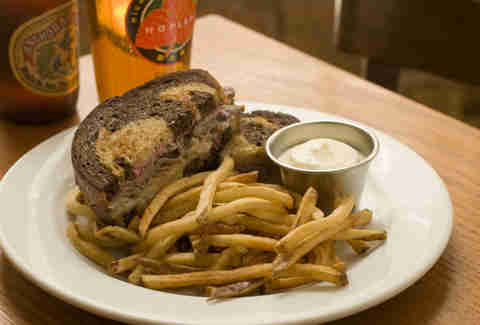 Duck Reuben, Hopleaf
Andersonville
When Planet of the Apes gets a reboot, it's disastrous. When the Reuben sandwich gets a reboot, and that reboot happens under the watchful eye of the Andersonville beer mecca, the result is this glorious slow-roasted Peking duck number with cranberry cream cheese, sauerkraut, Emmentaler, and a side of their addicting pomme frites. That's fancy talk for French fries. Whatever, just eat them.
The Montreal, Dillman's
Near North Side
The deli-inspired Brendan Sodikoff haunt that's more mood-lit brasserie than Carnegie offers a fresh take on several Jewish favorites, but sink your teeth into this stacked Montreal, which adds foie gras to more standard meat choices like beef bologna, pastrami, and corned beef, all barely contained between two pieces of fluffy rye bread.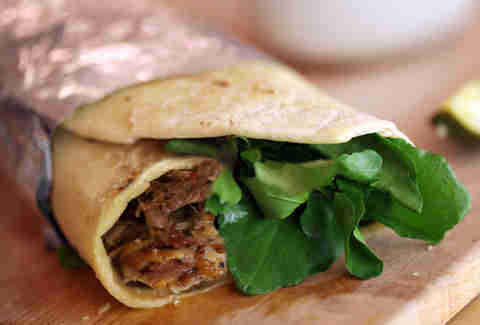 Return of the Gyro, Publican Quality Meats
Near West Side
Publican is definitely not bluffing when it comes to quality meats, and their gyro -- a griddled flatbread with braised pork belly, raita (in place of tzatziki sauce), escalivada, and a chili-orange vinaigrette -- bears that out. There's even a modified version available for breakfast, because there's no wrong time of day to get your sandwich on.