For centuries the human race lived in a dull, unforgiving world where the only pizzas by the slice you could find were cheese, sausage, and pepperoni. Today, though, we live in a multicultural pizza wonderland where you can get slices with all kinds of ingredients... along with cheese, sausage and pepperoni. These are the best of them: 10 specialty slices that set the Chicago bar.

The Monster Slice
Pie-Eyed Pizzeria (address and info)
West Town
This little spot at Chicago and Milwaukee puts out a nice slice spread at lunchtime. The star is The Monster: a sharp improvement on the classic all-meat pizza with sausage, pepperoni, bacon, and cured soppressata. It's also the only place we've ever seen cactus on the menu of possible ingredients... though it's unlikely to actually turn up on a slice. Or is it??? (It is.)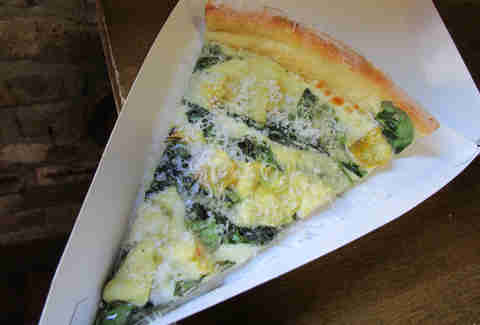 The Artichoke
Dough Bros Pizzeria & Sub Shop (address and info)
Near North Side
You wouldn't guess by looking at the outside that this modest State St slice joint had a high-end French chef (Roland Liccioni) and a hot startup (OrganicLife) behind it. But the sourdough-tinged, crispy, puffy crust is proof that the dough is something special. And so are specialty slices like the Artichoke (pictured), a white pizza with artichoke, spinach, and aged provolone, or even the Roland with lemongrass sausage and Sriracha.

Jack Daniel's BBQ pulled pork topped with onion rings
Big G's Pizza (address and info)
Lakeview + University Village
Wrigleyville has become crazy-pizza-toppings central, and Big G's (also on Taylor St) gets bonus points for making (and even more importantly, delivering) big, gloppy, delicious slices like the Jack Daniel's BBQ pulled pork topped with onion rings, or the spicy Dance with EL DIABLO.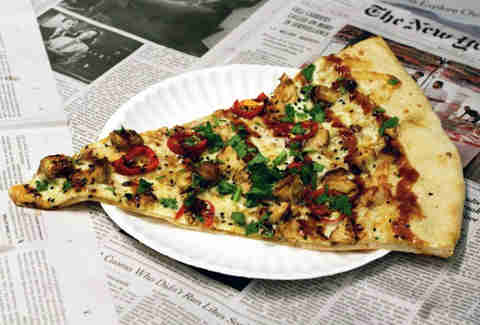 Carne asada pizza
NYC Slices (address and info)
West Loop
Carne. Asada. Pizza. Carneasadapizza. CARNE ASADA PIZZA. (Carne asada pizza.) There are other oddball things like Buffalo chicken pizza and teriyaki chicken pizza too, not to mention breakfast slices (like the ones Wolfgang Puck sells at the airport). What they all have going for them, however, is a legit, foldable New York-style crust.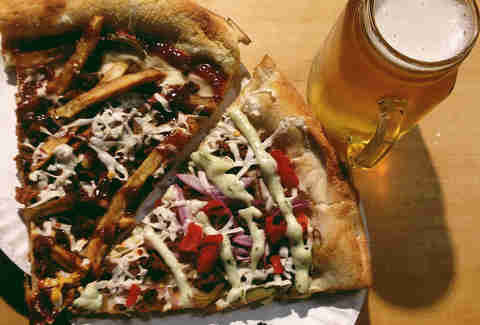 Mac & cheese pizza
Dimo's Pizza (address and info)
Wicker Park + Lakeview
Dimo's started as a franchisee of Madison's Ian's Pizza with plenty of offerings delivered straight from the "Late-Night College Student Cookbook" like mac & cheese pizza (mmm... mac & cheese pizza...) or chicken & waffles pizza -- not to mention the s'mores dessert pizza. But there are some surprisingly well thought-out items on the menu, too, like the vegetarian Trixie (pesto, beets, and goat cheese with lemon vinaigrette). And if the Al Pastor pizza ever comes back as a special, grab it.

The Bleubird
Santullo's Eatery (address and info)
Wicker Park
Ever wished you could have an entire dinner on a pizza slice? Okay, probably not, but it feels like we're heading in that direction with the Bleubird -- which combines roasted chicken, bacon, fresh garlic and bleu cheese. We're also fans of the Mama's Meatballs pizza, which is like a fat meatball sub on a crust.
East Coast white pie
Jimmy's Pizza Café (address and info)
Lincoln Square
Tucked onto a corner way up North on Lincoln Ave is maybe the best New York-style pizza crust in Chicago. The slice toppings aren't anything that unusual, but they do a first-rate version of an East Coast white pie that's well worth stopping in for.

Potato and rosemary pizza
Pizza Metro (address and info)
Wicker Park
Potato on a pizza sounds like the least interesting topping ever. But if you've eaten pizza from bakeries in Italy, you know that a potato and rosemary pizza is one of those simple perfections the Italians do so well. Pizza Metro is the only one in town doing it as a slice.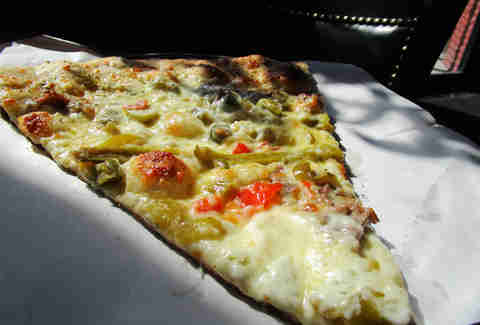 The Minotaur
Dante's Pizzeria (address and info)
Logan Square
This satanically themed -- but in a "nice" way! -- Logan Square joint may be best known for offering whole pies, but the slices to be had include a daily special consisting of whatever they feel like making. This often includes one of the whole pizzas on the menu like the Minotaur: Italian beef and giardiniera with cheese and garlic sauce.
Spicy soppressata with peppery arugula salad
Roxie's by the Slice (address and info)
Wicker Park
The roster of ingredients at Brendan Sodikoff's Wicker Park slice tavern is pretty basic (except maybe that they actually have anchovies, which you always hear of as a pizza ingredient but have never seen anyone actually order). So we asked the man himself for an interesting combo out of the ingredients on hand, and he said he usually gets the spicy soppressata with the peppery arugula salad on top. And now, so do we.
Sign up here for our daily Chicago email and be the first to get all the food/drink/fun in town.
Mike Gebert is a James Beard Award-winning food video producer and writer, and founder of SkyFullofBacon.com. Follow him on Twitter @skyfullofbacon.