Tavern-style, square-cut pizza is thin crust, but not all thin crust pizza is tavern-style, see? So don't go suggesting New York slices and Neapolitan pies in the comments. It's a Chicago thing: the flat, crunchy crust cut into squares, for people who don't want to be stuck eating a whole slice for five minutes when there's important drinking to be done.
Turns out, the best pies are found in places that have been doing it forever. So here're 10 that fit the most well-rounded flavor into one square cut.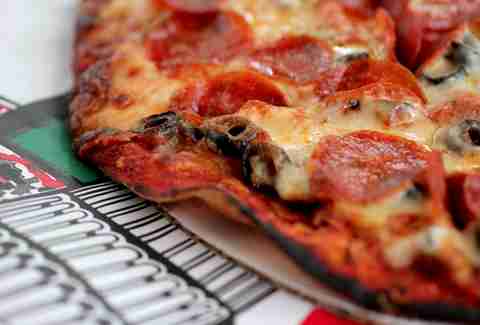 10. Pat's (click here for address and info)
Lincoln Park
Pat's dates back to 1950 and some -- like the late Roger Ebert -- have argued for it being No. 1 in town. To me, its freakishly thin crust is almost too thin and soaks up grease so fast that it winds up see-through before you finish it. But pay it respect for pushing the frontiers of pizza science to see just how thin a thin crust can be.
9. Roseangela (click here for address and info)
Evergreen Park
Just across 95th St from the South side of Chicago, this is a perfect example of the Chicago "cracker crust", since it looks, tastes, and crunches exactly like a Saltine. The crust knows to stay out of the way of the real stars -- hearty chunks of house-made sausage and gooey cheese.
8. Bije's (click here for address and info)
Dunning
The problem with tavern-style pizza on the North side is that hardly any of them are really taverns anymore -- just big carryout and delivery operations. This Northwest side spot shows what they're missing: the friendly everybody-knows-your-name-everybody's-glad-you-came atmosphere lubricated by the Cubs on TV and famous-brand Pilsners. The thin crust is a solid choice as well.
7. Bricks (click here for address and info)

Lincoln Park
You know that hippie pizza place in Colorado that made the chewy, whole wheat crust that you ate like 36 slices of that time you had the munchies? If that pizza knocked up a Chicago thin crust pizza, that's kind of what you'd get at Bricks. I'm not big on updating a classic style that isn't broken, but Bricks modernizes the crust and toppings (try the pesto-based Green Garden) without forgetting it was born in a tavern.
6. Bill's Pizza & Pub (click here for address and info)

Mundelein
For when you feel like dining in what looks like a Wisconsin Northwoods hunting lodge complete with peanut shells on the floor and real, taxidermied raccoons & squirrels dressed and posed like Robin Hood aiming his bow and arrow, there's Bill's. It couldn't be more adorable, unless you're a squirrel condemned to spend all eternity dressed up like Robin Hood. Savor the fun (and by "fun" we mean "kind of creepy") atmosphere while enjoying Bill's admirably puffy-yet-crunchy cracker crust.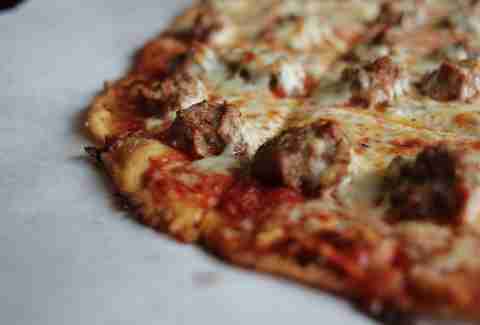 5. Villa Nova (click here for address and info)
Stickney
Villa Nova is famous for two things: 1) the fact that late-owner Al "The Pizza Man" Tornabene is alleged to have been the head of the Chicago Outfit during the 1990s and early 2000s, and 2) for a seriously thin crust pizza that looks less like it was shaped than poured, dotted with balls of sausage lined up like a street crew on election day. Though in a rare exception to my sausage-always rule, I'd actually go for the excellent spicy-smoky pepperoni here.
4. Pizza Castle (click here for address and info)
Gage Park
It'd be easy to zip by this strip mall pizza joint near Midway Airport, assuming from the exterior that it's nothing special, but you'd be wrong. They've been doing everything in-house the right way since the 1970s, producing a crisped-up crust topped with fennel-heavy sausage.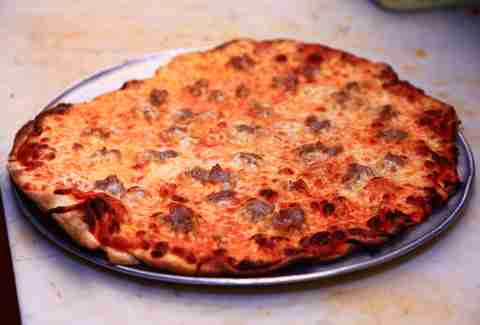 3. Candlelite (click here for address and info)
West Rogers Park
Owner of one of the best vintage '50s neon signs in the city, this has since been updated from smoke-filled tavern to family sports bar and restaurant, but the thin crust is, as I once called it, "the crackliest cracker crust in town", with a kickier tomato sauce than you find in most places that have been around this long. Ask for it "well done" to get the ample cheese caramelized just right.
2. Pizano's (click here for address and info)
Near North Side/Loop/Ukrainian Village
A small chain from the same family as Lou Malnati's, and making pizzas with a similar crust. While I'd give the late Lou the edge for deep dish, brother Rudy Jr. wins in the thin crust category for the buttery, biscuit-like crust. It's the thickest thin crust on this list, but it has the flavor to justify it and stand up to the bright tomato sauce.
1. Vito & Nick's (click here for address and info)
South Side, Ashburn
Vito & Nick's has been a tavern since the 1920s, and making pizza since the late 1940s, so yeah, they've probably learned a thing or two by now. At its best -- and admittedly sometimes that's not on a packed Saturday night, with pizzas flying from the oven -- they achieve a near-perfect amalgam of crisp crust, brightly spiced sausage, well-balanced sauce with a hint of sweetness, and caramelized cheese on top. It's as good as pizza gets, thick or thin, in Chicago or anywhere.

Mike Gebert is a James Beard Award-winning food video producer and writer and Founder of SkyFullofBacon.com. Follow him on Twitter @skyfullofbacon.