The Best Chicago Steakhouse for Every Occasion
Would you hit the same steakhouse when the in-laws are in town as you would to pre-game for your buddy's bachelor party? Uh, no. That would be insane. And that's also why we're breaking down the best steakhouses in Chicago, by every type of occasion.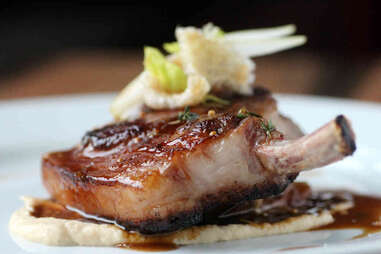 <em>Wicker Park</em><br />
This chill-yet-lively butcher/deli/events space on North Ave is your go-to spot for a weeknight steak that won't break the bank. The butcher-cut selections are priced in the $19-$26 range and come with everything you'd expect from a BIG $$$$ steakhouse (including the hospitality). Only, with a way cooler vibe.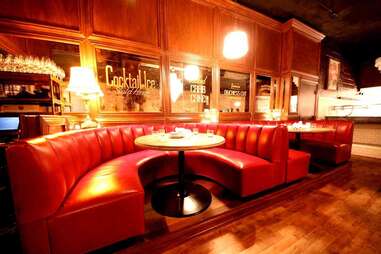 <em>River North</em><br />
It didn't take long for the Hogsalt hospitality crew to leave its mark on Chicago's competitive steakhouse scene. And, funny enough, while this sexy, dimly lit dining room offers a romantic old European feel, the steaks are all fine American specimens. A wonderful wine and cocktail menu round out what should make for the perfect date night.
<em>Mag Mile</em><br />
The GOATS (Greatest Of All Time, SON) knows what it takes to push off on a Jazz small forward like a boss, and also how to blow the lid off a steakhouse, which he does with MJ's Steakhouse. It's all about the 45-day, dry-aged Delmonico steak here -- enjoy one at the bar while watching the NON-MJ Bulls on a handful of TVs or, if you've got stacks of cash to burn like Mike, sit in the booth normally reserved for His Airness himself.
<em>River North</em><br />
A favorite of business dudes whose suits always seem to be equipped with a company card, this popular spot overlooks the river through huge glass windows, offering a classic steakhouse feel. Everything -- including the meat -- makes for your prototypical steakhouse experience, just taken up a notch. If you're a player in the business world, you've already been here plenty of times.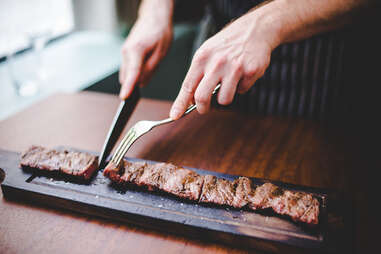 <em>Streeterville</em><br />
Chicago native and former "Iron Chef" Jose Garces (now based in Philly) brought his Rural Society Steakhouse to the Loews Hotel, and, along with it, a wood-and-charcoal-burning parrilla grill churning out wood-grilled ribeye and bone-in short rib. The whole thing's a real stunner and a great place to enjoy Argentinian-style cuts of meat -- nowhere near as common as your typical steaks -- cooking over a live fire.
<em>Near North Side</em><br />
This Scottsdale import has all the look and feel of a classic American steakhouse that'll make your parents pleased with your elegant selection and wonder if your tastes are growing up -- only to realize it's not the looks you're there for: it's the fancy steak dinner you could never afford without them.
<em>River North</em><br />
A longstanding name in Chicago's steak scene, this classic local joint has been providing a true Chicago-style steakhouse experience since 1941. The secret? Stiff drinks and big plates of red meat, cooked to perfection. Whether you're meeting (meating?) a longtime friend at the bar or celebrating a family event, you're leaving as well hydrated as you are well fed.
<em>River North</em><br />
The always reliable menu options at Benny's become even better with a side of excellent free jazz. Take yourself back into a different era when dinner was the centerpiece of the night (and you spent more than 20 minutes at the table.) Check the schedule for popular local acts like Fred Simon and Carmen Stokes. Hell, you never know who might show up.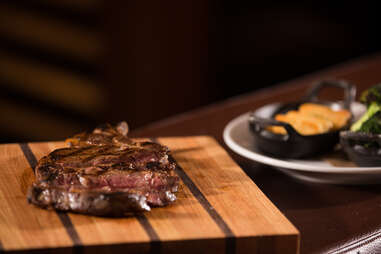 <em>Near North Side</em><br />
There's no sex in the dry-aging room. Just great steaks. Though it's an inviting experience to see how your steak comes to taste so great, let's not also forget about the part where you get to eat it. Bottom line: the 40-day dry-aged, bone-in ribeye remains the best steak in the city.
Sign up here for our daily Chicago email and be the first to get all the food/drink/fun in town.
Titus Ruscitti is a contributing writer for Thrillist. You can join him on his food travels throughout the cityscape and wherever else life takes him on his blog, where he's single-handedly tackled close to 1,000 food stops. Follow him @chibbqking.