All photos by Titus Ruscitti
All photos by Titus Ruscitti
As much as we love the taco triangle of Big Star, Antique Taco, and Takito Kitchen, there're also a number of under-the-radar, family-run Chicago taquerias that're just as worthy of your immediate attention. That's why we turned to Titus Ruscitti (who lives, breathes, and Tweets tacos) to pick out the 10 most under-the-radar taquerias and what to get at every single one. Oh, and don't miss the map at the bottom...
Taco Shop: La Internacional (click here for address and info)
Taco You Should Get: Carne Asada
"This is also the place that spawned Paco's Tacos, which now has a few locations in the city. And because it's a taqueria inside a supermercado, you're gonna want to visit it over the weekend when the skirt steak is cooked-to-order. They'll constantly be grilling and chopping meat from lunch hours into dinner, so the juicy steak'll never steam away in a tray."
Taco Shop: Los Gamas Tortilleria Y Restaurante (click here for address and info)
Taco You Should Get: Choriqueso
"This family-owned tortilleria-cum-taqueria sells masa by the pound, plus does one of the city's best choriqueso tacos (chorizo and cheese) -- they cook the crumbled sausage with cheese on the flattop, melting it into one clump rather than layers. It's essentially a queso fundido-with-chorizo taco, and it comes on a made-to-order tortilla, so you know it's the goods."
Taco Shop: La Chilangueada (click here for address and info)
Taco You Should Get: Tacos de Canasta
"You'll find tacos de canasta all over Mexico City, but not as much over here due to their traditional preparation. They're made in the morning and left in a basket to steam before being sold by street vendors. La Chilangueada is a top-notch, family-run spot with a menu dedicated to Mexico City eats, and their tacos de canasta are a unique take on the snack, as they take small, hand-made tortillas and fill them to order. A little pan placed over them allows a quick steam before going onto your plate -- I call these 'slider tacos'. They offer them with different fillings, too, including their signature Chilango with skirt steak, bacon, chopped hot dogs, and onions."

Taco Shop: Taqueria El Asadero (click here for address and info)
Taco You Should Get: Carne Asada
"Chicago doesn't have a distinct taco like San Diego (see: the fish taco), but carne asada is a strong leader in the clubhouse. Most every place serves steak tacos, but the ones worth seeking out are the spots cooking skirt steak over fire. Taqueria El Asadero has been in my rotation of favorites because their small grill and constant traffic means you're always getting steak cooked and then chopped to-order. It's hands-down one of the best meat and tortilla options in a meat and potatoes town."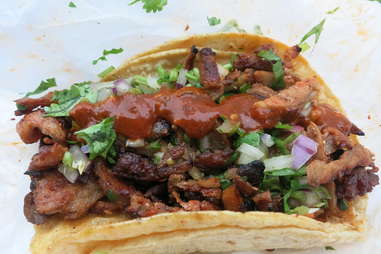 Taco Shop: El Taconazo (click here for address and info)
Taco You Should Get: Taco Al Pastor
"Tacos Al Pastor are one of Mexico City's best exports into the states, and while pretty much everyone offers them these days, only some spots do them full-justice like the El Taconazo empire. They have a few locations, but the large spot on North Avenue in Humboldt Park is my preferred outlet. They do their Al Pastor as it's supposed to be done: on a spinning trompo and cut-to-order (they'll also finish the meat quickly on a flattop when it's busy)."
Taco Shop: L'Patron (click here for address and info)
Taco You Should Get: Shrimp Tacos
"One of the cities most popular taquerias since it opened in 2012, its seafood offerings are near the top of their class. Both the lightly-battered fried fish and the shrimp tacos are topped with roasted serrano aioli, cabbage, and fresh pico de gallo. Order them on house-made tortillas to get the full experience."
Taco Shop: Taqueria San Matias (click here for address and info)
Taco You Should Get: Taco Alambre
"Alambres is a popular dish in Mexico that takes a meat or two (steak is most popular) and cooks it all together with bacon, diced peppers, and lots of cheese -- usually in platter form with tortillas on the side. The name (it means 'wire' in Spanish) is said to have come about, because when you take some off your plate, the way the gooey cheese stretches mimics that of wires. If you search around enough, you'll find a few places offering their own version in taco form; the Taco Alambre at this mom-and-pop-spot is a really delicious textbook example."
Taco Shop: Restaurante Hidalgo CD (click here for address and info)
Taco You Should Get: Crispy Tripas
"This tiny and constantly busy spot just off North Clark St is amongst one of the cities richest taco trails. Their tripas tacos are some of the best you'll find -- [they're] served extra crispy (think: extra potent pork rinds), so you'll quickly move past the fact you're eating innards."
Taco Shop: El Taco Sabroso (click here for address and info)
Taco You Should Get: Taco Sabroso
"There're only about 4-5 seats inside this prototypical, old-school taqueria, so most of the business is takeout and cars pulling in and out of the lot. If you ever have trouble choosing between pork and beef, don't. Their namesake taco is a tortilla with both steak AND al pastor mixed together for a campechano-style neighborhood favorite."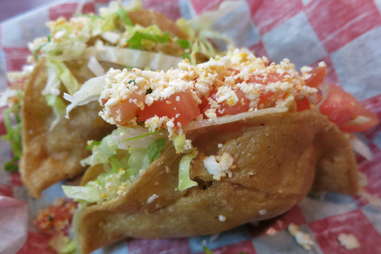 Taco Shop: Taco Mex (click here for address and info)
Taco You Should Get: Crispy Tacos
"An old favorite of the East Side has returned: Taco Mex recently re-opened their doors on Torrence at 107th, and they're back to serving their widely popular crispy tacos. The tortillas are packed with meat, traditionally ground beef, and held together with tooth picks before a trip into the deep-fryer. Once it comes out and the toothpicks are removed, toppings are added (lettuce, tomatoes, cheese) and the result is a real-deal taco dorado."
For more taco wisdom, find Titus Ruscitti's blog The Chicago Taco Tour, and follow him on Twitter @TweetsofTacos.
Sean Cooley is Thrillist's Chicago Editor, and he's noticed that a pie tin is a handy pie chart for how much pie you've eaten. Follow him @SeanCooley.