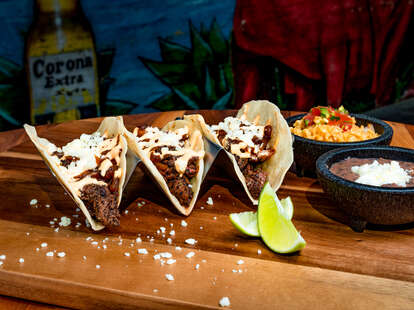 Photo courtesy of D.S. Tequila Co.
Photo courtesy of D.S. Tequila Co.
June means many things to a lot of people, but to the LGBTQIA+ community, it signals Pride month. Once only celebrated by the gay community and some allies, Pride has grown into a global phenomenon with parties, parades, street fairs, and so much more. The month grew out of a day—June 28, 1969—to mark the start of the gay liberation movement following an uprising sparked by police raiding the Stonewall Inn, a gay bar in New York City's Greenwich Village. The patrons—many of whom were trans women of color—fought back and a three-day battle with the police ensued. The community now gathers in cities during June (and other months depending on where they are in the world) to celebrate the brave, queer folks who stood up against oppression.
Today, many businesses and brands look at June as an opportunity to show their support by releasing rainbow-themed merchandise and products. But, here in Chicago, your money can go a lot further by actually supporting queer-owned restaurants, eateries, and other queer-friendly spots that show their support for the LGBTQIA+ community year-round.
Many of the already-limited queer-owned businesses exist on the city's North Side, yet queer people of all races and backgrounds live all over Chicago. We have seen this disparity for a while, with many protesting against discrimination even within our own community. But we need to support everyone—and not just in June. Queer folks continue to face challenges at work, in housing, and more. While it may not seem like ordering a sandwich, burger, or omelet will do much to support the community, those purchases allow these businesses to keep their lights on and continue supporting their employees. So, this Pride month, eat, drink, and be queer—and know that every time you support one of these businesses, you're showing support for queer people.
Lakeview and Edgewater
Long before there was Cinnabon, there was Ann Sather. Named after its original owner, this woman did not mess around with her authentic Swedish cinnamon rolls. A staple at this nearly 80-year-old neighborhood diner (now owned by Tom Tunney, an openly gay alderman), the obvious favorite dish here is the cinnamon roll. However, since every egg-based breakfast entree comes with the option to get a cinnamon roll (two, actually), your options just expanded. Sure, the omelets and benedicts are tops when you go to Ann Sather. But for ordering delivery? Your best bet is one of its breakfast wraps, like the sausage, egg, and cheese. But a true fave? Get the Sunrise Breakfast Wrap with grilled chorizo and bell peppers scrambled with eggs, onion, and cheddar, and served with salsa. While you can always order a burger or salad for lunch, breakfast at Ann Sather is what you really want.
How to try it: Order via Grubhub
Northalsted
You might hear Roscoe's and scratch your head when reading an article about best delivery dishes. The Northalsted mainstay has been around since 1987 and is known more for sultry drag performances and its hot and sweaty dance floor, but it does have food. It's pretty good pub grub to boot. If you're thinking about going out for a night of drinking along the Northalsted strip, you'll want to line your belly and the top pick here is its crispy chicken tenders and fries served with your choice of dipping sauce. A good classic remains just that: classic.
How to try it: Order via Grubhub
Lakeview
One would think ordering from an Irish pub, you'd immediately want to get chicken pot pie, fish and chips, or shepherd's pie. Maybe even a burger, mac 'n cheese, or the chicken curry. All of these dishes are fantastic. But if you want the top dish from Wilde Bar & Restaurant—named after the historically famous gay author Oscar Wilde—order the Ultimate Grilled Cheese. This sandwich starts with thick-cut, Parmesan-crusted sourdough bread that receives a combo of four cheeses: Swiss, mozzarella, Brie, and aged white cheddar. Add finely chopped tomato, fried shallots, and candied bacon and you have one of the best grilled cheese sandwiches in your hands.
How to try it: Order via Grubhub
Lakeview
There's always something more special about food ordered from a place helmed by a home baker. They seem to pour their passion into their craft in a way that's literally baked into their food. Such is the case with Jennivee's, a quaint bakeshop owned by Jenni Vailoces, a.k.a. Jenni Vee, a Filipina trans woman who wanted to create a safe space where people can indulge in her beautiful pastries. Jenni found inspiration to leave the healthcare industry and open her patisserie after reading national news of bakeries turning away LGBTQIA+ people. Get a taste of her roots with the Purple Velvet Cupcake, made with ube cake, young coconut, and ube mousse.
How to try it: Order via Grubhub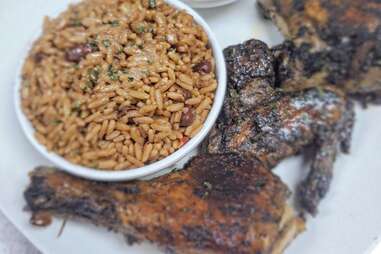 Andersonville
Tucked away from the bustle of Andersonville's Clark Street sits a bastion of soul food on the Far North Side. Owned by Chef Kelley Davison, Bettie Lou's slogan says it all: "Cooked with Love. Everyone is welcome." When you bite into her grilled turkey chops, salmon croquettes, six-cheese macaroni, or peach cobbler—or all the vegetarian and vegan options (Chef Kelley isn't kidding that everyone is welcome)—you taste that love. But it's the Jerk Chicken Dinner that's the standout. Served with a choice of two sides—choose between vegan greens, yams, cheese grits, red beans and rice, and more—this Caribbean-seasoned dish has the magic to warm your soul.
How to try it: Order via Grubhub

When the urge to treat yourself arises, get your favorite restaurants delivered to your doorstep. Grubhub makes it quick and easy to get a delicious meal on the table—from trusted, local favorites to delectable global cuisines—all with a few taps of a button. Now that's food for thought.
Various locations
A spin-off of the popular Bucktown sandwich spot Goddess and the Grocer, these cafes started popping up around Chicago (and now in Wisconsin). A professional chef and caterer, proprietor Debbie Sharpe has always been a huge champion and ally of the LGBTQIA+ community and it shows in her popular Rainbow Cake. While you can order a host of healthy salads, sandwiches, acai bowls, green juices, and more—you should always get a slice of Rainbow Cake on the side, topped with thick vanilla frosting and a smattering of rainbow sprinkles. Because you deserve it.
How to try it: Order via Grubhub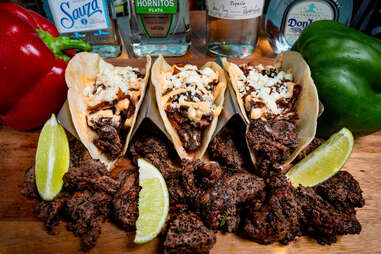 Northalsted
As one of the hottest destinations on the Northalsted strip, D.S. is known for its namesake beverage: tequila. Serving fierce cocktails for over a decade, the restaurant is also well known for its Tex-Mex selection, including an array of tacos served on flour tortillas made in-house daily (gluten-free corn tortillas are also available). You'll find options like tequila shrimp, coffee-rubbed steak, bourbon or fried chicken, mushroom, and more. They're all topped with a variety of ingredients to add pops of flavor and color. Order the Taco Trio Dinner and pick any three tacos served with Mexican rice, refried beans, cilantro, and queso fresco.
How to try it: Order from Grubhub
Andersonville
There are few spots as cozy and welcoming as Lady Gregory's and, sometimes, you want to take that coziness home. While you can't get its fireplace, intimate library, or comfy seating sent over, you can order its hearty gastro-pub fare. Like its Lakeview sibling, Wilde, Lady Gregory's pays homage to Oscar Wilde—the Irish writer, dramatist, and co-founder of the Abbey Theatre and Irish Literary Theatre. The menu features comfort food comprising high-quality ingredients, like lobster mac 'n cheese, cheddar artichoke dip, and curried veggie pot pie—making it difficult to decide. But you can't go wrong with the Drive-Thru Burger. Two grilled patties topped with cheese, caramelized onions, and LG's special sauce, along with greens, tomatoes, and pickles. Talk about bringing home a cozy vibe.
How to try it: Order from Grubhub
Edgewater
Looking to go somewhere everyone knows your name? Unfortunately, Cheers isn't a real bar, but the vibe at Rogers Park Social is all about community. It's a neighborhood queer bar you want to go to when you just want to see friendly faces and have some well-made cocktails. But, sometimes, you want that vibe at home. While you can't order drinks for delivery (you can pick them up at the takeaway window though), you can order some snacks to enjoy at home as if you were at the bar. Pick up some Jeni's ice cream, level up your sophisticated snacking with a tray of assorted Wisconsin cheese and crackers, or make yourself really happy with the Prosciutto-Wrapped Provolone Sticks. It's like grown-up string cheese, but so much better.
How to try it: Order from Grubhub